Facebook: the platform that has been reconnecting us with friends and family for more than 10 years. Yes, you got that right, Facebook has been around for more than ten years and every year the company finds a way to take advantage of its huge database and help businesses succeed.
One of my main points is there has been a recent difficulty when reaching out to a wide audience at an affordable cost. There are several ways to increase your reach on Facebook and this article will explain the most effective ways to achieve this goal.
Engaging Audience With Images
When adding advertising images on Facebook, the platform goes by a 20% text rule, but Facebook clearly states that they prefer images with little-to-no text on them. If an image has too much text, it will look spammy to users and the delivery rate will go down.
If you are uploading an image on the Facebook Power Editor, the tool will warn you if your image has too much text. There are many advantages of having a clean image—focusing the attention on the product rather than the text will focus the user on the product, enhancing a call to action.
Never Lose Traffic With Automatic Bidding
Facebook optimizes your bids automatically for conversions and this will increase the reach. On Facebook, every day there may be a higher or lower need for Cost-Per-Acquisition or CPA bidding. Facebook basically determines that the more conversions you get, the more the platform will learn about your company. They will be able to allocate your budget depending on time of day or the week to get the best results possible.
At the same time, when the market becomes competitive, Facebook might automatically increase the bid so you won't lose traffic, keeping you competitive in the market. Meaning, more sales in a lower margin, rather getting a sale that day with a very high margin but overall not enough volume at the end of the week.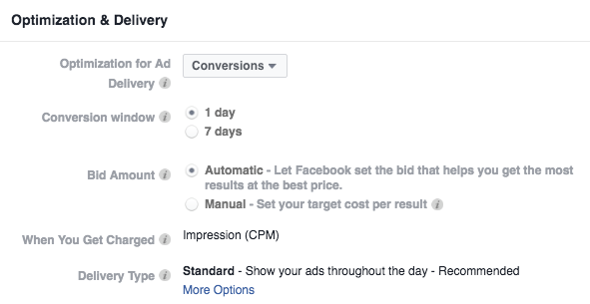 Instant Success With Automatic Target Placement
Facebook has launched a new way to target placement. This new function is called automatic placement and it's something that Facebook reps are pushing for the users to use. Some people might say that this new function is controversial because they are seeing a lot of success in running placement automatically versus manual placement. Some tips on automatic placement:
You might want to have different bid and budget strategy for automatic placement.
Have different ad placements to fit the ad format.
The audience network that you will target will not be the best to be on. There seems to be something with automatic placement that optimizes the reach the of a campaign.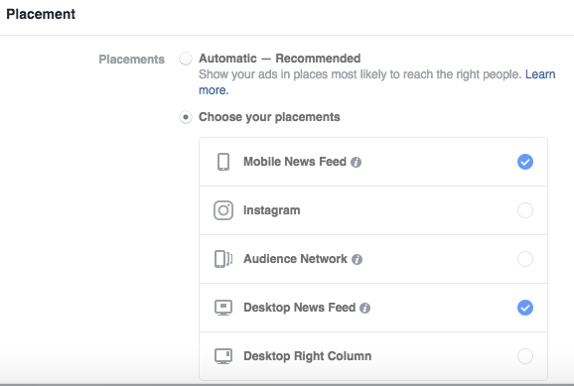 Keep Your Ads From Overlapping With Each Other
Try to avoid ad sets and/or audience overlaps. Overlap is when two ads are competing for the same thing. This might drive the price up and confuse system. Doing will decrease the overall reach for an overall target method. With ads that are conflicting with each other, we might see a hike on price for bid.
Negative Results With Multiple Changes
When making changes on Facebook, it's recommended that you don't make many frequent changes. It takes a few days or even weeks for the algorithm to change. Making a lot of changes on Facebook would be like resetting the system and never allowing the Facebook algorithm reach its full potential.
Get to Your Goals With Reach Campaigns
Facebook reach campaigns help give Facebook an even timeline of what the goal in terms of reach is. If you want to buy an "x" amount of impressions, you will pay a fixed price. By doing that you're telling the algorithm the goal. It makes sense to create a reach and frequency campaign if you have delivery issues. This type of campaign works best when you get a good CPA and drives good results.

Increase Your Reach With a Lifetime Budget
Lifetime budget is a great way to increase reach as well. Basically, you're telling Facebook the amount of money you want to spend in a given time frame. The system will work to get you the best results within that time frame. The way the lifetime budget works is that traffic gets higher in the beginning, slows down in the middle and goes up again towards the end of the campaign. That is the trend you will see.

Conclusion
Running a business is a full-time job. Every person who owns a business knows that. Hopefully these tips will make running your business much easier. In terms of running advertising campaigns on social media, Facebook is a very accessible tool that every business owner should be using. You can use Facebook to reach that untargeted audience you didn't know you were neglecting, and now it will be easier to reach.
Image Credits
Featured Image: ibphoto/DepositPhotos.com
All screenshots by Rocco Baldassarre. Taken August 2016.