"A picture is worth a thousand words."
We've all heard the cliche, but I bet you don't often sit back and contemplate the deeper meaning behind that message.
Pictures, not words, were the very first method with which humans recorded their history. Visuals capture more information in one shot than a book full of words because they allow you to fill in the story with your imagination.
A picture of a family playing catch in the park has billions of interpretations and plot lines that are waiting for a story to fill in the details.
What day is it? Are they skipping work? Is this their anniversary? Are they practicing for major league tryouts?
The possibilities are endless. These are founded in the individual stories of each person that views your content.
The moment you get your audience to start filling in these details, they've become an active participant with your content (which just so happens to be one of the benefits of storytelling). This is marketing gold! And they may not even realize they're doing it.
Suffice it to say, images are a critical tool in the storytelling toolbox. So take a break from optimizing your keyword strategy for robots, and finding the perfect content voice for your brand, and smell some graphic roses with me. There are a ton of tools available to help you hone in your visual craft (and – bonus – a lot of them are FREE).
Visual Storytelling Tools
Of course, the best case scenario is to hire a professional photographer and capture high-quality, unique images for your brand. But not everyone has that luxury. And with all of the content we are pumping out each day, sometimes we just need a good stock photo. But stock photography can get pretty expensive, and after a while, everyone's pictures start to look the same.
Enter Pixabay. Pixabay has hundreds of thousands of free stock photos, a lot of which are in a unique style that is different from others on the market. You can download them in a range of sizes depending upon your needs and they are open for commercial use.
If you do have pictures of your own that you're working with, or if you just want to edit a stock photo to make it your own, you are going to need some editing software. Visual editing software often comes in large subscription packages which can get pretty spendy (not to mention complicated).
Unless you really need the software for a ton of graphic design work, you can probably get away with one of the free online tools. PicMonkey is awesome because you can make all of the edits that you would expect from a photo editing software including tons of filter and font options. And it's all free!
Canva makes designing for the web insanely easy. They've nailed their "design made simple" philosophy. There are a ton of modifiable templates, designs, and fonts to choose from and the software is incredibly straightforward. It's designed to walk you through every step of the way. You can even choose free images or upload your own. They do offer premium products which you can pay for if you're looking for something specific, but there is quite a bit that you can do in the free version.
When you are done, you have beautiful graphics + text that can be used for social postings, blog headings, or anything else you can imagine. I made the above graphic in 5 minutes with a stock photo and a template! (You're welcome for the cute animal pick-me-up!)
Pablo is the brain-child of the smarties over at Buffer. (If you don't use their free social posting tool, you should definitely check it out). As their primary product was a tool for managing social posting schedules, they saw a need in the market for a graphic tool that integrated simply with the platform.
This is something you should care a lot about, too, because content with images gets 94% more views than content without relevant images! So you will increase your social reach just by adding an image to your posts. And what better way to share your stories than through the most popular story exchanging platform in the world – social media.
Speaking of social media, one of the most effective types of content is user-generated. In fact, user-generated content is trusted 50% more than traditional, advertisement-based content. And this makes sense when we think about it, right? Who are you more likely to trust, your neighbor who really likes her recent purchase or the business that stands to profit?
This social proof effect of user-generated content is exactly why testimonials work and why platforms like Yelp are so popular. We are willing to trust complete strangers because of the perception that they have nothing to gain by sharing their story.
This newest product by Yotpo allows you to collect user-generated content from Instagram and display it in high-resolution formats in other places, like your website. You can even moderate the photos to add links to your product pages. It's a great way to share the stories of your current customers and curate some easy content for your site.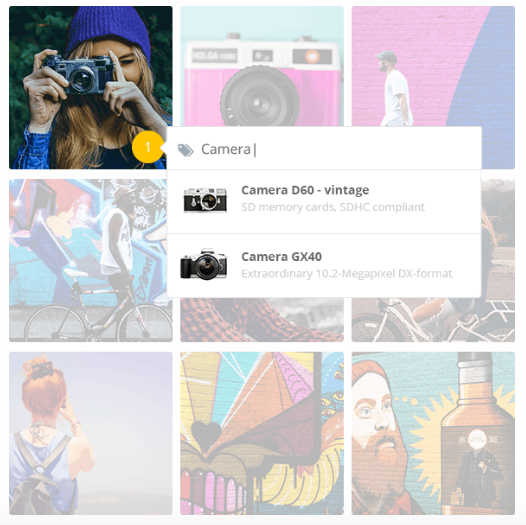 Lego Movie was awesome. (My sincerest apologies if my mentioning it gets that theme song stuck in your head, though!) But I bet you didn't realize that it's a pretty simple process for you to make artistic, stop motion videos yourself!
Apps like Stop Motion Studio are free to download and make the process of turning your photos into a fun video. If you're looking for a new way to share your story in motion, you should check this one out. And tweet at me after you build it because I love stop motion!
Visage
Last, but certainly not least, is the killer data visualization tool, Visage. Data storytelling is both an art and a science. Studies have shown indisputably that stories are more memorable than facts and figures. But if you add the two together, you can take your stories to the next level. Facts provide proof, and humans like proof (it caters to our rational brain).
Visage allows you to beautifully show your data off in a way that's also visually pleasing. It helps you tell your stories with the numbers to back them up. One, two, punch!
Show Your Story
These are just a few of the tools that are available to you to make it easier to spread the story of your brand through visuals. There is not a right or wrong answer for what will work for you, the important thing for you to do is to test. And then let us know how it goes!
Are you currently using visuals to support and amplify your stories? What has been working for you?
Image Credits
Featured Image: Image by Inturact. Used with permission.
In-post Photo: Image by Katy Katz
Screenshot by Katy Katz. Taken August 2016.