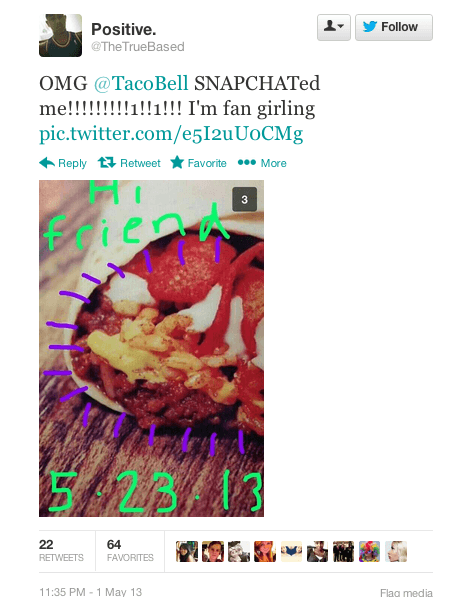 Believe it or not, Snapchat has 5 million active users who aren't all sending naughty images to each other or sexting all day. The app has become extremely popular with the kids, since it's a fast, fun and safe way to share pics and videos with their friends and family. While college students may use the app for some inappropriate behavior, they're still making Snapchat one of the fastest growing apps on the market.
How popular have these throwaway messages that only last about 10 seconds become? It's estimated that about 200 million pictures and videos are shared over the platform on a daily basis.
With those kind of numbers, why wouldn't brands want to get in on the action? But, there's more than just the amount of people who are using the app. Unlike Facebook, Twitter, Instagram or Tumblr, Snapchat offers the sense of urgency and capturing a moment, which makes it very appealing for users. This is a great asset for brands to have. It offers a unique personal connection with consumers that other social media vehicles don't offer.
But, how can brands employee Snapchat? Here's some of the app's benefits:
Announce contests
Give a sneak peek of a new product
Send a coupon/discount code
Offer behind the scenes looks
Introduce new team members
Unveil targeted Vine style videos
Is a low-cost method that can reach a wide audience
While a brand would usually want to create a lasting impression with consumers, Snapchat's popularity with teenagers and young adults, who are more spontaneous, make this app essential if a younger audience is the targeted demographic.
Snapchat is still relatively new, and it can be difficult to embrace a trendy app, but here are some brands that are making waves by using Snapchat.
7. Karmaloop
Clothing e-tailer Karmaloop has been using Snapchat for risque images of models showing some skin. After a few weeks of using the platform, Karmaloop has attracted more than 2,000 Snapchat "friends". Besides the raunchy images, Karmaloop sends regular product shots for recent clothing lines. The merchant will test Snapchat-exclusive coupon codes, to see if the app can help increase sales, beginning in September.
6. Acura
Unlike many other brands that have used Snapchat in the past, Acura utilized the app to introduce their new prototype, the NSX supercar. The first 100 users who added Acura_Insider received a six-second clip of the car driving round a track.
5. Co-operative Electrical
The Co-operative, a retailer in the UK, is one of the most recent brands that have launched a promotional campaign via Snapchat. After a students as a "friend," students are sent a promotional code that will offer students £30 off laptops. Of course, the code will only last about 8 seconds, so students will have to be on their feet.
4. MTV UK
To promote the sixth season of what we're assuming is the UK version of "Jersey Shore," MTV UK sent fans exclusive pictures and videos of the cast of Geordie Shore via Snapchat. The platform was also used as a reminder for when the the series was on-air.
3. 16 Handles
New York frozen yogurt chain 16 Handles was one of the first brands to use Snapchat back in January for its 'Snappy New Year' coupon promotion. 16 Handles asked its Facebook fans to send out a Snapchat photo of their frozen yogurt, and in return, customers received a coupon worth either 16%, 50% or 100% off. 16 Handles opted to use Snapchat instead of Twitter since people were unable to share the voucher codes with friends. 16 Handles claims that after the campaign, its received more than 1,400 interactions with "friends".
2. Chat Sports
ChatSports, which is a personalized, curated sports website and app, used Snapchat for a ticket giveaway contest. If fans wanted to score free baseball tickets, they had to get five of their friends to add Chat Sports and then have each friend send a unique snap with the fan's username along to the hashtag #gimmietickets
1. Taco Bell
Taco Bell was one of the first major brands to embrace Snapchat, and it wisely used the app to inform fans of the return Beefy Crunch Burrito back in May. Taco Bell, however, also used Twitter by tweeting to its followers that it would be making a secret announcement on Snapchat. Besides using both platforms, this move gave a sneak peak at the return of the Beefy Crunch Burrito, asked fans to add Taco Bell on Snapchat and made users feel like a VIP since only they got an exclusive snap.