The jointly hosted exclusive marketing conference, "SEO, Content Marketing & Analytics: The Three Pillars of Success in 2014″, was held June 13 in San Francisco.
It had a fantastic lineup of speakers across a number of disciplines.
The special one-day conference, hosted by Searchmetrics and Search Engine Journal, was jam-packed with ideas and conversation starters.
Here are six of the top takeaways from the conference.
1. Relevance is King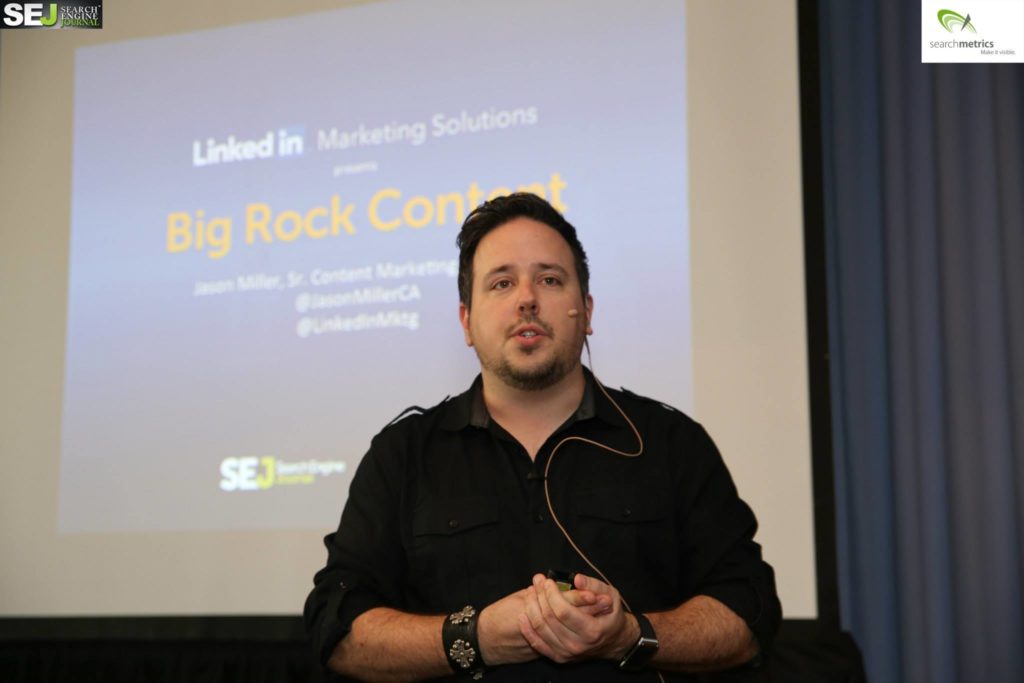 Jason Miller, of LinkedIn Marketing Group, thankfully spared the audience from the usual content is king spiel during his presentation called, "Big Rock Content."
Instead, he provided some great advice on how to stretch content into a wealth of usable assets. The underlying theme of the presentation was that the key ingredient to a better content experience is relevance.
Did you hear that? Not more content; more relevant content.
Miller suggests repurposing rich content into multiple digestible chunks such as blog posts, infographics, webinars, videos, and Slideshare presentations. He also suggests using a weekly content calendar consisting of the "Blogging Food Groups" that outlines how to space lighter and heavier pieces of content throughout the week that might look like this:
Monday

/

Saturday

: light items like how-to and list articles
Tuesday: slightly more in-depth content
Wednesday: heavy hitting, thought leadership content

Thursday

: controversial or oppositional stance
And, although it creates extra work, Miller recommends adding custom images to your content tailored to each outlet it is being shared on because the visual is the new headline.
More than ever, visuals aid in decision-making and connect with audiences emotionally.
Perhaps the most important sentence spoken during the session was: "Don't confuse virality with relevance"
2. SEO = Search Experience Optimization
Marcus Tober of Searchmetrics gave those in attendance a sneak peek at the soon-to-be-released 2014 edition of the Searchmetrics Ranking Factors Rank Correlation study. After the mandatory "correlation does not equal causation" disclaimer, we were off and running.
He explained that after Hummingbird, the diversity of domains in SERPs initially dropped ~6.5 percent and has since fluctuated up and down to pre-Hummingbird levels. Since Hummingbird, the diversity of SERPs for queries with question words has dropped 10 percent.
As a result, marketers need to be more concerned with correlation metrics as follows:
Correlation metrics for on-page and site structure should look like this: number of internal links (0.16), site speed (0.14), existence of meta description (0.06), existence of H1 tag (0.05), video integration (0.05), keyword in Title tag (0.02) and keyword in meta description (0.01)
Correlation metrics for body content: relevant keywords (0.34), proof keywords (0.20), keywords in body (0.16), HTML length (0.14), text character length (0.13) and word count (0.13)
Correlation metrics for backlinks: number of backlinks (0.31 but down YoY), SEO Visibility of backlinking URL (0.26), number of referring domains to homepage (0.24), new backlinks (0.20), URL brand anchors (0.15) and domain brand anchors (0.11)
Correlation metrics for user traffic signals: click-through rate (0.58), time on site (0.06), bounce rate (0.01)
Correlation for site speed, file size, text length, and social signals varies significantly between desktop and mobile
The real takeaway from all these metrics is that SEO has evolved from search engine optimization to search experience optimization.
Marketers can use data to make smart decisions, but should remember search engines don't buy products – people do.
3. International Search Is Hot Right Now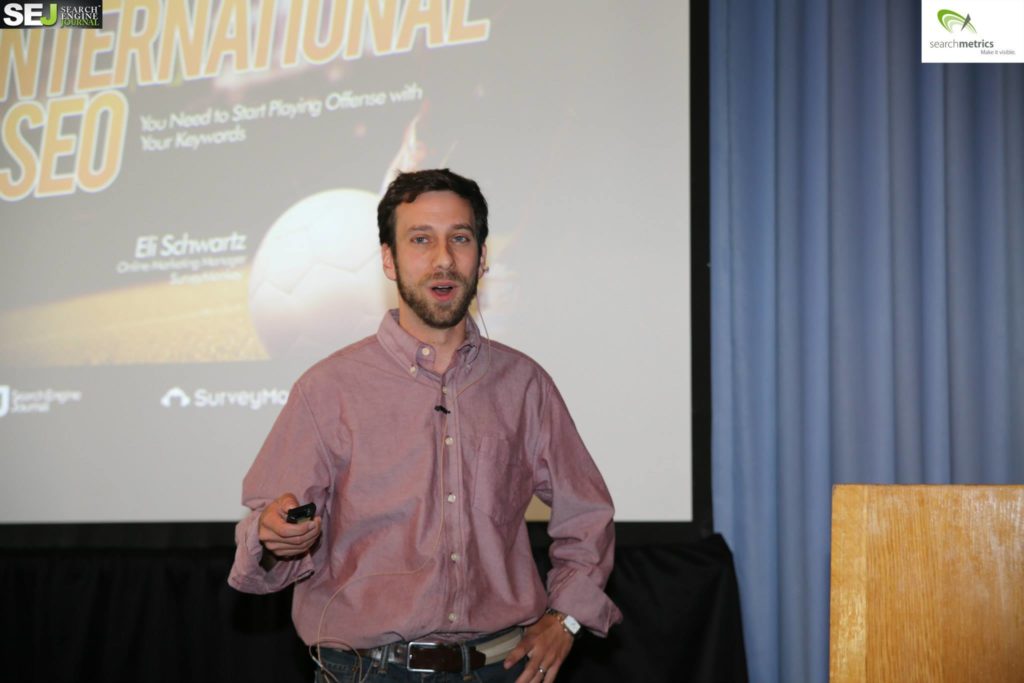 It's time to start looking a little further away from home when it comes to search, according to Eli Schwartz, of SurveyMonkey.
Only 10 percent of Internet users in the world are in the U.S., only 13 percent of people speak English as a primary or secondary language, and only 30 percent of ecommerce spend occurs in the U.S.
With numbers like that, it's worth your while to consider a more international focused search strategy.
Schwartz believes the most important thing you need for international SEO is to have international content.
However, he advises to never use machine-translated content for international SEO.
Some of his international search tips and factoids that stood out include:
Spelling correction and synonym matching is not as robust/effective in non-English languages in Google search
The impact of prepositions and special characters are more pronounced in non-English languages in Google search, so the Google Keyword Planner usually isn't your best starting point for international SEO keyword research
Attempt to understand the context of foreign language words by using a modifier in Google Translate to provide better context
Analyze search results for international queries using the target language and country (i.e. Google.mx, Google.de, etc.)
Comparing the number of search results for different international keywords can give you a clue to the correct version
The best way to confirm correct international keyword usage is often buddying up with a native speaker, but sources for content ideas after generating keywords include Google Trends, YouTube Worldwide, Twitter Trends, and SurveyMonkey Audience.
There is huge growth potential in international search. Focus on choosing the right keywords, be mindful of cultural nuances, and development country/language-relevant content.
4. Don't Put All Your Search Eggs in One Basket
The theme of Warren Lee's presentation was Bringing Sexy Back and, aside from prolonged exposure to a picture of Borat in a banana hammock during an interactive portion of the session, his Justin Timberlake impersonation was spot-on.
Much of the session was in a Q&A format, which was very engaging for the audience.
As far as paid search, Lee projected that while PPC usually gets the lion's share of the budget, he says that PPC only fulfills 2 percent of search demand.
His main takeaway was that marketers shouldn't rely on any one channel or tactic to sustain your marketing efforts.
A diverse media mix can result in a rising tide that lifts all boats.
For example, 1+1 can equal three when you combine various marketing elements like PPC, display, email, and social.
5. It's Time to Invest in Real Usability
It's no wonder that Benu Aggarwal, of Milestone Internet, is a usability and conversion rate optimization expert because she was able to fly through a ridiculous amount of information in a short period of time.
The four areas of focus for her presentation were:
Speed and performance: Aggarwal says to avoid flash, image text, and too many images or scripts.
Information architecture: Your information architecture should focus on page layout (categorization, organization, labeling) and navigation (primary, secondary, breadcrumbs, site search).
Color and images: She recommends taking into consideration how perception changes by gender and geography, as well as the psychology of colors.
Legibility and eye tracking: While most people might not take legibility and eye tracking into account, considerations include the size, shape, and style of the text, line and word spacing, and the contrast between similar letters.
Aggarwal had some really great tests and tips to help marketers make sure their site was at maximum usability. For instance, sites should pass the 6-foot test, which means that from 6-feet away a user should be able to read the headline and identify the hero shot and call to action.
There's also the 5-second test, which says that within 5-seconds a user should be able to understand who the company is, determine if they are credible, find what they are offering, and understand their call-to-action.
Other helpful tips included making text scannable by highlighting keywords, using subheadings and bulleted lists, and reducing unnecessary word count.
Aggarwal advises using heat-mapping software to eliminate superfluous items from your pages, and recommends not using colors within 15 minutes (+/-7) on the color wheel "clock" to ensure they stand out.
Lastly, she says to minimize HTTP requests/JavaScript/CSS, use a Content Delivery Network, and enable GZIP compression.
Take the time to understand what your users want and then optimize the four areas of usability. From there, set up your conversion funnels and goals and then test, test, test!
6. Build a Strong Marketing Team
For the final presentation of the conference, John Marshall, of Market Motive, took a step back from discussion about marketing strategy and tactics and instead focused on how to build a successful marketing team.
The basis of how he builds a team is founded in the differentiation of hard and soft skills when hiring, and which one is more important for varying roles and level of seniority.
Here's how he broke it down:
Hard Skills
Proficiency Taxonomy
Level 1: Entry – Capability: Identify – Role: Works with a marketing team
Level 2: Conversant – Capability: Articulate – Role: Manage or hire
Level 3: Practitioner – Capability: Execute – Role: Self sufficient
Level 4: Master – Capability: Create – Role: Subject matter expert, invents
Uncovering Hard Skills
Interview Questions: What books have you read? Who do you follow? What courses and certificates do you have?
Assessment Testing: Should have a generally undisputed answer, solvable in less than 10 minutes and require to insider knowledge to solve
Uncovering Soft Skills
Interview Questions: What are three things that would make you stay at this company and three things that would make you leave? What do you think will be the hardest/easiest part of the job? Tell me about a specific time when you [enter work habit].
Overlooked sources for talent include your own social media circles, conference speakers, certification lists, and association member lists
Ultimately, building a great marketing team doesn't happen by accident. Marshall recommends clearly defining the skill set required for each position and creating a plan of action for how to develop those skills in people.
To view more photos of the event, check out SEJ's photo album on Facebook. Photos by Murray Newlands.