Managing AdWords campaigns for small businesses offer many challenges besides just optimizing AdWords in the regular sense. Many small businesses have distinct budgetary challenges, their websites are often not optimal and many lack a general understanding of how Google AdWords works.
As an AdWords manager you therefore need to be able to explain more facets than just the basics about AdWords and make yourself understandable to everyone. In White Shark Media we manage small to mid-sized AdWords accounts usually ranging from $1,000 to $10,000 monthly budget.
We evaluate a lot of AdWords campaigns every month and even though there are many different factors, you keep seeing the same mistakes over and over. If most small businesses could avoid these mistakes they would have better chances of reaching success on their own.
I truly believe that you should get your feet wet in a field before you hire external help. The lack of knowledge in the AdWords field is one of the main reasons for many small business owners to say they have been scammed once or more by a so-called AdWords agency.
Here are 6 of the biggest mistakes I see over and over again in small business AdWords accounts.
1) One Campaign with One Ad Group For All Keywords
AdWords campaigns in the mainstream industries can easily be successful with a decent budget. It's however time-consuming for new advertisers to set up an account properly.
Creating one campaign with just one ad group and including all your keywords herein is a surefire way to waste a lot of money. AdWords is all about relevance. In most industries and local areas you can find advertisers who have been using AdWords for years.
Their campaigns are frequently set up granularly with properly written and tested ad messages for each keyword theme.
If you just put all your locksmith keywords in the same ad group you'll end up being less relevant than your competitor who will walk away with all the qualified clicks.
You'll definitely get clicks – It's very rare to see AdWords campaigns set up in such a wrong way as to not get clicks (kudos to Google) – but the clicks will not be qualified and the users will most likely not convert for you.
90% Relevant Is Not 100% Relevant
I often hear from small businesses that when somebody is searching for a key replacement service they're actually looking for a locksmith. Setting up an ad mentioning that you're a locksmith might make sense if you're thinking in the regular banner ad mindset.
However, in AdWords it's all about being the most relevant choice on the page. Imagine you're searching for a key replacement service and you see these two ads:
Fast Key Replacement Services
Get Your New Keys Within 15 Minutes.
Call Today to Schedule.
All Locksmith Services
We Offer Everything In Locksmith Services.
Call Today to Schedule.
Searchers will look at the two ads and compare them. By looking at the second ad they will be 95% sure that you do offer key replacement services. However, with the first ad they are 100% sure that you offer key replacement services and they even get shown a specific benefit from using that company (15 minute turnaround time).
The more ad groups you choose to use when setting up your AdWords campaigns the better message you can send. This will directly relate to how qualified your visitors are and how good your results will get with AdWords.
2) Limited By Budget
Being limited by budget is one of the most frequent cases of wrongful bid management that I have come across. It's also one of the easiest things to fix if you're a small business.
Having campaigns that have the Limited By Budget status means that your budget limit is being reached on a somewhat daily basis before midnight. When your budget limit is reached your ads will stop being shown until midnight which is when your budget is reset.
Often the Limited By Budget status goes hand in hand with high positions and a relatively small budget limit. Some small business owners wrongfully have the idea that being in the top spots is all that counts. Thinking about this is like thinking about normal advertising where you often pay a fixed fee as you need to ensure that you get the most amount of visibility.
In AdWords it's different. You shouldn't really care about visibility when you're a small business. Sure, visibility becomes a metric when your account has matured, but in the beginning it's all about the conversions and ROI.
You don't get any conversions out of visibility. The key metric here are clicks. You want to get as many clicks out of your initial budget as possible. With Limited By Budget campaigns you often see that the campaign stops being shown at mid-day and has an avg. position over 4.
By lowering the bidding by ~30-50% you'll get a lower position and CTR, but you will also pay less per click. Your budget will not be reached too early in the day and you can get more clicks as a whole:
Limited By Budget:
1,000 impressions
2.8 Avg. position
20 clicks
$2 per click
2% CTR
$20 budget
Campaign stops being shown at 2pm
Not limited by budget:
4,000 impressions
5.6 Avg. position
48 clicks
$0.41 per click
1.2% CTR
$20 budget
Campaign is shown all day
You might think this is just a theoretical example, but I've seen this change (and even bigger ones) happening at least a hundred times.
3) Only Using Broad Match
By only using Broad Match keywords you'll end up giving Google more money than you actually have to. Many small businesses don't know that keywords in AdWords have different types.
The standard match type is Broad Match. Broad Match has an expansion option that lets Google show your ads for anything they find remotely relevant.
A keyword like lawn care services in Broad Match can enable your ads to be shown for the following queries:
lawn moving job
how to move a lawn
cut grass when it rains
spring clean up services
lawn mover maintenance
blade cutters
Keeping to Broad Match Modifier instead of regular Broad Match is a good way to ensure that you're only paying for the most relevant clicks.
4) Too Many Changes All The Time
Even though many small businesses set up their AdWords campaigns and forget about optimizing them, then there is the opposite category as well. If you keep making changes in your AdWords campaigns you'll never get the necessary consistency to achieve statistical significance.
Advertisers having a new promotion every week or making changes on a daily basis is one of the most frequent mistakes I keep seeing. But don't take this as a suggestion not to optimize your AdWords account at all. Optimizing your account is an important aspect of getting a successful AdWords account, but making changes every day clashes with the fact that you should optimize your AdWords account based on statistics.
Optimizing solely based on the statistics for the day is bad practice that in most cases will make your AdWords account perform worse and worse.
5) Wrongful Implementation of Conversion Tracking
Mistaking the implementation instructions for AdWords Conversion Tracking with the instructions for Google Analytics can lead you to not get any real information out of your AdWords campaigns.
Implementing the Conversion Tracking code on each page will give you nearly 100% conversion rate. It is quite easy to spot that this is wrong.
The problem gets bigger when you implement the code on the actual contact form page or another individual page on the website and you mistake the conversions for real statistics. I've disappointed many AdWords advertisers who have come to me, rather proudly, saying that they are pretty successful with AdWords, until they hear me say that they shouldn't really be using their conversion statistics too much.
6) The Ads Aren't Written For The AdWords Format
Writing for the AdWords format is a challenge to say the least. Even I get challenged at times when I think of the perfect ad message that subsequently can't seem to fit into the AdWords format. On top of that, I'm also required to fit in a Call-To-Action which makes it even harder.

The mistake with the dimmers.net ad is: Missing a period after Selection causes the ad to be hard to read. Adding a period would also increase the ad exposure by putting the first description line in the headline.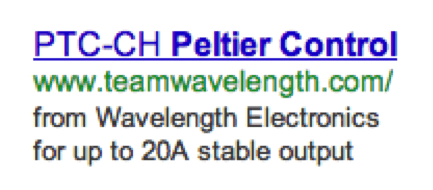 The mistake with the teamwavelength.com ad isThe headline and description lines are written like a full sentence. AdWords ads aren't suited for full sentences. Small messages with a conscious choice of words work best.
Work Smarter With AdWords When You Know The Basics
Even though many AdWords experts differ in their strategies many others agree on the approaches that are most effective for smaller accounts. Working with AdWords is somewhat simple for the advertisers who take the time to understand how the search engine works and how AdWords plays a role in the online ecosystem.
Getting your feet wet and understanding the basics of AdWords will give you a better chance of finding success with AdWords either by managing your campaigns in-house or through a Third Party AdWords Agency.
Image Credits
Featured Image: j.dudzinski via Depositphotos