Everyone is different. So why should Google's search results be the same for every individual?
That, in a nutshell, is the idea behind search personalization.
It can be handy when search engines better understand what you like (and what you don't).
A couple of years ago, Google was actively engaged into search personalization.
Now, according to Google's Danny Sullivan, personalization of search is "very light," with location and language being the main factors that determine what different people see for one and the same query: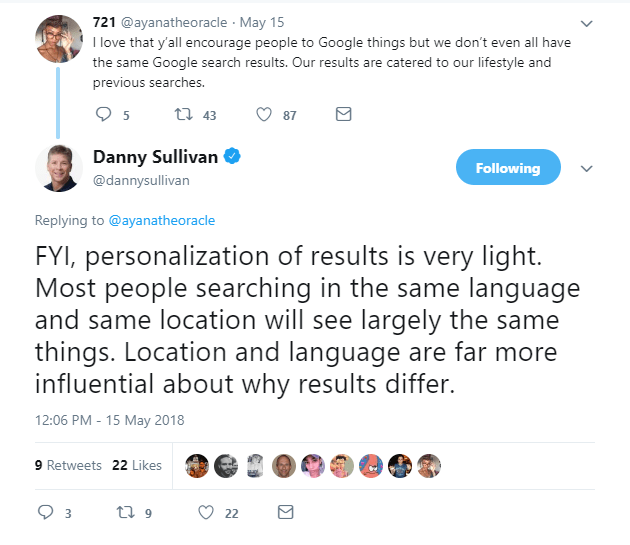 Basically, if you search for some kind of service, like fixing your phone or something, you will see the results of repair shops in your city while the person from another town will see different shop locations for the same query.
However, as Google is not always doing what it says and things are changing really fast, I would suggest looking into those factors that I still consider important in shaping search result pages for different users.
Plus, let's see how we can work out an SEO strategy perfect for ranking better in personalization search.
What Factors Influence Search Personalization?
If I were to define what personalized search results are, I would say that these are the results based on the combination of traditional relevancy factors and data that search engines have on individual users, such as their:
Current location.
Language.
Search/browsing history.
Plus, when it comes to personalized results, a lot depends on whether the user is logged out or logged in (to their Google account, for example). Check out the comparison table:
Personalization factors

Logged-in users
Logged-out users
Location
Location
Device
Device
Browsing history
Social media accounts
Other products
Let's dive deeper into each factor.
Location
Location personalization usually comes into play when your query implies the need for a particular place. It makes perfect sense that users from different locations see different SERPs returned after the same location-based query.
Thus, we can easily assume that this factor is one of the most important ones. It doesn't matter whether you are logged in or logged out, Google will know your location by your IP address.
What's more, if you are logged in on your mobile phone and geotracking is on, Google may know even more than you would consider comfortable. Check out Google's timeline of your location history.
So, with that archive of knowledge, the search engine can endlessly personalize your results once you've made a location-based query.
Search/Browsing History
Back in 2012, Google published a patent on creating user personalization profiles and using this info for personalizing search results.
It means that your search history and all pages you subsequently clicked on give Google an idea what you are interested in. This information allows the search engine to further shape SERPs in a way which is most relevant to you.
For example, I searched for [sequoia] on Google. Here is the SERP I saw: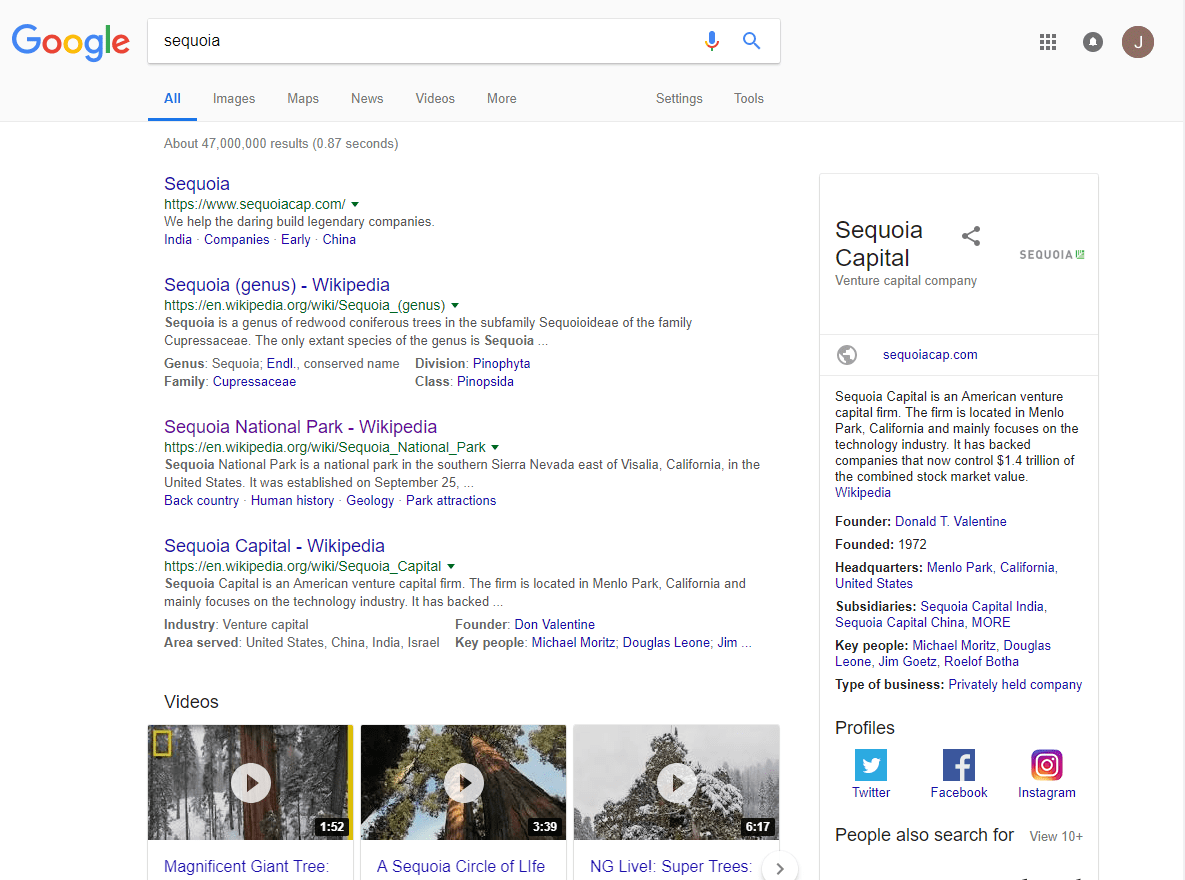 Further, I started to click on everything connected with the National Park and read on a bit.
Then I searched for [sequoia] again and saw a different picture: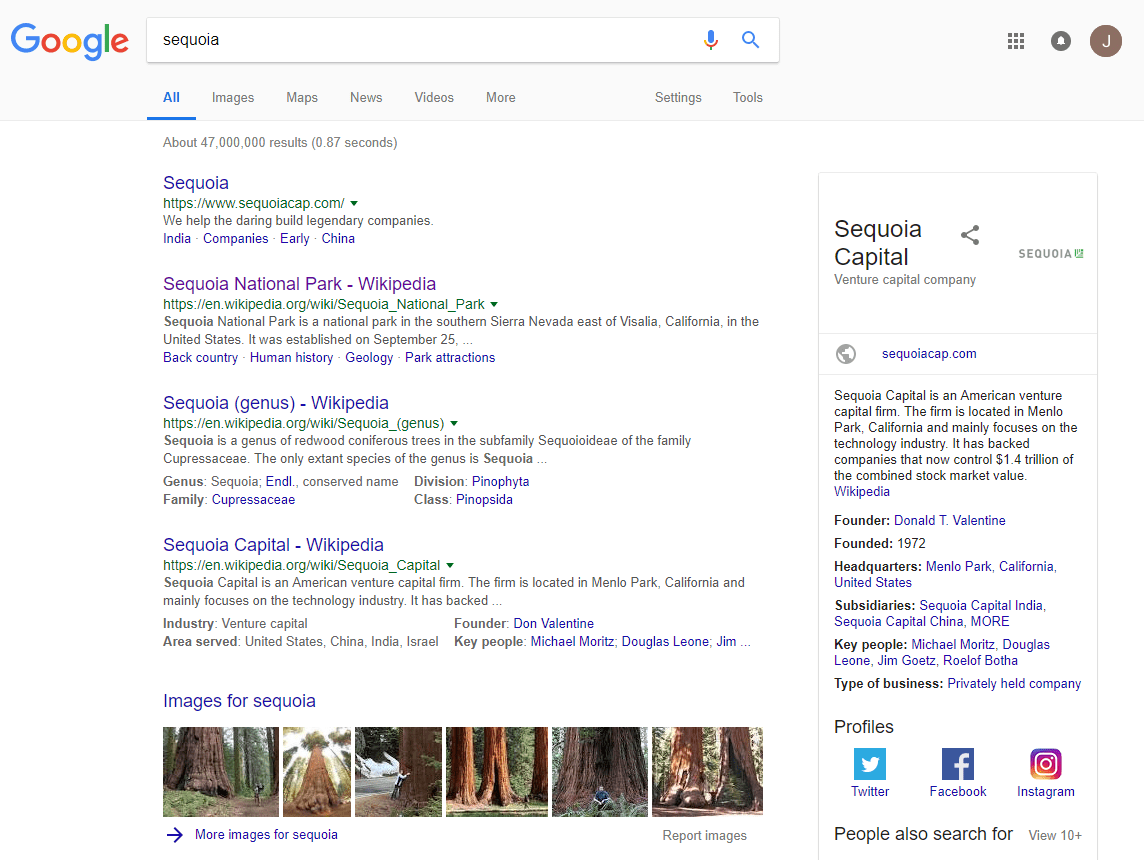 Some snippets switched places. Plus, on the first SERP you can see videos coming first, and on the second – images. On the whole, not so many changes.
A year ago a colleague of mine made a similar experiment with the query that can have a few completely different meanings.
After some clicking on the results of one particular meaning, she even saw the change of the Knowledge Graph.
Maybe Google really is going much lighter in the area of personalizing by browsing history.
Social Media
For a couple of years already, people have been predicting the death of Google Plus. However, it is still alive.
In terms of its influence on search personalization, I would say that now you probably won't see many posts from Google Plus in SERPs related to your query's keywords.
Today, Google would rather show you some results from Facebook and Twitter (not just a result, but the whole Twitter carousel).
What I see from my experiments with Google SERPs as well as my routine search experience, there are really few results from Google Plus.
For example, I searched for keywords from my latest Google Plus posts, and I saw neither G+ posts of mine nor of my colleagues' who shared the same posts. The story repeats with Facebook – no results from there.
So, according to my personal assumptions, most social results come from Twitter. However, though relevant, they are not personalized.
For example, search Google for [Barcelona]. Though the city of Barcelona is one of the most known in the world, I get Twitter carousel from the @FCBarcelona Twitter feed.
Though I'm a football fan, I haven't shared anything connected with the club from my Twitter account and I do not read their Twitter feed. Football is just a hot topic right now, so football results pushed out the results for Barcelona city.
For the time being just bear in mind, when you create an account in Google Plus, you fill in lots of info that can tell Google about your age and gender as well as your interests and connections with other people. This info can be used to shape your search results.
Device Type
We have already reached that point in time when mobile-first indexing is being actively rolled out and the mobile speed update is officially out.
The results can be more or less the same on desktop and mobile, but there are quite a few device-specific factors that can heavily influence whether the page ranks higher or lower.
For example, those pages that are deemed slow may appear much lower in mobile SERPs. Thus, I would advise tracking the performance of your pages on mobile and desktop separately with the help of Page Speed Insights.
Other Google Products
Google has a number of various integrations (Google Maps, Gmail, Google Calendar, etc.) where it can pull different information from when you are logged into your account. This information is of no SEO value because it is mostly personal and visible only to you.
For example, if I have created an event in Google Calendar, like a flight itinerary, I can ask about it right from the search bar.
What does it mean?
Google is becoming something bigger than just a search engine.
Taking into account the latest experiment with the SERP with zero results (it was closed after a week, for now), such personalization can grow into something similar – just the exact answer to your query.
How to Perform Better in Personalized Search
If you realize that your potential visitors can get biased in search results because your business is, for example, local-based, then you should consider including personalization optimization into your SEO strategy.
Here are the things you can optimize for.
1. Optimize for Locations
You should not bother about this one if your content is more or less universal for users from any location.
However, if you target specific markets or your business has a few locations, you have to make it clear both for search engines and people.
First of all, make sure that you have Google My Business listing. This is the place where Google takes all the local info from for its local packs and local knowledge graphs.
Check whether all the details are there, like a link to your website, name-address-phone, photos, descriptions, etc. Go for consistency among all the places where this info is indicated. Update it if anything changes.
Consider using local structured data. And please make sure that everything works ideally on mobile.
The thing is, most "near me" searches come from mobile (to be exact, about 80 percent). I'm sure you want to be near those searches.
Plus, try to win some reviews from your happy users.
As search results vary depending on the location, you have to track rankings for each of your target locations in order to see how you perform in each of them.
In case you want to dig deeper, refer to this article on local SEO for more details and legal hacks.
2. Optimize for Languages
Optimization for languages goes hand in hand with international SEO. It should be applied if your relevant audiences speak different languages, and you want to provide them with unhampered experience.
There is a tricky moment here: it only makes sense to engage in international SEO if you are sure you can do it right. Otherwise, you can end up with a pretty bad case of poor UX.
First of all, you should decide what international format of a website suits you.
Here are three popular options:
One website with multiple languages to target one country where people speak different languages (like Switzerland, for example).
One website to target no specific country, just multiple languages.
In these both cases, the content can be the same along all the language versions of the site.
A number of site versions targeting multiple languages: here you may want to create similar site versions with specific differences depending on the target audience.
Here are the tactics that you should get right for these three scenarios:
First case
Second case
Third case
Application of a specific country code (.ch, .ca, etc.)
Application of a generic (.com) country code
Site hosted in the targeted country
Site hosted in primary market
Default language and location
Hreflang tags with language and country specified
Hreflang tags only with language specified
Hreflang tags with language and location specified
Language-specific content is in subfolders in your target languages (/en/, /de/, etc.)
Country-specific subfolders (uk/, ch/, etc.) + language-specific subfolders per each country subfolder (uk/en/, ch/fr/, etc.)
Links from sites with a target language
Links from sites with target language and location
You can either use separate sites for each language or a combination of the cases that I described.
3. Get Exposure in Social Media
The challenge for SEO professionals here is that personalized results from social media take the real estate of organic listings. But it also means that your social media posts can also occupy this space.
The best and most obvious thing here is to create quality content that people would want to share.
Do not discard your Google Plus account, as the posts from this social network can still appear in SERPs, and people who follow you in Google Plus can see these posts in their search results.
Plus, as you can figure out by looking at search results, Google closely cooperates with Twitter, so it is possible there will be more personalized stuff from this social media platform in the future.
4. Optimize for Multiple Devices
Optimizing for mobile searches is of utter importance, and the first thing to do is stick to responsive web design.
If you follow Google's guidelines for mobile-first indexing, then you shouldn't experience any ranking drops due to mobile issues. Plus, you can separately track rankings for desktop and mobile to spot and fix any problems.
What's more, in the light of Mobile Speed Update, you have to make sure that your mobile pages load fast. When I say fast, I mean fast enough for the user to stay on your page, which is usually under 2 seconds.
You can use the following resources to evaluate your page's performance especially when you suspect that your site was affected by this update:
Page Speed Insights tool will show you data on page speed and optimization, and recent data from SEO PowerSuite (disclosure: I work at SEO Powersuite) suggests that it's Optimization Score, not Speed, which plays a more significant role.
5. Focus on Search Intent
Many search engines do their best to understand the meaning of your query and provide the best results. It seems that Google is an A-level student among its peers when it comes to solving search intent.
So, how is it connected with search personalization?
In its pursuit to deliver the best matching results, Google uses all resources available to it. That includes all the personal data it has on its users.
For example, I may run a search for [car rental services] in Google, and it will show me the locations in the city where I am currently in. But, if I have recently searched for [car rentals in Lisbon], then in spite of my current location, Google may show me some results in Lisbon.
It's quite impossible to optimize for such things that I've mentioned in my example, but it is more than possible to optimize for search intent:
Imagine that your potential visitors try to search for your content using voice search. People usually go for natural language when talking to their phones and voice assistants, thus, your best shot is to optimize for questions and long-tail keywords.
When you come up with all the questions that potential visitors may ask, you should create content that naturally includes answers to those questions. Make use of internal linking between your related content. This way, you will be creating topical clusters that can rank for multiple related queries.
Use structured data to mark up your content (e.g., local business, event, creative works) and let search engines immediately know what type of content you have on your pages.
Conclusion
Although Google search personalization is much lighter today than prior years, there are quite a few specific things to keep in mind when optimizing for personalized search.
Namely: location, language, social media, device, and search intent.
All of these factors can alter what different users see. So make sure you're doing all you can to influence personalization to make sure your target audience can find you.
More SEO Resources:
---
Image Credits
Screenshots taken by author, July 2018