Pop Quiz: Expanded Text Ads have given AdWords advertisers 45 new characters to work with. What are you going to do with them?
This change, which began rolling out July 26 and will be complete by October 26, is huge. It requires an entire reboot of your PPC marketing strategy.
You can't simply stick to the same old ideas that have worked for you up until now. Expanded Text Ads aren't the same. You don't want to waste all your valuable Expanded Text Ad real estate by adding superfluous characters and descriptions. Right?
Imagine for a moment that you're a painter. For years you've been working with a canvas that's 30 x 20 inches. But now you suddenly have a canvas to paint on that is twice as large.
Are you going to just fill in all that extra space with more sky and ground? No! A great artist would repaint to fit the medium.
With Expanded Text Ads, you now have a much bigger medium to flex your artistic PPC muscles.
Instead of one 25-character headline, you now have two headlines with 30 characters. Instead of two 35-character description lines, you now have one 80-character description line.
You can't have a 25-35-35 strategy in a 30-30-80 world. Expanded Text Ads are really different from "classic" AdWords text ads we've known for 15 years.
Here are five ways to improve your AdWords Expanded Text Ads now.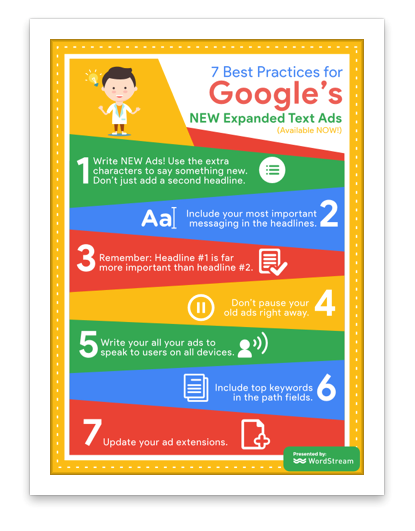 1. Focus on Headlines, Especially Headline #1
Headline #1 is the most important element of Expanded Text Ads. You need to grab the attention of today's goldfish-brained users as they scan the SERPs by combining the right keywords with a relevant message.
Another reason Headline #1 is so important is that you don't have total control over how Google will show the second headline. Both headlines could appear on the same line, but the second headline might appear after a line break, or the Google could even truncate your second headline.

All of this depends on the length of the headlines, the user's device, and their screen size. So make sure to use the Ad Preview Tool, although even that may not be 100 percent accurate.
2. Battle Test Your New Copy
Some of your current ads may have been absolutely killing it for 5 or 10 years. These veteran ads are the survivors of numerous A/B tests.
Eliminating these veteran ads shouldn't be like shutting off a light switch. Instead, introduce and test your new "rookie" ads to see how they perform. You need to transition away from your old ads in a smart, controlled way.
Why is this important? Because the odds are really good that your upgrade to Expanded Text Ad will result in a higher CTR (especially if you follow the advice in this article). But it's not a guarantee.
According to an analysis by Mark Irvine, WordStream's senior data scientist, replacing an existing ad with an Expanded Text Ad results in better performance 80 percent of the time so far. But that also means Expanded Text Ads are doing worse than the ads they replaced 20 percent of the time.
You can either write an Expanded Text Ad that's a total donkey, or you can write an Expanded Text Ad that is a magical unicorn with CTR that are 5x to 10x better than average. You have to test to find out.
3. Break up With DKI
Yes, it's time for you and DKI to split. DKI still works with Expanded Text Ads, but using it is just ridiculous. It's the old way of doing things.
What's the new way to do DKI? As Erin Sagin suggested:
To populate each of these fields … [turn] to your ad group's keyword list. Identify your most popular keywords and plug them into the path fields. If you really want to get fancy, you could also try using Dynamic Keyword Insertion for one of these paths, to ensure they're truly catered toward your searchers' needs.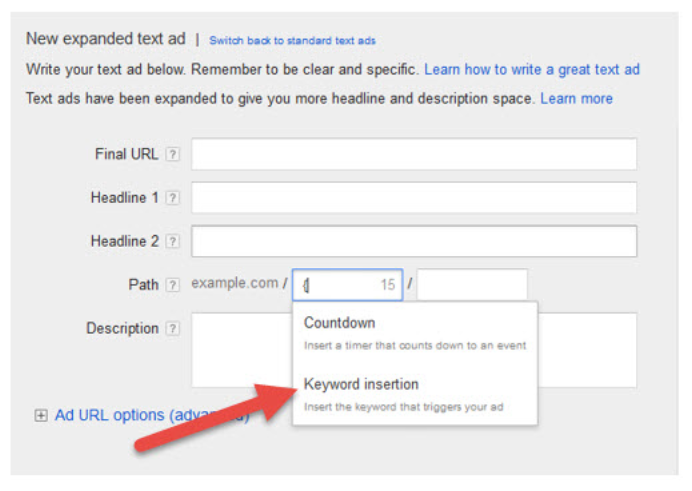 Don't waste the precious characters of your headline on DKI. You can still tie in a keyword in URL.
Remember, dynamic keyword insertion works, but it doesn't produce the best ads – the top 1 percent of ads that really grab people's attention and earn super high CTRs.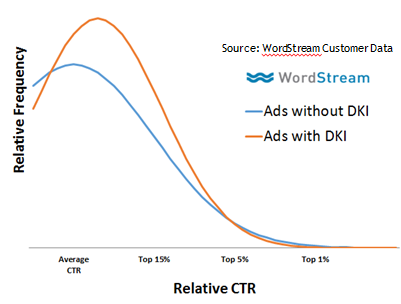 Emotions do that!
4. Use Emotional Triggers
A great ad headline will improve your click-through rate (CTR). Increasing your CTR will also raise your Quality Score, which also leads to higher conversion rates, higher impression share, and lower CPCs.
So how can you up your CTR? By adding some emotion.
These nine emotional triggers have been proven to make people click like crazy:
Laughter
Amusement
Curiosity
Awe
Anger
Fear
Joy
Empathy
Sadness
Think like a journalist or a headline writer for a publication. Use some humorous, witty, or FOMO (fear of missing out) elements to spice up your Expanded Text Ad headline.
5. Write Ads That Work for All Devices
Remember all that advice about mobile-preferred ads and customizing ad copy by device? Well, you'll just want to ignore everything we talked about a couple of years ago. That's not longer relevant. Sorry!
Expanded Text Ads have no device preference. Users will see the same message, whether they're on desktop, mobile, or tablet.
When writing your ads, just think about the context of the user. Make sure your offer and call-to-action are relevant.
In the end, people are just searching for information. It doesn't really matter what type of device they're using.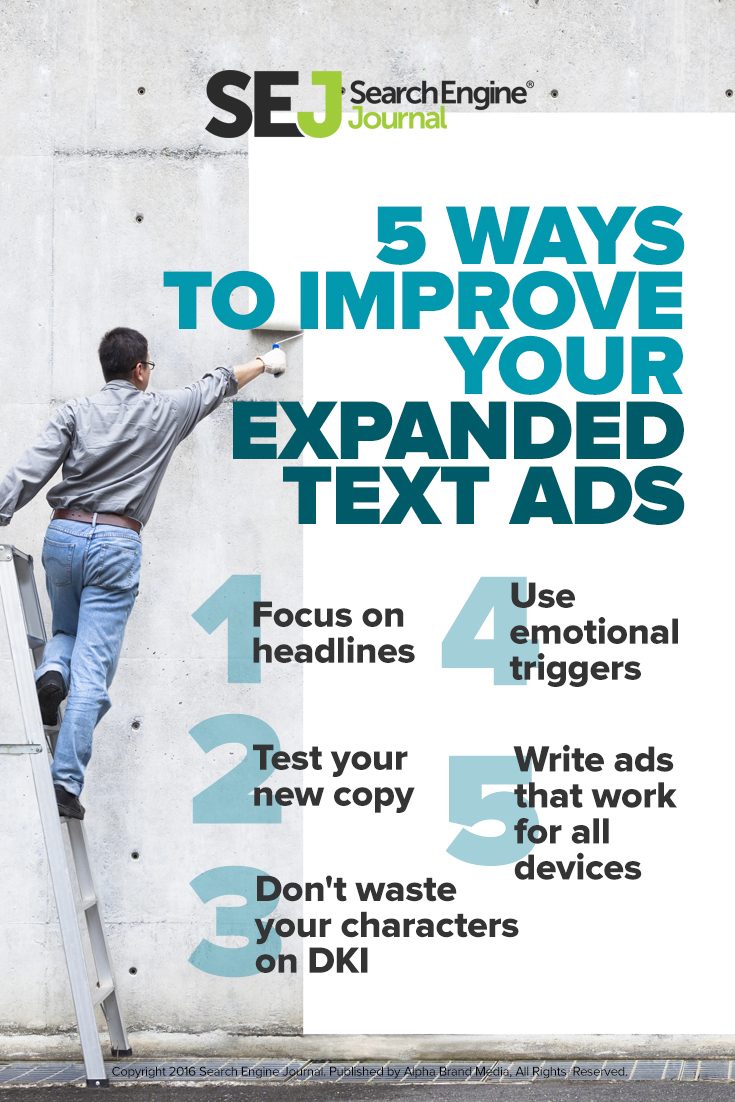 Image Credits
Featured Image: alexey_boldin/DepositPhotos.com
In-post Photo: Image by WordStream. Used with permission.
All screenshots by Larry Kim. Taken August 2016.