After Yahoo! SiteExplorer and Flickr, Yahoo! Pipes is the third reason why I love Yahoo! so much.
Surprisingly, I come across too many people who have no idea how to use Yahoo! Pipes and what one can do with them.
This post is meant remind us of some huge possibilities behind the tool: here are 5 great Yahoo! Pipes that can be used for brand monitoring for competitive research and reputation management:
Pipe URL
Aggregated sites
Best feature
Social Media Firehose
yahoo.com,
google.com, technorati.com,
twitter.com, blogspot.com,
youtube.com,
wordpress.com
Search for multiple terms at a time (comma separated)
Conventional & Social Media Tracker
News sites [Google, Yahoo, Live]; Blogs [Google Blog Search, Bloglines, WordPress blog search, Technorati]; Social media [Twitter, Friendfeed, Youtube, Digg, Metafilter, Wired]
Set the timeframe
Social Site Submission Watch Dog
Digg, Reddit
Domain backlinks from social media sites
Content Keyword RSS
Digg, Technorati, Yahoo News, PRWeb, and Google News
Filters out identical content
Meta Search Alerts
Del.icio.us, Findory, Flickr, Google Blog Search, Google News, Google Search, Icerocket, Live Search, Technorati, Yahoo News, Yahoo Search
Filters out duplicate URLs
Social Media Firehose is a social media search for tracking brand or product mentions on a number of social media sites, including flickr, twitter, friendfeed, digg etc. It allows to filter your search by location and to block any domain or phrases from search.
Conventional & Social Media Tracker combs through multiple blog and social media search engines and also allows you to filter results based on dates published.
Social Site Submission Watch Dog keeps track of your domain submissions to Digg and Reddit.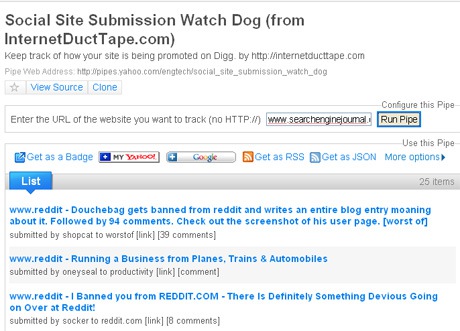 Content Keyword RSS aggregates news sources from multiple sites such as Digg, Technorati, Yahoo News, PRWeb, and Google News, compares content, removing same stories and outputting a unique RSS feed and also allowing you to set how many entries the feed can contain.
Meta Search Alerts aggregates search results from a number of sources and ensures all the URLs are unique.