Let's face it. You may not be Mashable, and your best content very likely won't get as popular as the random stuff you find on the web on a highly popular website. I'm not necessarily fond of 'the cat video' argument, but it does apply now. However powerful your articles are, they won't generate as much clickbait as mindless entertainment does. This can get a little frustrating, especially when your business is serious and your content powerful. As it seems that it's not enough to provide high quality as long as people haven't heard about you, content amplification is a great strategy for long-term, quality businesses.
I'm not going to advertise changing your site profile into something that generates views without necessarily having something important to say, niche-related and with a professional takeaway. Instead, in this article I am going to advocate a results-focused approach, that's hands on and could make your articles as popular as your current status and your industry allows it.
Owned Media
It's popularly believed that owned media isn't necessarily the best way of promoting your content; especially as a main strategy. While it's true that your results will only be as good as your reputation, there's nothing wrong with starting here.
What you've got to remember is that a good content marketing strategy never killed anybody, and the channels that are immediately in your control, however, optimized and invested in, work better when they're complementary to other promotion tactics. But let's focus on owned media for now.
As you probably know, there are some examples of exclusively owned-media promoted content that kicked some serious competitors in their niches. But they're hardly the results of happy hazard – most of them are planned endeavors that take a lot of thinking before the post is live.
And there are some classical figures that always come to our minds, whichever the niches, due to the blurred distinction between the brand and the influencer. Let's just see how a guest post performs on a blog that belongs to a personal brand—for instance, Jeff Bullas.
Michael Georgiou wrote a blog post on Jeff Bullas' site. Nothing unusual here. He had a total number of approximately 3k shares on social media, everything went smoothly. But how much of this number is Miller's text and how much is the engagement Bullas gathered over the years?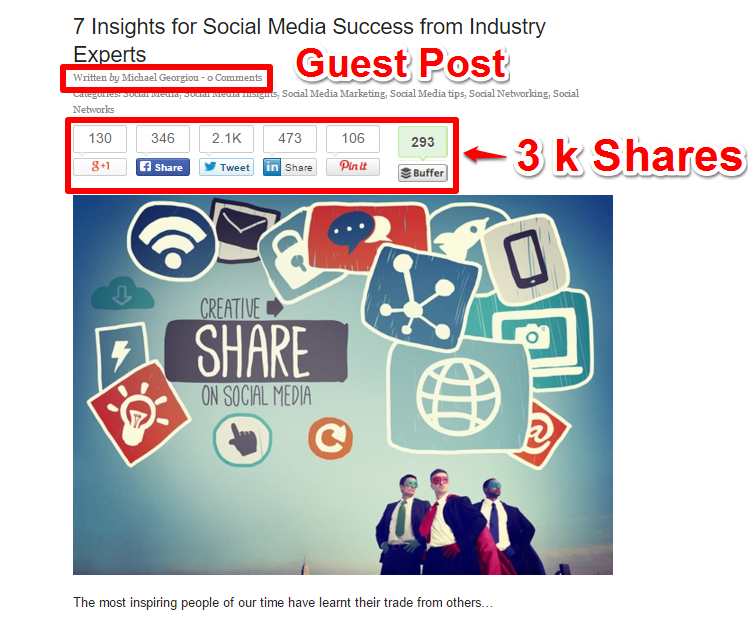 In order to establish this, let's take a closer look at their Twitter followers. Bullas has over 384 k, while Georgiou has about 1k. Here's the bottom line: while for Michael Georgiou it may not be enough to use owned media alone to promote his blog posts (hence the guest post strategy), Bullas could easily be highly popular while promoting his content on his site alone.
This example only reinforces the idea that your owned media shareability performance will only be as good as your popularity—and sometimes, however good a professional you are, this may not be enough.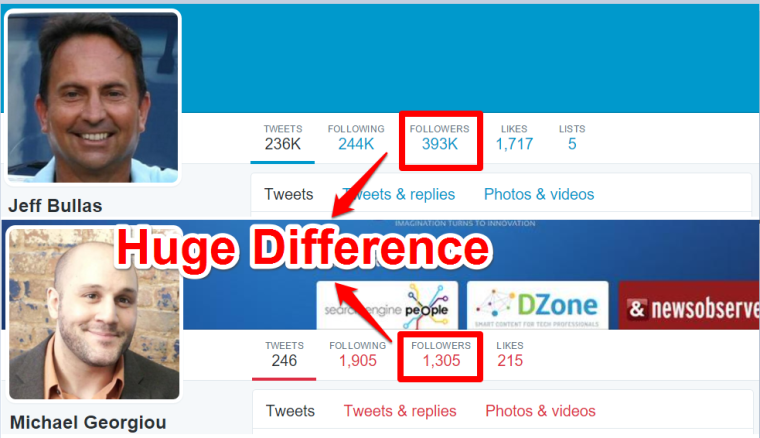 The channels that are in immediate control of your business can bring great results. It does take perseverance and it is time-consuming, but the results can be astonishing—I mean, look at Jeff Bullas.
Aside from your personal and business websites and the connected social media accounts they have, email lists should make it to your priorities. It's a bummer that it degrades by 22,5% every year, on average. I agree that loyalty plays an important role in the information dissemination process. But this doesn't mean that we can afford to ignore the urge of getting new contacts—therefore your blog should be a never-ending source of hands-on content, both for old and new audience.
There's no rule about visibility, however. To make this point clearer, we're going to take a peek at Danny Sullivan. While his site Search Engine Land is doing great in terms of social media visibility and content shareability, also due to the high number of guest posts, his personal blog isn't nearly as good–partly because he hasn't invested the same time and effort in it. This does, however, explain why an article signed by Sullivan has over 8,1 k shares on social media just because it's posted from Search Engine Land, right?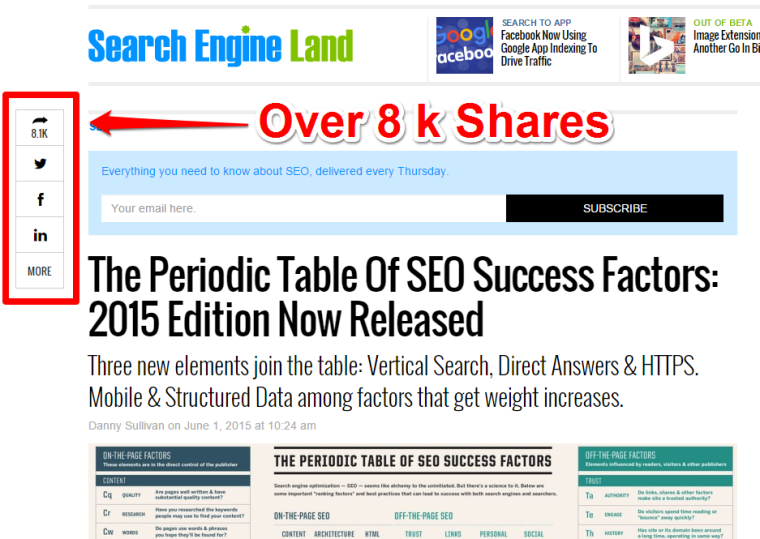 Actually, not really. It's all relative on the web, and while it's hard to formulate universal rules and recipes, one thing that does apply is that you've got to be consistent and perhaps too devoted to your cause to generate, in time, a constant flow of people interested in what you're about to say. Owned media does help in the process, but your results won't be better than your overall efforts.
Earned Media
There's not doubt about it, earned media is the star of shareability boosts. The popularity peak that made it famous relies on the fact that you've got to be remarkable. The earned media works like a brand evaluation in terms of credibility attributed by people – most often in your niche. It is more than just media coverage and word of mouth.
Take this article—it wasn't just the source that made it social media popular. It's that we're driven by powerful stimuli, and fear's on top of every positive emotion. Naming your article '6 Lessons I Wish I'd Known Before My Business Failed' gathers a lot of personal experience that's going to be reliable for anyone presumably interested in the topic. If it's ever crossed your mind to open a business of your own, you'll open that article. It's weird how sometimes what makes us popular and remarkable isn't necessarily where we've succeeded, but where we have struggled. There's nothing wrong with admitting you lost control–especially if you plan to recover from that.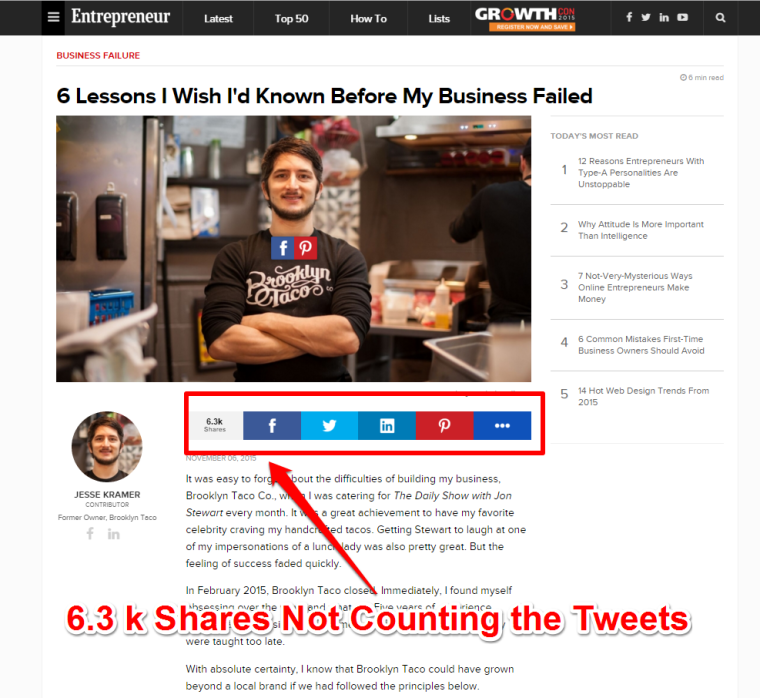 From the shares on social media, to the bloggers mentioning your business and your every other social thread, everything that is voluntarily done to talk about a great result you've had is earned media.
It's hard to take care of all these aspects at once, but before you become a Reddit and Hack News star you have to understand one thing: what is it that makes people outside of your business who are part of the niche find your content useful? Yes, this is the most difficult type of coverage, but it's the most rewarding and trustworthy too.
Paid Media
We've all become more creative since the decline of the banner ad. The evolution of the web has forced us to become relevant in ways we wouldn't have imagined in 2005. Who thought, when Google first introduced the paid ad, that only 10 years later this entire industry would be estimated to $8,4 billion—as the prediction for 2015 tells us.
So is it a powerful industry? Undoubtedly. But is it enough to concentrate all my marketing efforts just on it? I don't think so. Starting 2013, when the top three social media video ads generated no less than 12 million views, it became clear that this rented form of advertising is going to make us a fortune. The trick is, however, that paid media is only efficient as long as it is ongoing. If it's not integrated into a consistent marketing strategy that aims to increase the number of loyal customers, it will only work for the moment.
In laymen's terms, the accuracy of ad targeting influences the campaign results. What happened when we started using the web as part of the purchase decisions is that we also started stretching our targeting means. We adapted them to go deeper than your generic demographic and geographic data – we started looking for deeper interests, psychological personas, behavioral tendencies. Opening these new doors would be in vain without the proper attention during the targeting phase.
From sponsored Facebook posts to targeted LinkedIn posts and paid StumbleUpon traffic, there's no social media platform that won't offer you a paid service. Each of these has its own pros and cons and works better with some campaign types than others. Just like you only use Google AdWords for evergreen, purely informational content, every strategy has its perks.
Content placement on Outbrain, for instance, can help you reach larger audiences with a strategic increase that becomes exponential once your content is getting more popular. Content placement can only work as long as your articles offer hands-on information with a pinch of creative points of view.
We're forced to focus on the ad relevance personalized to the site users' needs to get the best ROI. Let's see what our options are:
Interest targeting: It's perhaps the most efficient method, and as Facebook advertises itself, it's 89% more accurate than the generic 38% success rate. Of course, this strategy works better when the interest is not very broad and the keywords are specific. A lesson we learned from media coverage is that a broader audience equals a smaller intent, that we have a better result when addressing a smaller niche with a higher interest in our products—start from here!
Connection targeting: It's also called behavioral targeting and it reaches people depending on the research interests and the devices they use. It's offered by Twitter, LinkedIn, and Facebook and you can use it to scan people's interests based on their interaction with specific pages and platforms, events or groups; it's all the more interesting as it takes your previous platform interactions into account when making recommendations.
Custom audiences: From the people who visit your websites to the ones that use your mobile apps, custom targeting sets its sights on people you're sure you want to include in your target; you just upload the database into the platform, be it Facebook or Twitter (which calls it tailored audience) and reach them directly based on previous interactions. The major advantage is that you're sure your product is a top of mind for that specific group, so the success rate is significantly higher.
Lookalike targeting: As you've introduced your current database on the platform, people similar to your current audience's profile will be targeted, one country at a time. It can be a fantastic acquisition if you're planning on expanding your current customers. Both Facebook and LinkedIn offer it as part of their services and it's a highly efficient complementary promotion strategy.
Go Platform-Native!
Assuming you're not Chevron advertising natively on New York Times, native advertising should not only be harmless for the brand image, but its proven efficiency boosts your credibility. There are many ways in which you can resort to native advertising. The three most promoted strategies are in-feed, paid and recommended.
Because we've somewhat covered a substantial part of targeting, it's essential to refer to the news as well. Media coverage is believed to be the ultimate proof of relevance even among the most educated and tech-oriented people—we all like to be shining stars on red carpets, even if sometimes we need to pay for it.
What native advertising does differently is using the credibility of a media entity to promote its content, while being cohesive with the page content. From Buzzfeed to the Wall Street Journal, everybody's doing it. What's less popular is that, while many charge over $100,000 on a native advertising campaign, the benefits in terms of ROI are astonishing.
Depending on the platform that you're blending your content into, the brand visibility results can be astonishing. Think of all the reliability that a news site generally has, not to mention the exposure. Now place your content in that specific context and see how success is properly done. However, native advertising campaigns do have their perks.
For instance, Buzzfeed, one of the most popular sites (also for their permissive native content policies) has gone through a number of media scandals because of editorial conflicts of interest.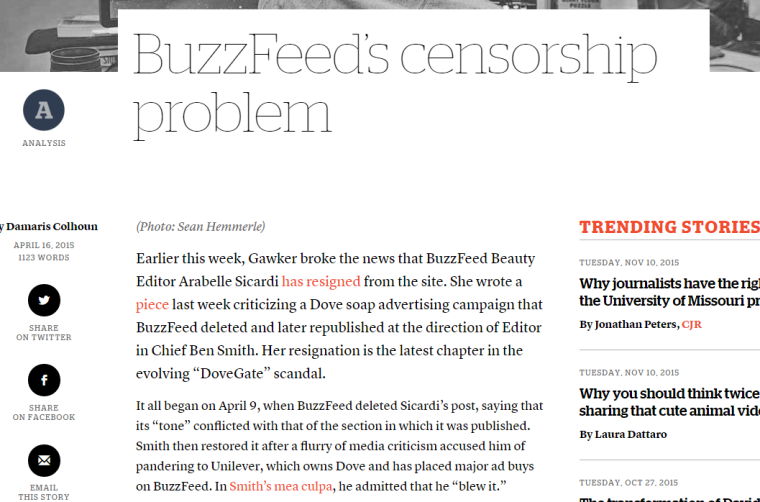 While you're sure people are not that vehement about your products to start world wars around them, there's nothing wrong in benefiting from another site's audience and exposure as your industry doesn't frown upon this kind of practice—otherwise, you may as well gain organic traffic on your site and lose soundness as a source.
Multi-Channel Integration
Sharing your content sporadically without any planned route or clear goals takes you nowhere. Of course, you also don't want to be redundant and give people the impression they can't escape the headline of your latest blog post no matter where they go online. So be stealthy about it (yes, I understand the irony).
You got me. Aside from my constant professional reads, I do enjoy good literature perhaps too much. So I do what every passionate out there would—I spend most of my mornings reading Brain Pickings at the expense of browsing through newspapers. This is how I've noticed that what populates my weekly newsletters isn't always the content I find on their Facebook page.
For instance, take this screen snap from the newsletter I got on 15th of November—this Darwin post was extensively covered, given the nature of a newsletter, which has to deliver powerful, concise information.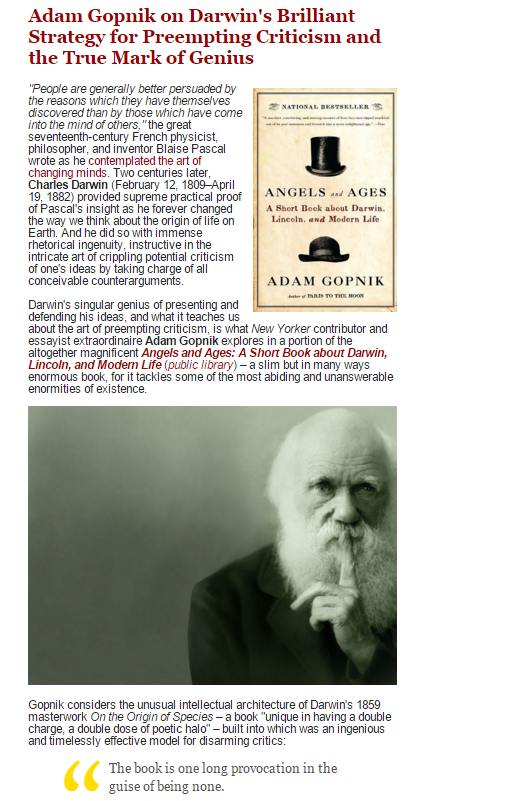 It is, though, easily presumable that the article is of great importance for the site owner. Despite this, there's no sign of it on Facebook—only on Twitter. The explanation is more human than it is of marketing nature—and this is what makes it engage: in the light of some recent events, the Facebook account only displayed messages that were related to a cause and not from the newsletter content.
The ability to tune your promotion efforts to the latest events makes the difference between a generic marketing campaign and someone who is there to offer you a personal experience.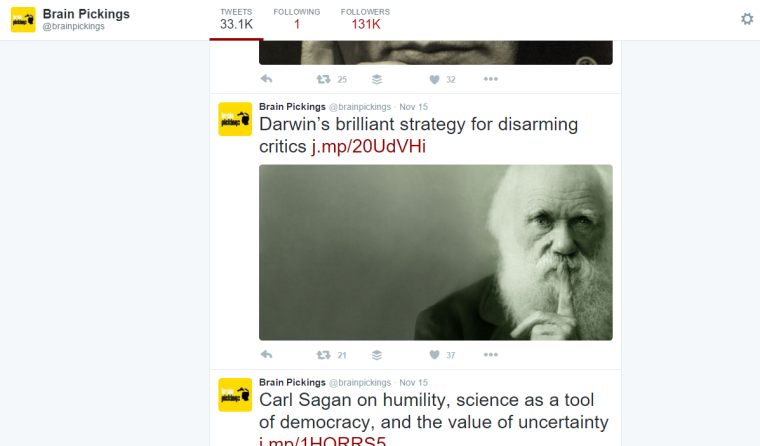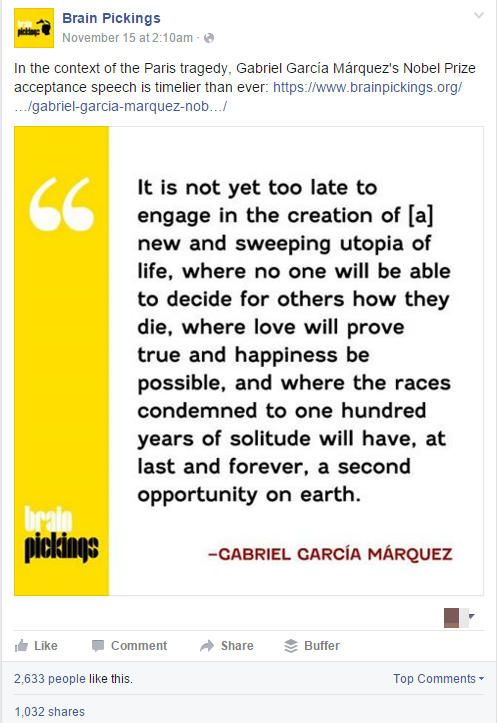 Of course, this approach depends very much on your position. Being a literature-focused blog, it was only natural to show some compassion and align the social media sharing program to a tragedy that changed the lives of thousands. But this strategy isn't cut for everyone.
A lesson to be learned from here is that timing is highly important on the web. If you've got the hottest breaking news in your niche, but something critical takes place, you should start thinking if it might affect your traffic or steal your thunder. If it doesn't really interfere with your day-to-day activity, however, grave the occurrence is, you should be safe and do what Adweek did.
Monitoring the Media
Finding influencers isn't an easy job. And monitoring their every move online can be tricky–particularly because they're very active and tracking their steps would mean not having time to do anything else.
Monitoring web mentions is now easier than ever. You can do it following two main directions: following someone or following a specific keyword. Whichever path you take, the common advantage is that you can find the most recent and relevant mentions about the topics or people you're searching for.
Now let's suppose that I'm following Gary Vaynerchuk's online presence and everything that's written by or about him. I can search for mentions of his name in the time interval that interests me most and, in the case that it's a permanent interest of mine I will also set a daily alert with the newest mentions, notified via email.
For the research, I used Brand Mentions, a free tool that helps you find all the fresh mentions about a brand of topic over a specific period of time (Disclaimer: I am the founder of Brand Mentions)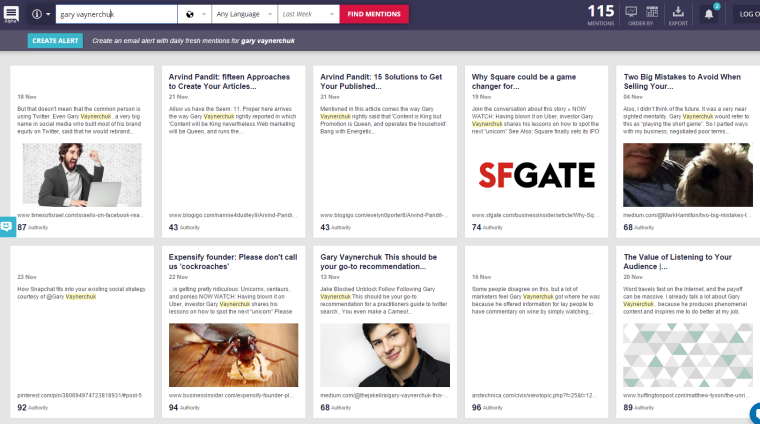 The alert will let me know what's happened and so I can monitor the perfect timing to getting in contact with him, in case I had such a thing in mind in the first place. Of course, this would mean that I already have quite the credentials to recommend me; otherwise, just monitoring him would suffice. Keeping in touch with trend setters is as relevant as providing a unique experience, if not the core condition of it.


As far as earned media goes, being remarkable and unique isn't something you do with your eyes closed. It's a serious commitment you're making towards your audience. And it takes time and perseverance. It also takes knowledge and constant tracking—after all, you can't be original unless you know everything that's being said in your industry.
Conclusion
The 11th commandment is not to expect fame. Don't feel like you deserve every second someone spends reading your content – earn it. Be ambitious, but also realistic. As professionals, we've turned towards competitive advantages because our requirements have grown distinct and specific, because we can't easily be pleased. Essentially, this is a good thing, as it compels us to be better.
Image Credits
Featured Image: Image by Razvan Gavrilas
All screenshots by Razvan Gavrilas. Taken February 2016.