Local results are nothing new in Google SERPs. Google has blended them with organic results so much that, often, the former prevails. Just look at the screenshot below (which doesn't even show all local results, only what appeared above the fold):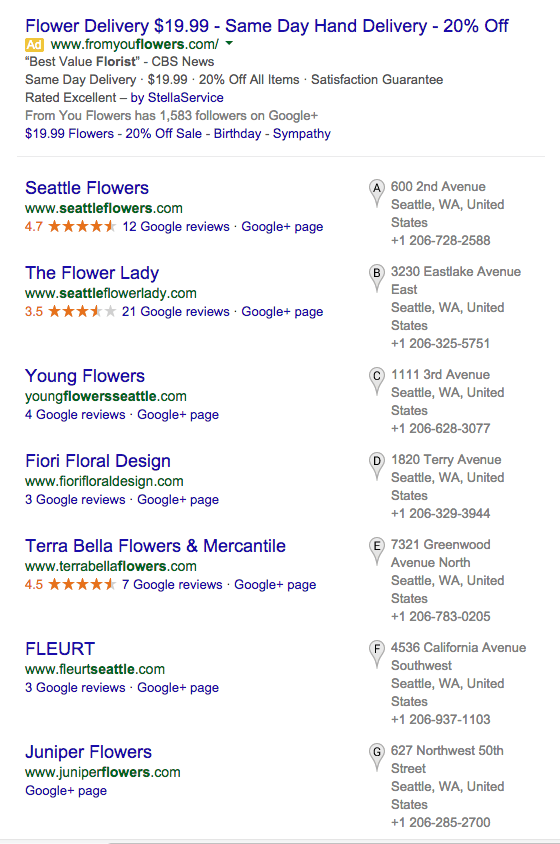 But what's even more important, they seem to find them quite useful.
According to this data from MDG Advertising,
71% of users value information provided in local search results
36% think these results are convenient
14% use them to find a local business each month
A staggering 61% of local searches result in a purchase
Getting listed and maintaining local rankings however isn't simple. And that's for a number of reasons:
Page Space is Limited
Google displays many elements in local results – addresses, reviews, star ratings, and much more. Above that, it also displays AdWords ads and organic results. All these elements take up precious "page estate," limiting the number of local results per page.
Getting Results Takes Time
Seeing the results of local campaigns is tedious and time-consuming. Without going into too much detail, there are plenty of platforms to verify, manage, and claim profiles on. Each one has its own set of rules; making sure your profiles comply with them takes time.
Big Retail Chains Do Local, Too
It doesn't mean, however, that you can't overcome them. It does mean a fierce competition for local results and more resources you need to devote to secure your listing.
But working with local search doesn't only mean following best practices and devising strategies.
A major aspect of local SEO work revolves around other activities:
Monitoring your progress
Finding new citation opportunities
Conducting regular site audits
All requiring dedicated tools.
There are many guides on planning, launching, and maintaining a local SEO campaign. Shopify features many posts on the subject. What I want to talk about instead are the very tools that help deliver and automate many of those tasks.

Whitespark
Whitespark is one of the most well-known local SEO tools on the market. It is an all-in-one suite. It allows users to manage all aspects of their local SEO campaigns— from finding citation opportunities to tracking local rankings to prospecting for links.
The heart of the app is the citation finder – a sophisticated tool that can search for potential citation opportunities by keywords and website data. If you're interested in improving your Google local rankings, this is one tool you have a look at.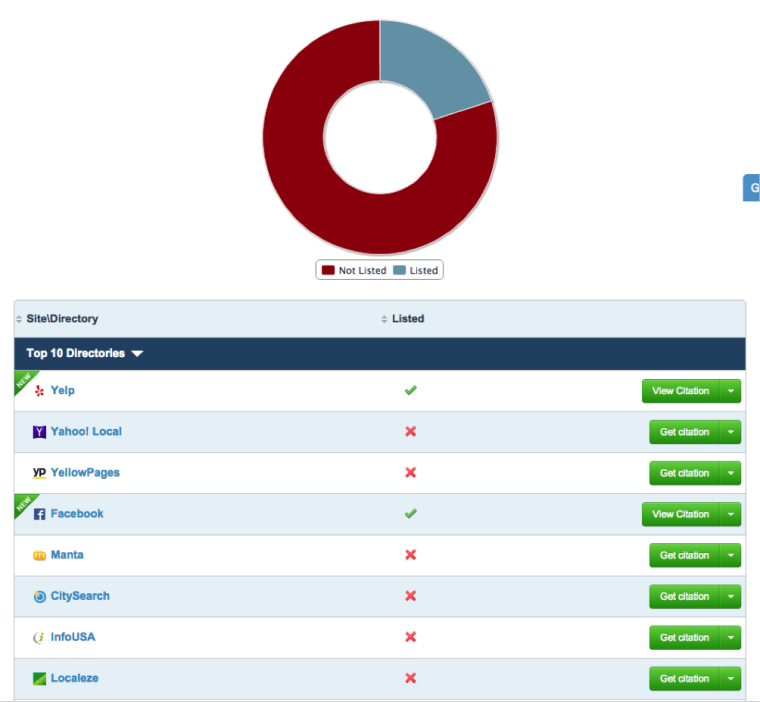 BrightLocal
BrightLocal is another all-in-one local SEO suite. Unlike Whitespark, BrightLocal targets marketing agencies and consultants. Having said that, their smallest plan seems to include most of what a small business would need to manage their own strategies.
BrightLocal is also a more advanced tool than Whitespark. In addition to local rank tracking and a citations finder, the tool also features a local SEO audit tool, Google+ Wizard, a tool to monitor online reviews, and more. It's a complete suite for any business that wants to take its local SEO more seriously.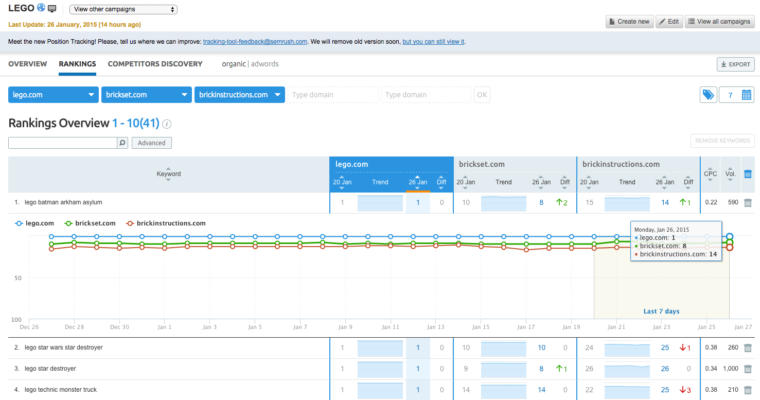 SEMrush
SEMrush stands out from the other tools as an all-in-one digital marketing suite. It helps with every aspect of SEO – keyword research, PPC, competitor research, and so on.
One of its important features for local SEO is the Position Tracking tool, which allows you to track daily position changes for organic and AdWords' campaign keywords in Google's top 100. This tool can track not just root domain, but subdomain and URL, which is great for tracking landing pages, for example.
The best part is that it allows you to specify the exact location you want to check and compare your rankings with competitors' rankings. We know how serious it can be to lose even a couple of positions for a specific keyword; with this tool, you will be more aware of position loss and able to take action immediately.
Also, this tool can be helpful for those who use very specific keywords with low volume. Users have the ability to add their own keywords—and they don't even have to be in the SEMrush database. They will be added to the list, and SEMrush will track them as well.
You can also specify a search engine (such as Google.co.uk, Google.ie, etc.) to make your search even more relevant.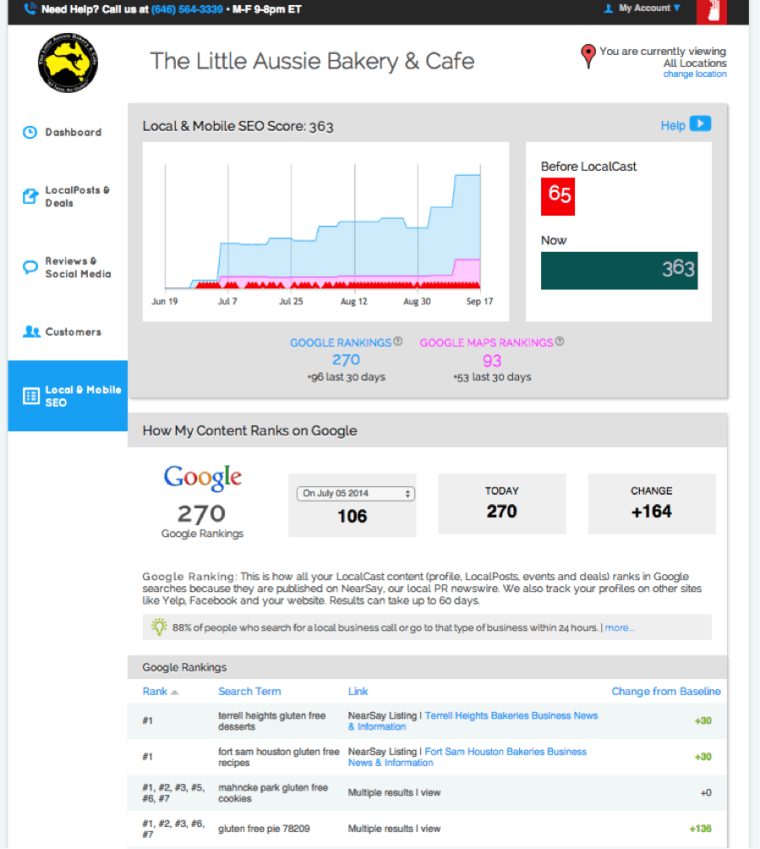 LocalVox
LocalVox is a real local marketing powerhouse. It's a complete platform that can help a business manage its entire local online presence. It's not just a SEO suite, but a powerful content, social media, email marketing tool.
One of the key features of LocalVox is the ability to publish to your website, Facebook, Twitter, and LinkedIn with a touch of a button.
LocalVox offers solutions for small businesses, multi-location companies, and franchises, offering you the ability to look after various aspects of local marketing – including customer targeting, news and announcements management, reputation management, online reviews, and much more.
Even though this tool seems to offer more benefits to businesses with physical locations, online stores could still gain from some of its many features as well.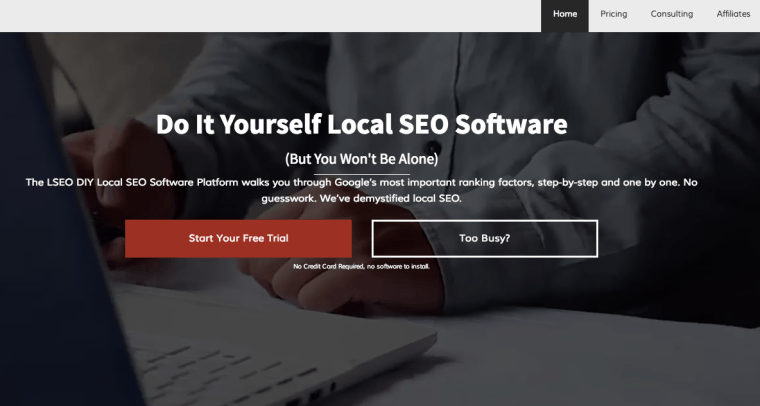 LSEO
LSEO is another service that stands out from the list – it's a new software platform for small businesses that estimates SEO efforts and provides expert advice on improving search success.
LSEO analyzes websites and applied SEO strategies. Website owners are guided through all steps of SEO optimization and special scoring system, from 0 to 850, estimates the level of visibility on every step, which can help small businesses find weaknesses. So it's a great way to check the basics of your campaign and find gaps. Also, LSEO estimates both onsite and offsite SEO.
But LSEO is not just a checker or auditor. It provides business owner with feedback from SEO experts. And, it does not use an automated process; users not only get a prewritten hint, but real feedback from real SEO experts. It's like paying for a consultant without the high price tag, which makes this platform an indispensable solution for small business owners who want to optimize their websites themselves, without using agency or freelance SEO experts.
Conclusion
Local SEO offers online stores many benefits. It can help your site rank quicker for competitive phrases, help to position your business in front of a local audience, and help you dominate SERPs. Not to mention, it also costs less than many other online strategies.
Image Credits
Featured Image: Olivier Le Moal via Shutterstock
All screenshots taken January 2015
Fernando Angulo is the head of international partnerships at SEMrush. Hi is not affiliated with any other listed tools.