Local search engine optimization (SEO) is a specialized form of SEO focused on optimizing businesses and their websites for optimal visibility in local search engines.
Local search takes into consideration not only the keyword the searcher entered, but also the location of the searcher, whether indicated through user settings, automatic detection, or a location in the keyword phrase (e.g. "Best Restaurants in Dallas, TX").
Google, Bing, and Yahoo! all provide local search capabilities. Here is an example of the familiar Google local search results: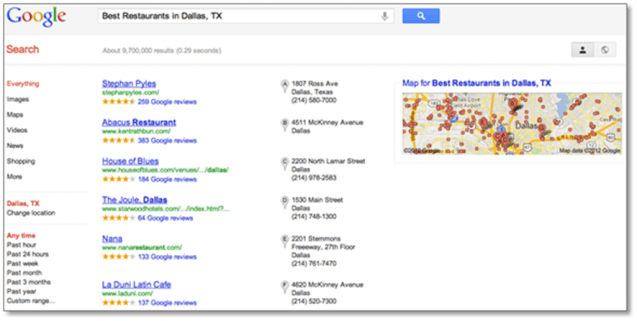 Local search has some similarities to traditional SEO (focused on ranking for a given keyword), but includes a lot of activities not applicable to global SEO. It can be difficult to know where to start!
Fortunately, there are many great local SEO resources available – for free – on the Internet. Here are five that I find helpful:
1) Local Search Ranking Factors
Have you ever wondered what Google (and the other search engines) consider when ranking local businesses in the local search results? Is it the number of reviews? Is it the number of images and videos? Is it the authority of your website for the given keyword?
Thanks to David Mihm, a Local SEO guru, you don't have to wonder (as much…). Every year, he interviews dozens of experts in the field to compile his Local Search Ranking Factors report.
It is awesome!
For the best part, scroll down to "The Results." There you will find the top ten ranking factors for local search.
Sidebar
Take a look at #2: "Manually Owner-verified Place Page." I can't tell you how many businesses I've worked with that have not yet taken this simple step. If you haven't claimed your Google Place page, please do so as soon as you finish reading this post!
Here is a helpful video about adding a Google business listing if you want some guidance.
2) Comprehensive List of Local Search Directories (or "Yellow Pages")
One of the factors that determine your ranking in local search results is the number of "citations" available for your business around the Internet. Adding your business to local search directories is a great way to rack up on citations (and also improves your chances of getting new traffic!).
Andrew Shotland of Local SEO Guide has compiled a comprehensive list of local search directories (he calls them "Internet Yellow Pages").
The Local SEO Guide blog is one of the first resources I used to learn about local SEO. Shotland is an expert in the field and has been at it for a long time. He knows his stuff!
3) Understanding Google Places & Local Search
Another great local SEO resource is Mike Blumenthal's wonderful local search blog, which is geared toward keeping the rest of us up to speed on the developments of local search.
Mike writes about local search news, Google Places (and other related Google topics), and Yahoo! local. He also addresses topics related to local & mobile and local & social. (To name few!)
Best of all, Mike responds to comments and questions (what a concept, right!). If you don't understand something he's writing about or want to discuss the topic further, he'll take the time to discuss it with you.
Very accessible. Very friendly. Very local.
4) GetListed.org
Isn't it amazing that there are organizations who care enough about you to put lots of time and effort into providing tools, resources, and live training sessions to help you grow your business?
GetListed.org is one such organization.
On their website, you can enter your business to see how well (or poorly) it is fairing in the local SEO world: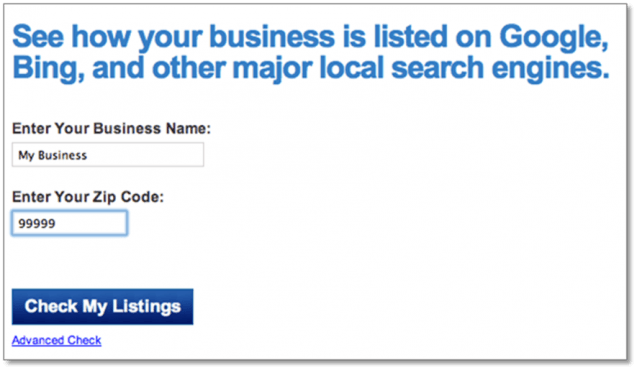 It's a great tool and the website has a nice, clean interface.
Additionally, GetListed.org has all sorts of resources, including their Local University. They have several sessions coming up this spring, so make sure to check their list of upcoming events.
5) A Step-by-Step Guide to Local Search
In working with small businesses on local SEO, I have developed a process that I use to optimize a business for local search.
One day, I decided to lay it all out in a post on our blog.
Why?
Because I know that some businesses cannot afford to hire a consultant to do the job for them. And perhaps some small business owners find this type of work satisfying (I know I do!).
In this Local Search Guide, I walk through the process of optimizing your business for local search.
I believe it is the most comprehensive local search guide available free online.
Please don't lose traffic (both to your website and your store/restaurant/office) because you haven't taken the take to optimize your business for the local search engines. It would break my heart.
Over to You!
I hope you find these resources valuable and would love to hear about the local SEO resources you use to learn more about all things local. Leave a comment!