Ahh Fantasy Football. The goal of this game is to use your players to rack up more points than your frenemies week after week and ultimately make it to the playoffs. You "own" your team, much the same way as you should own whatever content you put out into the world. While there is no content marketing championship (boo), the end goal is to get as much sustainable traffic as possible (and more than your competitors). So what can we learn from America's favorite game?
Going First isn't Necessarily Best
You got draft pick #1 (Huzzah! Release the cannons!). The world is your oyster….or is it? The first to go has a lot of pressure. Aside from having less time to formulate a strategy, you also don't have a chance to observe how everyone else's strategy. Your choice sets the tone for the whole draft, the whole season! Are you starting with running backs or quarterbacks? Which site should you trust for your stats?
Similarly, rushing to publish a juicy breaking story doesn't always equate to quality. If you're in too much of a hurry to be seen as the thought leader in your industry, you could end up publishing without all the facts. New updates or algorithm changes from Google? Give it some time marinate and see how your site is affected before making assumptions (Because we all know making assumptions makes an ass out of you and me). Don't get overly zealous just to be the first- make sure you edit and fact check. And if you did draw the first draft pick? Do your homework with whatever numbers you can find from last year. There is always a story, you just may have to do some digging.
Look for Sleeper Players
After the Broncos' epic beat down on the Ravens, Fantasy world was abuzz with people trying to pick up Julius Thomas, a little known name after transferring from the NBA last year. With a measly one catch before the season debut, he nabbed two big touchdowns from Peyton in just the first half of week 1 and instantaneously became a household name.
What can we learn from this? Look for new sites that are under the radar, but have the potential for big page ranks increases as time goes on. Sure, the big dogs like the Mashables and TechCocktails should be part of your PR plan, but there are plenty of other niche sites out there that could be great for guest posting or content distribution.Take the time to form partnerships, it could pay off hugely later. Also, make sure you stay current in your industry – because if you're not, your competitor is.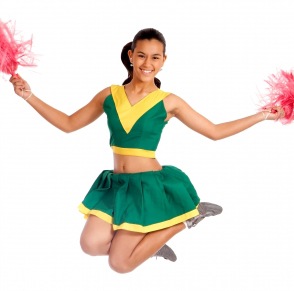 Talk Smack
Confession: I am horrible at sports. Yet, I still play everything possible because I thrive on competition. In softball and kickball, I'm always catcher because it's direct access to taunt the other team. The message boards are the best part about Fantasy. If I'm not coming up with toilet bowl awards to start shit, something is wrong.
Be feisty if it fits your brand persona. Post controversial infographics or pictures that people will have no choice but to comment on. It increases engagement. Good or bad, it'll get people talking!
There are Winners & Losers
Like Fantasy, some companies do exceptionally well at content marketing because they either spend hours pouring over the stats or it's pure beginner's luck. Either way, not every article can go viral. It's been said that 80% of your traffic comes from 20% of your content so there will always be off weeks and standout pieces, just keep going and don't stop posting because something's not panning out.
"There's Always Next Year"
Think your team is doomed week 3? Don't throw in the towel just yet. Meticulously stalk the waiver wire, try to make trades, and look for injured players that may have an impact down the line.
Don't wait to implement your content strategy just because you're scared or not sure exactly how to go about it. Put something out into the world, observe it's ripple effect, and then adjust accordingly. Social media is still fairly new territory for most companies so test, test, test! Just like with football, rolling over is the worst thing you can do. The traffic will come, just have faith.
Images Courtesy of Stuart Miles and digidreamgrafix, FreeDigitalPhotos.net