I was excited to interview John J Curtis, the SEO Manager at Walgreens about omni-channel marketing and why broad terms just aren't working anymore. John is speaking at our next marketing conference, SEJ Summit Chicago, which is this Wednesday! If you can make it, we still have a few FREE tickets available for our Chicago event, courtesy of our partner, Searchmetrics. Request an invite!
#PROTIP: Because our content is enterprise-focused, if you are a consultant but work with big, enterprise brands, mention them in your job title/company when requesting an invite.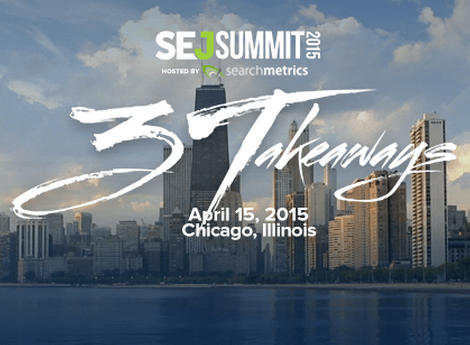 Without further adieu, here's my interview with John.
1. Your speech at SEJ Summit will cover using omni-channel marketing, which can seem far too complicated for many brands. Can you give us the top three benefits of using omni-channel marketing?
The important thing to remember is that your customer will be omni-channel. Ensuring your products and services are properly communicated and available across channels and platforms shouldn't be an initiative – it needs to be the norm. Building omni-channel into everything has advantages. An omni-channel commitment builds customer retention and value, creates a competitive advantage for customer acquisition, and integrates customer communication into one message across channels.
2. There are a lot of discussions about how SEO and content marketing can work together. What is the most effective way to integrate those two strategies?
I think you could say that SEO works together with almost anything: content, website features, in-store signage, etc. I like to think of SEO as a layer. SEO doesn't make things – it makes things visible. The SEO layer applies particularly well to content because good content marketing is designed for your customer. That said, even content marketing has varying degrees of uses. Very topical, timely content may not have a long shelf life. For this, we want to have a program built in that ensures all pieces of content are visible, but we might get involved on a per-article basis as an SEO team. When it comes to resource-style content with a consistent customer interest, we want to make sure those pieces are fully addressing a customer's needs and fully exploring the topic in language customers are using.
3. You have worked for a digital agency and now for Walgreens, a large brand. How does SEO strategies for big brands differ from smaller brands?
The biggest difference is volume. There is a critical mass for taking action in an enterprise setting because of the number of people who will touch a given code request, for example. We're unlikely to adjust elements on a single product page and more likely to create features and formulas that can apply to page templates, affecting thousands of pages at a time. There are a handful of high value pages we touch individually, and beyond that we try to do work that makes page types more visible on the whole.
Additionally, at an enterprise level, there will be things happening constantly that can impact our customer's search experience. This is where creating the SEO layer throughout an organization can pay off. There is too much to keep track of for an SEO team in an enterprise environment.
By providing education and resources to other teams (such as product management, UX, social, etc.), you install the SEO layer in the organization and scale the practice of creating search visibility.
4. You have mentioned you dislike broad phrases such as "create quality content" and "best practices." Why do you find these phrases to be ineffective in the SEO field?
It's not that those phrases are inherently useless, but they also don't inherently mean anything. Often you will hear people say these things as if they are solutions. They are tools, though. And as with any tool, you have to use it properly for the job you're doing, and every tool isn't used for every job. In enterprise SEO, I find myself first needing to assess the issue at hand, identify the customer need, understand what I can affect within the parameters of the project, then decide what to grab from the toolbox.
5. One of the most exciting aspects about online marketing is that it is always changing. What direction do you see the SEO field heading?
What SEO means to you now and moving forward should be determined by your customer's experience in search engines. The way people search will evolve and the scope of information returned to them will narrow based on personalization. Those things will change, but SEO will remain fundamentally the same. SEO as a singular digital strategy seems unlikely to remain feasible and will carry significant risks when a business puts most of its eggs in the SEO basket.
Thanks for the insight into omni-channel marketing, John!
Don't forget, you can request your free ticket for our Chicago event, happening on April 15th at the Hard Rock Hotel. You can also come see us in London, Silicon Valley, NYC, and Miami later this year.
Featured Image: Veronica Lara via Shutterstock