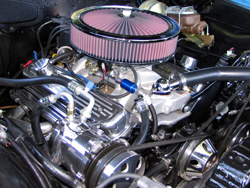 For an SEO having a powerful toolset at your fingertips is the key to being efficient and effective.
Whether you're running an audit on a potential client's website, analyzing the competition in a new niche or taking a close look at a particular website's strategy/tactics, you want speed, accuracy and, overall, efficiency on your side.
It all starts with your browser.
For what it's worth, Google Chrome is pretty quick – and it has some decent built-in tools for developers/SEOs. Still, they just haven't come close to the level of customization Firefox allows. I'm not going to mention that other browser.
In my day-to-day SEO work there are a handful of add-ons for Firefox that I can't live without – or, I could probably live without them, but I'd be pretty cranky if I had to (and way less efficient). These add-ons turn a stock Firefox installation into a no joke, bad ass SEO analysis machine.

1) SEOMoz Toolbar
This handy toolbar released by Rand & Co. displays several metrics for the page/website you're currently viewing. It also links directly to the SEOmoz toolset (which I use daily) via a drop-down menu.

Metrics Displayed:
mozRank of current page
mozTrust of current page*
mozRank of current domain*
mozTrust of current domain*
PageRank of current page
# of "juice passing" links according to Linkscape
* only available to PRO members
While mozRank and mozTrust aren't perfect metrics, they do give us clues as to what pages/domains are most powerful and trusted. You'll notice right away that mozRank and PageRank (both displayed in thie SEOmoz Toolbar) don't always match-up. In some cases the discrepancy is massive – and this is telling us something.

In the image above you can see that the mozRank for the page I'm viewing is 5.04 (not too shabby) while the PageRank is n/a. This is a clear sign that the page has been penalized by Google – and indeed, in this case the page I'm viewing is a "links" page loaded with off-topic SPAMMY links.
This perhaps unintended use of the SEOmoz Toolbar is a great way to quickly evaluate a page/website to determine whether it's been penalized.
And if you're a fan of the SEOmoz toolset this toolbar allows you quick access.

2) SEOBook Toolbar
Aaron Wall's toolbar is packed with nifty tools and metrics – many of them aggregating data from 3rd parties.

Metrics Displayed:
PageRank of page
Yahoo! backlinks for domain
Yahoo! backlinks for page
Majestic SEO backlinks for domain
DMOZ Directory backlinks
Yahoo! Directory backlinks
BOTW Directory backlinks
Archive.org site age
Compete.com unique visitors/month
SEMRush traffic estimate
And that doesn't even touch on the tools available through this toolbar. There's a lot here. A LOT. I won't try to list them in this post – it would take less time for you to download/install the toolbar and find out for yourself. And I recommend you do that right now if you haven't already.

3) SEOBook Rank Checker
The SEOBook Rank Checker is another Firefox add-on from Aaron Wall and his team. It was created for one basic purpose: to check rankings (go figure!).
It also allows you to check bulk rankings for a domain – and very easily. Simply click the Rank Checker icon in the lower right of your Firefox window, click "Add Multiple Keywords," specify the domain, drop a list of keywords in (from a spreadsheet or elsewhere), click the Start button and go get some more coffee.
This tool checks rankings at Google, Yahoo! and Live for the keywords/domain you specify. It also allows you to export the results to a CSV file – awesome for you spreadsheet junkies.
Here's a killer use for this tool:
Pull up your organic keyword referrals in whatever analytics platform you're using
Export 100 at a time to Excel/CSV
Drop them into the Rank Checker multiple keyword function to check where you rank for those keywords
Bang – you just generated a list of your long tail phrases and where you rank for each
Take a closer look at the phrases for which you're ranking on the 2nd/3rd page of results for. These are opportunites to A) refine your on-page optimization to better target these relevant long tail phrases and 2) create new content targeting these phrases.

4) Firebug
Firebug was built for developers, but what makes a developer's life easier usually fits pretty well into the SEO's toolbelt.
There's a lot of functionality here to dive into the code and back end functionality of a website.
A few of the SEO-related tasks/tools Firebug offers:
Network Monitoring – check page load times and discover why your pages aren't loading quickly (a slow-loading page can impede search crawlers)
Examine HTTP Headers – determine server type, response codes (uncover cloaking tactics, redirects, etc)
Inspect Elements – right mouse click on any visible HTML element on a page, choose "inspect element" and Firebug jumps you directly to the tag for that element in the source code (awesome for quickly evluating on-page SEO and links)
There are probably tons of SEO applications fore Firebug that I'm not touching on – if you know of more, please let us know in the comments.

5) Social Media for Firefox
This excellent add-on from the folks at 97th Floor is geared for social media enthusiasts.
They say it best in their description:
"The tool is the the ultimate time saver to building powerful social media accounts. One of the secrets of top Diggers, Stumblers, Navigators etc… is being the first to submit stories already becoming popular on other social news sites."
The role of social media in SEO is clear – get your content to go viral on a social network and you're bound to 1) get loads of traffic and 2) build lots of links. Since links = rankings, social media marketing is definitely a powerful SEO tactic. Just ask Matt Inman.

Social Media for Firefox can either manually (with a single click) or automatically tell you how many Diggs/Stumbles/Reddits/Delicious Bookmarks/Sphinns/etc a page of content has received so far. This is incredibly useful for either 1) jumping first on a killer piece of content (which boosts your social media profile) or 2) evaluating successful viral content.
This tool also works in your favor while browsing Digg/Reddit/Delicious/etc by inserting icons for other social news sites with the number of submissions – so you can find content that has been dugg heavily but hasn't been submitted to Reddit (another way to boost your social media profile).
What Firefox add-ons do you use for SEO? What did I miss? Let us know below!
This guest post written by Mike Tekula of Unstuck Digital – an Internet Marketing agency that provides SEO Consulting and other custom-tailored services.