Thanksgiving has always been associated with family, cooking and lots of food to me. That's the time when I have to forget about my diet because it is impossible to resist the temptation.
And for those who is looking for more delicious recipe ideas for this year's Thanksgiving, here are my personal picks.
Best recipe search engines:
| | |
| --- | --- |
| Site Name | Best search feature |
| Epicurious | Filtering by holiday |
| Food | Filtering by the recipe provider |
| CookThink | Tag cloud serving as search suggestions |
| Cookstr | Filtering by chef |
What I love about the site is its "filtering options" available after you perform a search. You can filter your search by:
Main ingredient;
Meal/ course;
Cuisine;
Dietary consideration;
Holiday (!);
Preparation method;
Season.
You can also go even further and see only those dishes that:
Can be paired with wine;
Are quick and easy to prepare;
Are healthy.
Besides, you can search within search results which also turns really useful for finding what you need.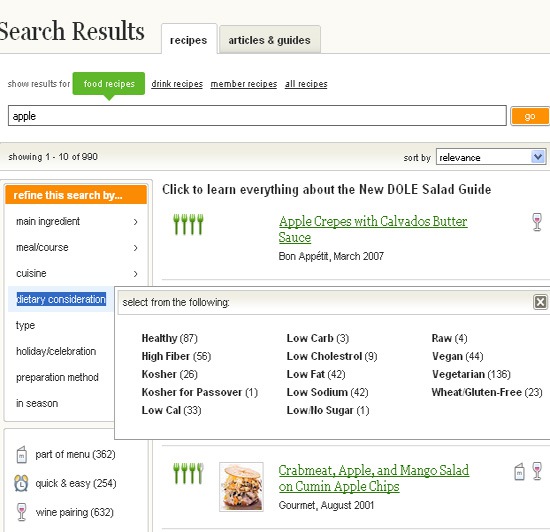 This site can be a good option to use because it indexes and aggregates results from multiple recipe sites. Irs search options include:
Filtering by courses;
Filtering by techniques;
Filtering by total time you'll need to cook something;
Filtering by country;
Filtering by site that provided the initial recipe (!).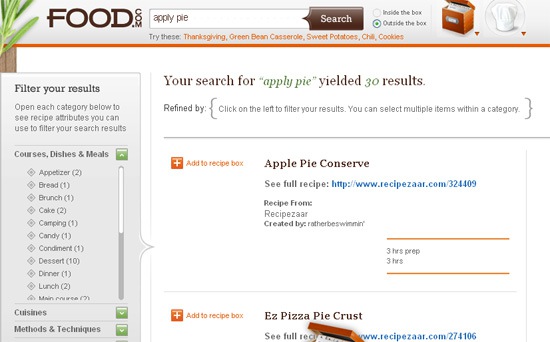 CookThink allows for quite a few unique recipe search options to play with. The best of them are:
Search for moods (!), health restrictions, seasons, aromas, textures;
Search suggestions and aid in the form of a tag cloud (add terms to the search field by clicking them in the tag cloud):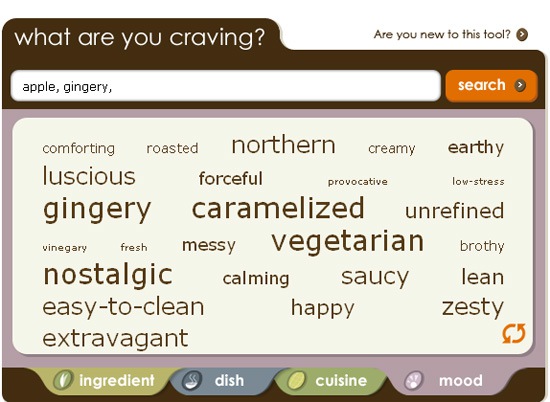 This one is for the advanced cooks – it allows to search by star chefs and cookbook authors. It also has that "Surprise" button that shows you a random recipe in case you are stuck for inspiration!
Its search sorting and filtering options include:
Skill level;
Dish cost;
Kid friendliness; etc