Email marketing is a topic that is consistently changing. Not only do email marketing tactics get more creative, but what consumers want from an email marketing campaign is very fluid. One day it's images that get your emails opened, and the next it's the subject line that has the biggest effect.
Not only are the actual campaigns changing, but how you get email addresses changes as well. The moral of the story, however, is simple: The sooner you can anticipate what trends might be coming the easier it will be to keep up and stay ahead of your competition.
Four Email Marketing Trends We'll See Before 2016 Hits
So what can we expect to see as we round out 2015 and gear up for a new year? While some of the following ideas already exist, we anticipate they will grow in popularity this year and even more so in 2016 as businesses work to evolve and get more advanced and creative. Consider some of these anticipated trends below:
Use a Lightbox to Grow Your Email List
Ever notice how many websites choose to interrupt your reading or shopping experience with a pop-up? Some digital marketers think of them as a nuisance to conversion, however, using these pop-ups, also known as lightboxes, have been known to grow email lists 5 to 10 times faster than a traditional email signup fields in a website according to recent studies. Below is a screenshot that shows how lightboxes look:
Often email signup options are tucked in the footer of a page. In this method, users really need to seek out signing up, but as we all know, we can guide users path with calls-to-action. The use of a lightbox is no different than the calls-to-action in your banner or marquee images, or in the emails themselves. There are two primary options for delivering this creative email collection strategy:
One of the more popular methods is to prompt the lightbox when a user's cursor scrolls off the webpage and into the browser: It's called an exit overlay. The benefit of exit overlay usage is that it doesn't interrupt the middle of a user's browsing experience and instead waits for the user to signal that they are done browsing. The con is that this doesn't work on mobile devices since there are no cursors.
Another method is to set a trigger for the lightbox based on scroll depth or time on page: Though this method may interrupt a session for a user, it's a good method because it can be triggered when a user's impression of the content or experience is still very high. Think about your site visitors, many will stay for a few minutes and read a few pages before deciding to leave, but displaying the lightbox at a time where they are still engaged and interested can bolster email collection. Consider when that optimal time might be for your website. The pro of this method is that it is mobile friendly and the con is that some may not like it interrupting their experience.
Two-Thirds of Emails are Now Read on Mobile Devices
Mobile is an obvious trend in the digital marketing world but even more important to the email channel. A recent US Consumer Device Preference Report from MovableInk highlighted that 66% of all email in the US is now read on smartphones, and usage is not the only thing changing. Screen sizes are actually getting bigger to accommodate video and gaming demands. You can use your analytics program to see the devices your visitors are using for email. With this in mind, you can inform your email designs, including responsiveness, font size and the location of your CTAs.
The main thing to remember with the mobile trend and general Internet usage is that users expect to get things faster and easier. For this reason, it's best practice to keep emails specific, simple and not too text heavy. Also, if there are large files, like images or videos, make sure they don't cause poor load time.
Personalization Will Grow
With all the clutter of the Internet, consumers are continuing to focus on what means the most to them. Likewise, personalization will be a hot topic for quite some time. It's now a best practice to make emails as highly relevant and relatable as possible, which you can see from the eMarketer study, published by BlueHornet, and data below: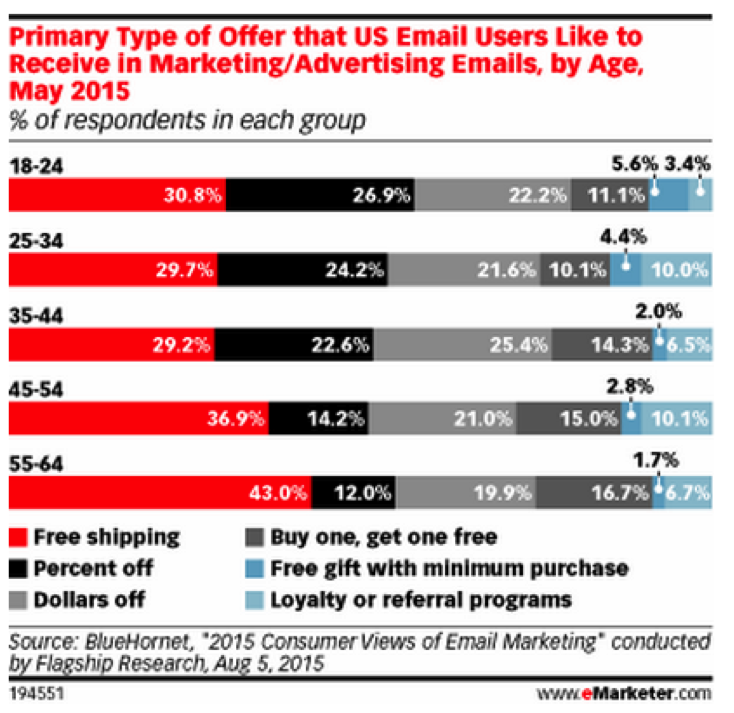 This can be done with implicit personalization, which is oriented by targeting and/or explicit personalization, which is often oriented by marketing or email automation. An incorporation of both types is important to a sound email marketing strategy.
An example of implicit personalization would be sending certain emails to certain age groups. A recent BlueHornet study found that 18-24-year-olds are more likely to be interested in emails containing a discount, where middle-aged and seniors are enticed most by free shipping. This can be used to inform headline writing, email design and tracking.
Explicit personalization, in terms of email marketing can often be utilized best with current customers. For example, if you just purchased a pair of soccer cleats, you might get an email in a few weeks asking you "How are you enjoying your new soccer cleats Mike? They may go well with this limited edition soccer ball we just got in stock!"
Detailed and Consistent Tracking
Building a culture of data driven excellence in an organization takes some to develop processes and implement from an operational standpoint, but data is everything these days. If you want to impress investors or be able to make better decisions about your email strategy, setting up a campaign tracking system can help. If you're using, Google Analytics you can append your URLs with parameters to give you a more detailed understanding of your email traffic.
Here's a quick rundown of campaign tracking. Have you ever seen URLs that look like "www.website.com/?source=email"? Users who visit this URL will go to the "www.website.com" page, but the data will register "email" as the source and "Source" is the parameter and adding them to URLs controls the data collected by campaigns. For Google Analytics, there are five parameters and each can collect different data. Below is an example of an e-commerce business that is crafting an email for their Labor Day sale.
In this example, the system is set up so that Medium is and will always be "Email".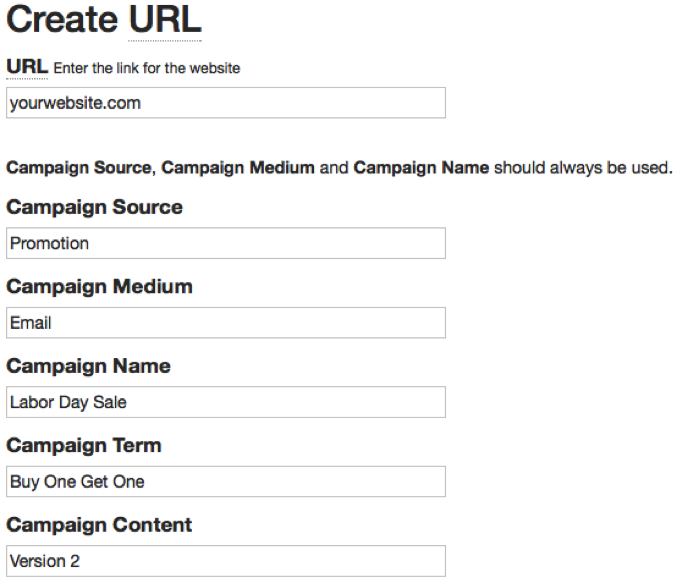 Source is the email type, which for an e-commerce store, might include promotion, new product, purchase confirmation, or cart abandonment. Name is the occasion, like iPhone 6s Launch, iPhone 6s Confirmation, iPhone 6s Cart.
Term is the details and Content is the version of the email (if testing is being done). Note Term and Content are optional fields but Source, Medium, and Campaign are mandatory. There are also spreadsheets available that help create these appended URLs, or you can test it for yourself with this URL builder.
Ultimately, in the end it's going to be the companies getting creative with email marketing who will keep their businesses growing. It may not seem like it, but email marketing is one of the fastest changes aspects of digital marketing and will continue to evolve well into next year, so the sooner you can get started trying out a few new approaches the better.
Are there any other trends you think we'll see in 2016 that you would add to the list? Share your thoughts in the comment section below.
Image Credits
Featured Image: mayrum/Shutterstock.com
All screenshots by Jason Hawkins. Taken August 2015.