After conducting an SEO audit, the next step for a majority of SEOs is to tackle the technical side first. This is very closely followed by on-page SEO.
Off-page SEO fell to the bottom of the list, while many don't approach the job in any particular order, indicating they prefer to do a mix of everything.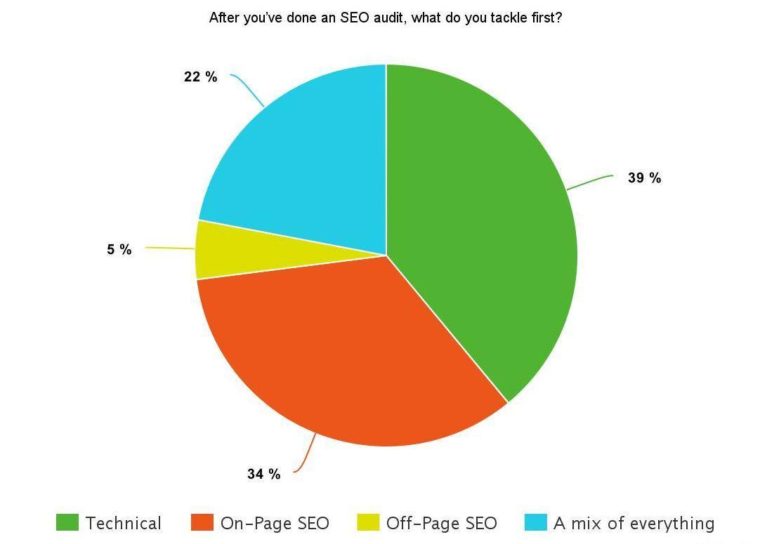 This data comes from a survey sent out to Search Engine Journal's Twitter audience and represents an ideal strategy for SEOs to follow. Here's why.
Technical SEO
If you think of SEO like building a house, then technical SEO is all about building a solid foundation. You can look at it as any work done to a site aside from the content itself.
What you're doing at this stage is optimizing the site structure so it can be crawled and indexed by search engines. Starting with technical SEO is a sound strategy because you need to have your house in order before designing the interior.
On-Page SEO
Continuing with the home building analogy, if technical SEO is building the foundation then on-page SEO is the interior design. However, it's not just the design that's important. On-page SEO primarily refers to content published on the site and how well it is optimized for search engines. Of course, content also has to provide value to visitors as well.
Working with on-page SEO is a logical next step after tackling the technical side. In some cases, you may begin to work on a website where the on-page SEO needs more attention than the technical side. So it's understandable why on-page SEO received so many votes in our survey.
A Mix of Everything
This is where the strategy can get derailed, which is why it was a surprise to see it come up so high in our survey. Continuing with the same analogy, doing a mix of everything is like trying to build a home while designing the interior at the same time. Tricky, no doubt, but not impossible.
It's understandable that, when working on technical SEO, you may find something on-page that requires urgent attention. In other cases, you may have a client pulling you in different directions. Whatever the case may be, sometimes doing a mix of everything is unavoidable.
Off-Page SEO
It's no surprise that off-page SEO came in dead last in our survey. Unless the client you're working with has serious issues with inbound links, then this should not necessarily take priority over either technical or on-page SEO. This aspect primarily deals with acquiring links from authoritative websites, as well as marketing the website on social media.
If it's a local website, it could also include building citations in local directories such as Google My Business. If the website publishes news it could include getting content syndicated and/or indexed in Google News. These are all important aspects to tackle after conducting an SEO audit, but should not necessarily come before technical or on-page SEO.
Have Your Say
What do you start with after conducting an SEO audit? Are the results of our survey more or less in-line with what you would have expected? Have your say in the next survey by checking out the hashtag #sejsurveysays on Twitter for future polls and data.