It's like a disease: I always have plenty of tabs open in my FireFox and sometimes it is getting too difficult to control.
I keep tabs open if I want to give something more attention later the same day or if I want not to forget to include the link in the post or discuss it with the friend, etc. I open multiple tabs when doing research or clicking through search engine results.
FireFox tabs help me get orgnized, plan the day or quickly scan huge amounts of information.
Sometimes (often?) it gets really hard to actually find the tab I currently need (especially if there are many tabs from one site with same favicons): so here are the three tools that make that job easier:
Find In Tabs
Find In Tab is an awesome FireFox addon that adds a tiny option to CTRL+F command to search through all open tabs:
Clicking the "Find in Tabs" button on the find bar will search for text in all open tabs, and show a list of search results.
Clicking any of the results will jump to the tab on which it was found, and scroll directly to the highlighted text.
URL Lister
URL Lister shows the URLs of all the tabs in a textarea so that it can be copied easily. Just right click any tab and click on the "URL Lister" (or use "Tools > URL Lister") to open up the main dailog. Links can be listed:
In plain text;
Together with their titles in HTML;
Together with their titles in HTML in a list.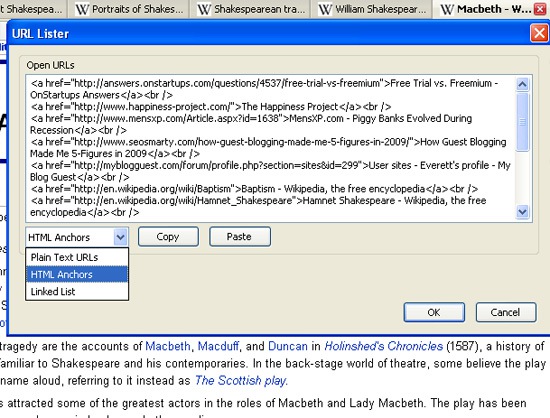 Tab Preview
Tab Preview allows to preview tabs on mouseover for you to quickly see what the tab contains: