I have once shared a few ways to check Twitter comments about any page but what if we need to keep an eye on all Tweets around some domain?
All the three tools listed here have three things in common:
(1) They will list all the aggregated Twitter updates related to the domain (home page + all Tweeted subpages);
(2) They support multiple URL shorteners;
(3) They allow for some ways to subscribe to the generated search results.
1. Topsy
Use SITE: search on Topsy: [site:domain.com] to find:
Most popular posts from this domain;
Most popular tweeted images from the domain;
You can filter the results by popularity or timeline; you can also see Tweets from the past month or week.
You can subscribe to the search results RSS to track recent Tweets: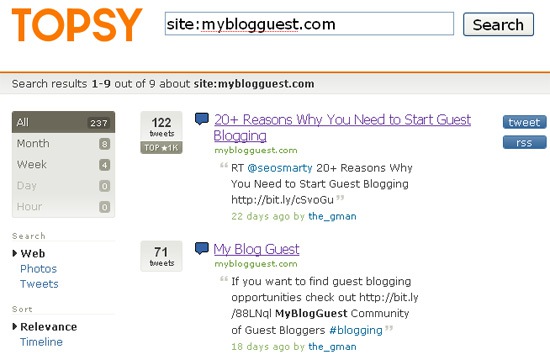 2. Ubervu
Ubervu is a social media analytics tool that has a handy domain search option. Just provide your domain and click through to CONVERSATIONS tab:
It seems to be updated not very often but it offers an email alert option for you to track updates.
You can also click through to PEOPLE tab to see who tweets your domain and through ANALYTICS tab to compare your domain presence on Twitter over time: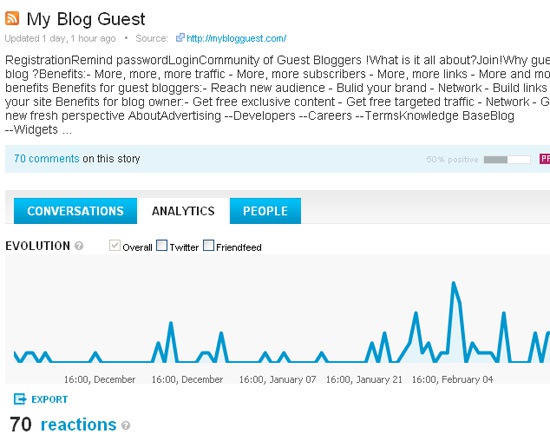 3. BackTweets
BackTweets is another tool you need to check out. For [domain.com] search it will list all recent Tweets around any domain and will allow you to subscribe to updates via email or RSS: