The idea of giving the opportunity to leave off-site comments to any page has been hot for a long time: that's how many social bookmarking / sharing sites work (like StumbleUpon where people "review" and tag pages within the system), that's what Google Sidewiki concept is based on and that's how Tweeting any page works…
Why it has been popular is quite clear: people are saved from the trouble to log in or filling the comment form and are given the opportunity to use their favorite web environment and instantly share their comments with their online friends.
The question is how we, bloggers and Internet marketers, can keep track of those comments and utilize that off-site conversations around our web pages.
This post looks at one part of the question: possible ways to keep track of Twitter conversations related to any web page:
| | | | |
| --- | --- | --- | --- |
| | Type | Instant notifications | Additional tracking tools |
| Kutano | Browser addon | Yes | No |
| BackTweets | Browser bookmarklet | No | RSS feed, email alerts |
| AddATweet | Browser addon | Yes | No |
Kutano
Kutano works as a browser addons (supported browsers: FireFox, Internet Explorer and Google Chrome) that hides behind a handy sidebar and notifies you of recent Tweets around any page you are landing on. In short, it works as follows:
Install the addon (and restart your browser). Kutano sidebar should appear;
Navigate to any web page and notice a number that appears right on the sidebar (when it is closed). This number indicates how many Tweets have been found for the current page):
Click on it and see the actual Tweets in the opened sidebar:

Best features:
Instantly see Twitter comments on any page you are currently viewing (the sidebar is open);
See Tweets to the page or to the site;
See "Discussions" – i.e. recent web updates that do not link to the page directly but use a related hashtag or keyword (useful for tools, brand names, etc):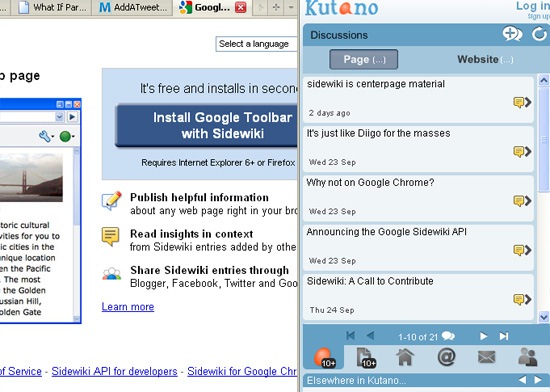 BackTweets
BackTweets is a popular tool that tracks and aggregates tweets linking to a particular page. It supports a number of URL-shorteners which makes the tool one of the most complete.
It can be added to your browser with help of a bookmarklet which allows to quickly find Tweets linking to the current page.
Best features:
Create an email alert for new Tweets linking to any page;
Grab an RSS feed to follow Tweets commenting on any page.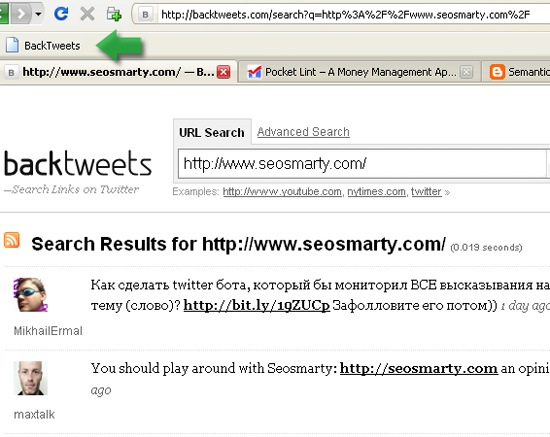 AddATweet
AddATweet is more about commenting using your Twitter identity than aggregating all Twitter buzz around one specific page – that is you won't see all the Tweets related to any specific page but you will be able to track comments left using the tool.
Best features:
Instantly see if the page has comments by the color of the addon button;
Easily leave your own comments using the tool and your Twitter identity.