My search activity is not only limited to Google, of course. I search multiple (vertical) resources daily (there are at least 20 of them I mentioned previously). While FireFox is the great search engine aggregating tool in itself, there are a few more applications that can be used to access multiple search engines from one place.
Search!o is a new tool uniting an incredible number of search engines in one handy interface. Multiple verticals are then further divided into engines – and accessed via tabs (you can switch between the tabs with Alt 3 shortcut).The site is pretty fast and easy to use.
Verticals include anything from blog to people search and recipes to social networks. In each vertical there is a unique set of search engines (for blogs, for example, there are Google blog search, Technorati, Icerocket, Blogs.com, Blog Catalog, Blogged and Ask.com Blog Search):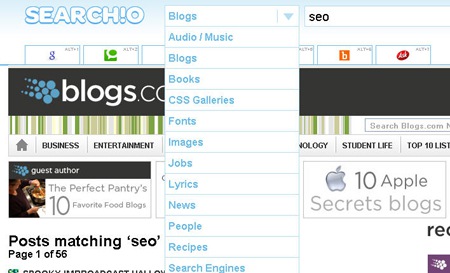 SearchBoth is a multiple search engine comparison tool. You can choose to compare between:
any of two search engines (e.g. Google and Yahoo) and any of their vertical search engines (e.g. compare between Google and Yahoo image search);
multiple travel search engines (via YellowPages.travel);
multiple shopping portals (via DiscountMore.com);
two online reference resources;
two encyclopedias; etc.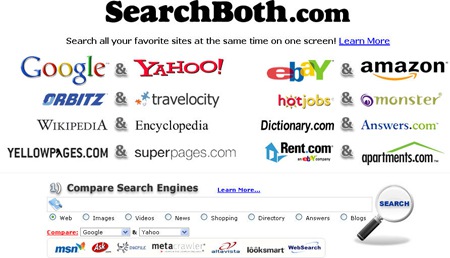 Kallout is a new awesome desktop application that allows you to search for any highlighted term (integrates with FireFox, Outlook, txt files, etc). With it you can choose between multiple verticals (general search, shopping portals, reference resources, etc) and search engines (Google, Yahoo, Live, Twitter, etc):