Dealing with huge keyword lists is time consuming and often you can't do without (semi-)automation. While most of the work is usually handled through notepad ("find and replace" option) and Excel ("sort", "insert", etc options), some online tools may also be much help:
| | |
| --- | --- |
| Tool | Most useful feature |
| Local keywords | Adds any word (city) before / after the keyword / key phrase. |
| Mytrashmail keyword generator | Replaces any word for another one(s). |
| SEObook keyword generator | Unites up to 5 modifier lists generating keyword lists using the following formular: word from list 1 + word from list 2 + word from list 3 + etc |

Local keywords is the key phrase generator tool that is primarily designed for creating local keyword lists.
Input data:
US zip code and radius (based on which the tool will then generate the city list);
main key term (to combine with "city" variable);
remove city / zip code (to filter out unnecessary locations);
additional locations/"permutator" (to add your own locations/ keywords).
generator options:

If you leave 'zip code' and 'radius' fields blank, you can use the tool as the general keyword generator adding any words to "additional locations/'permutator' " field.
2. Keyword generator allows to change any word in your keyword list with other word / words: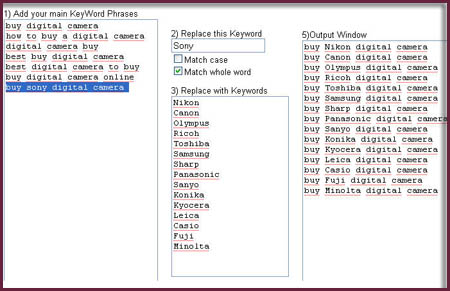 3. SEObook keyword generator generates huge keyword lists using up to 5 keyword modifiers: