Through its power to connect people on a massive level – Twitter has essentially become the center of the online universe. If it were an atom, it would be the nucleus. If it were a town, it would be Main Street. Basically, it's a central communications hub for people all over the world. And ever since Twitter made it easier to share content on a colossal scale – by syncing up with other websites – it's become more popular than ever.
Probably the most appreciated feature of Twitter is its simple and uncomplicated set-up. While the trackers are complex, and system impressive – the design is purposefully minimalist. While this does have its advantages in most cases, it can sometimes leave things wanting. When these occasions arise, developers will create third party applications to fill the void. Twitter status schedulers are a good example of this.
There are quite a few of these out there. But the three listed below are the ones that I, and many others I know, prefer above any others.
FutureTweets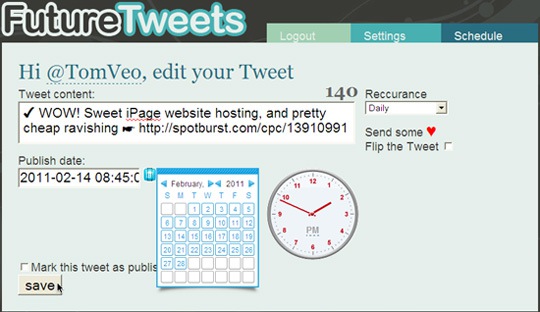 If you're looking for something that's simple to operate – FutureTweets is about as easy to use as it gets. It has an area to put in the status you want to use, a calendar to set your date, and a clock to set your time. It is all done through connecting to your Twitter account, and leave it in waiting for you. You can set as many posts as you'd like at any time. You can even schedule multiple ones at the same time. You can also set items a decent amount of time into the future. This is a helpful feature to have if you have a habit of forgetting special events that you'd like to commemorate with a Tweet.
TwAitter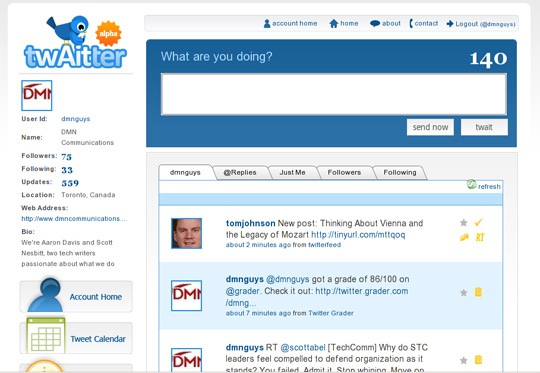 TwAitter is quite simply awesome. It's more feature heavy than FutureTweets, while still being a piece of cake to use. It allows you to post in Facebook in addition to Twitter. Even better – it offers spellcheck (which some people on the net desperately need), a link feature, and a translator. That's right – you can broaden your potential global audience by having your tweets translated into another language right in your status bar.
LaterBro
LaterBro combines a few of the useful features of FutureTweets and TwAitter. Similar to TwAitter you can post really quickly on LaterBro. It also allows for Facebook posts with the added advantage of simultaneous posts added to both Facebook and Twitter at the same time. You can also schedule posts much farther in the future than FutureTweets, which can be quite beneficial – especially if you use social media marketing for a business.
So Many More
< ![endif]–>
Obviously, there are dozens of these types of applications all over the web. Tweetdeck, CoTweet and Hootsuite are just a few of the multipurpose ones I could name. But having never used these three personally, or any others, I thought it best to leave them out.
Have you used them? Are there any others that you would recommend? What features do they offer that make them better than the three mentioned in this post? Leave us your comments!