Looking for more updated trends? Check out our 2019 SEO career article.
As we enter 2017, it's natural to reflect on the past year and make predictions on what's to come. As such, here are some interesting data points from nine months of research on SEO job market trends, as well as suggestions how each one may impact your career.
I don't want to lull you to sleep with all of the methodology, but it's important to know what data I've been pulling:
SEO Title Openings – # of full-time job openings in Indeed.com within 50 miles from the nearest location* with "SEO" in the title
SEO Skill Openings – # of full-time job openings in Indeed.com within 50 miles from the nearest location* with "SEO" anywhere in the job posting (title or description)
SEO Workforce – # of LinkedIn profiles within 50 miles from the nearest location* with "SEO" in their current job title
*Location – I looked at the top 75 most populous CSAs (Combined Statistical Area) or MSAs (Metropolitan Statistical Area). You can learn more about what these are and why I chose them over just using cities here on my personal blog. For simplicity's sake, I'll just refer to the biggest city in area.
1. If SEO is dead, its job market hasn't got the memo.
The overall job market has been good, but SEO has been growing over 5X faster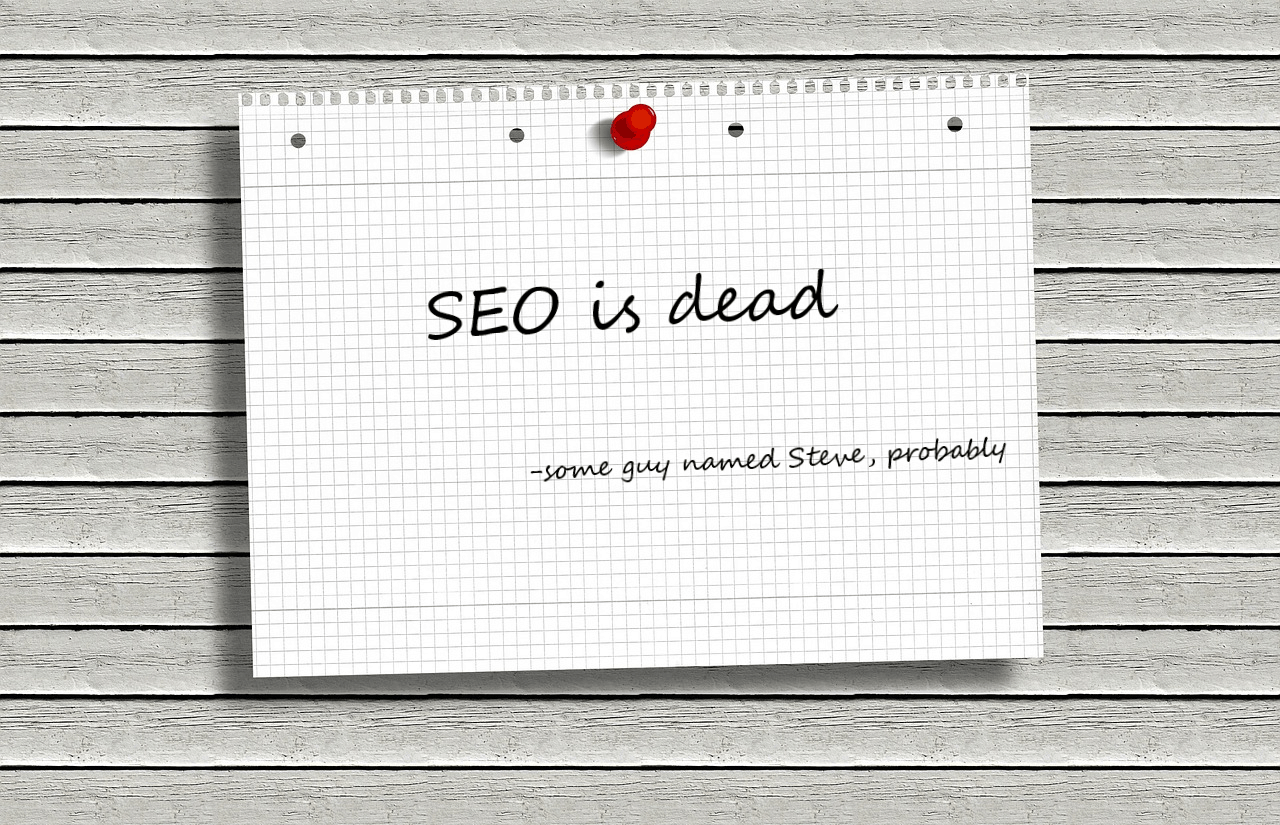 The total job market has grown by 0.3% from August through December, while SEO has surged by a whopping 2.0% in that time span!
Cities pulling more than their weight
Top 5 Cities in SEO Title Opening Total Growth (Aug-Jan)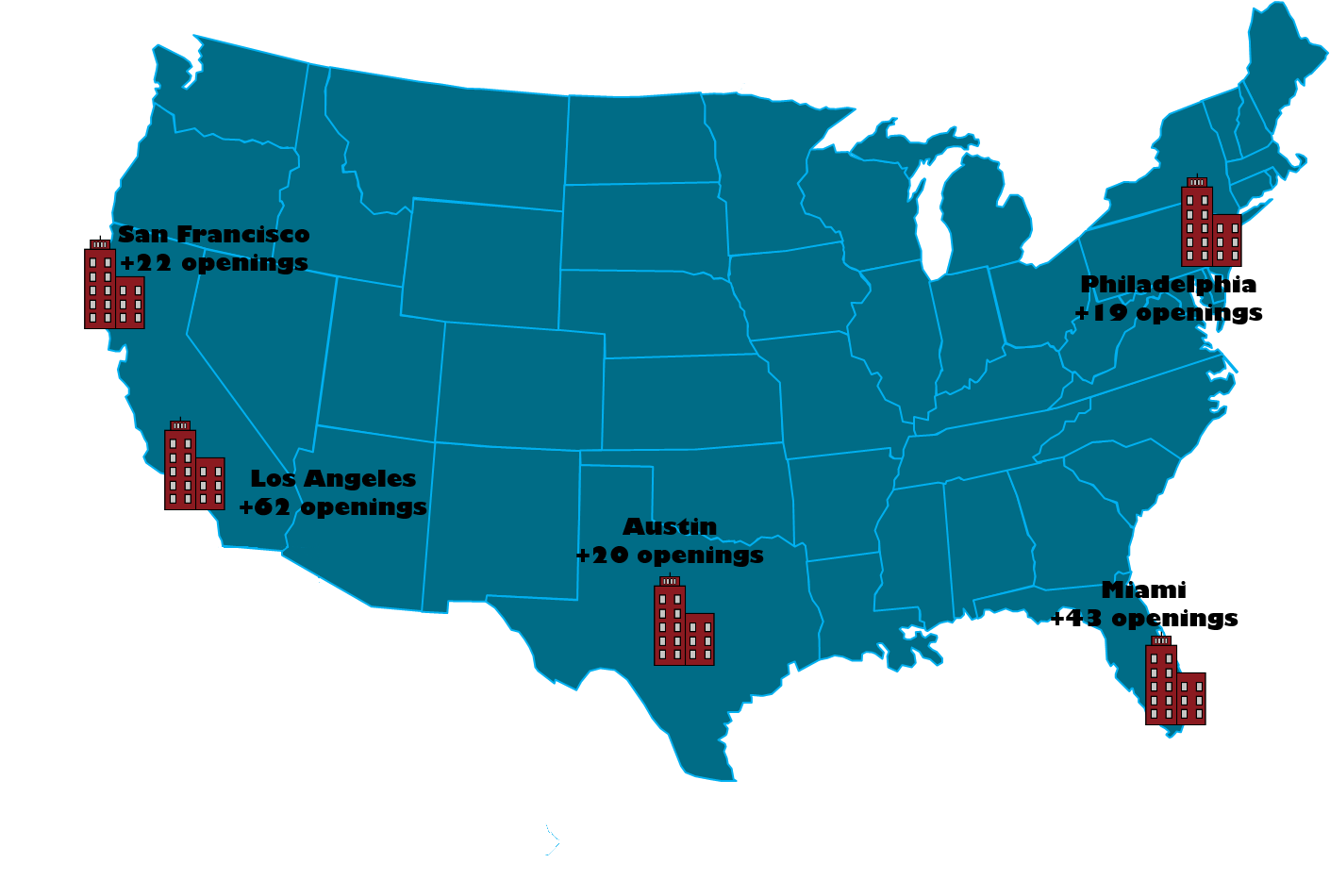 Top 5 Cities in SEO Title Opening Percentage Growth (Aug-Jan)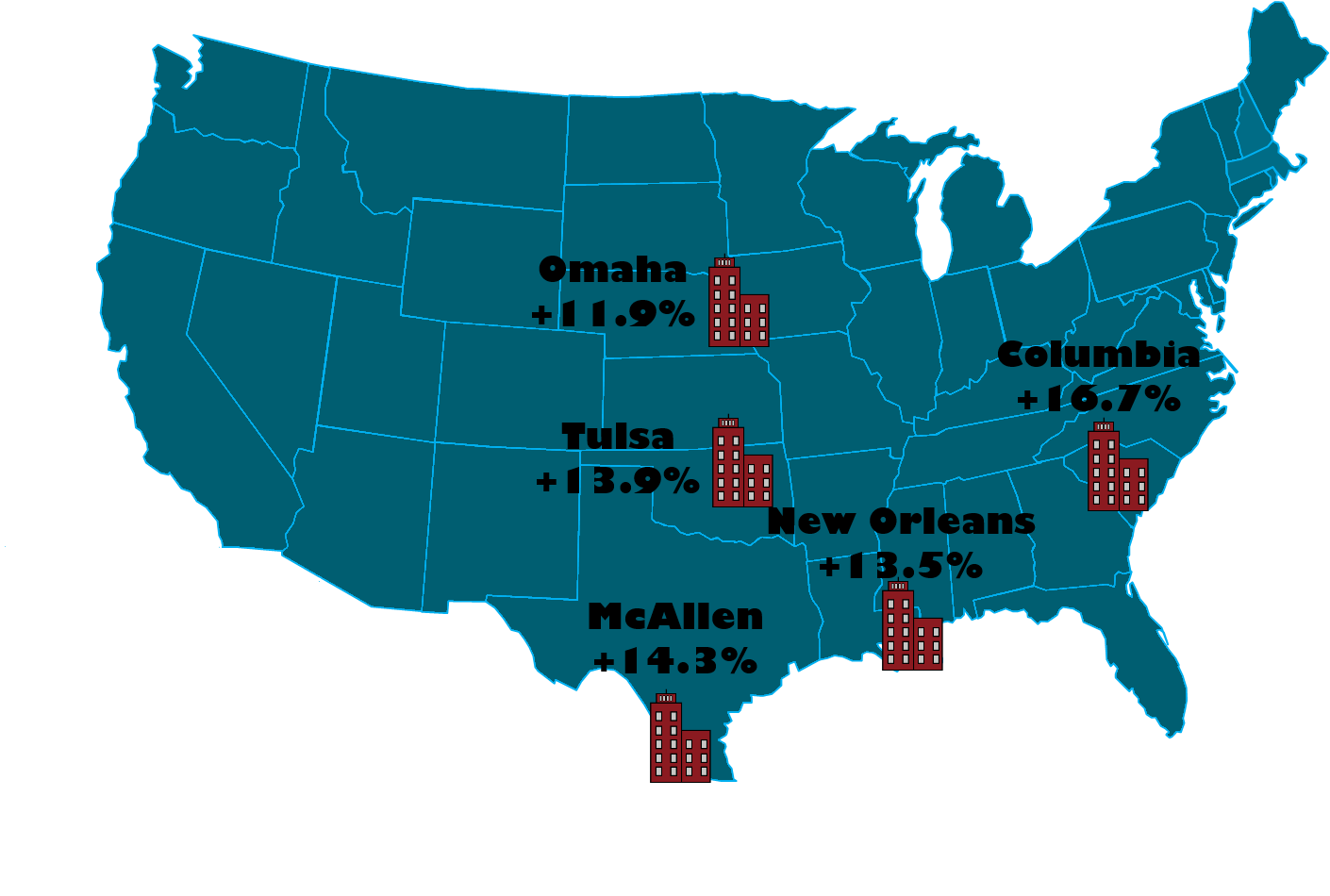 SEO Title Opening Growth (Aug-Jan) by Region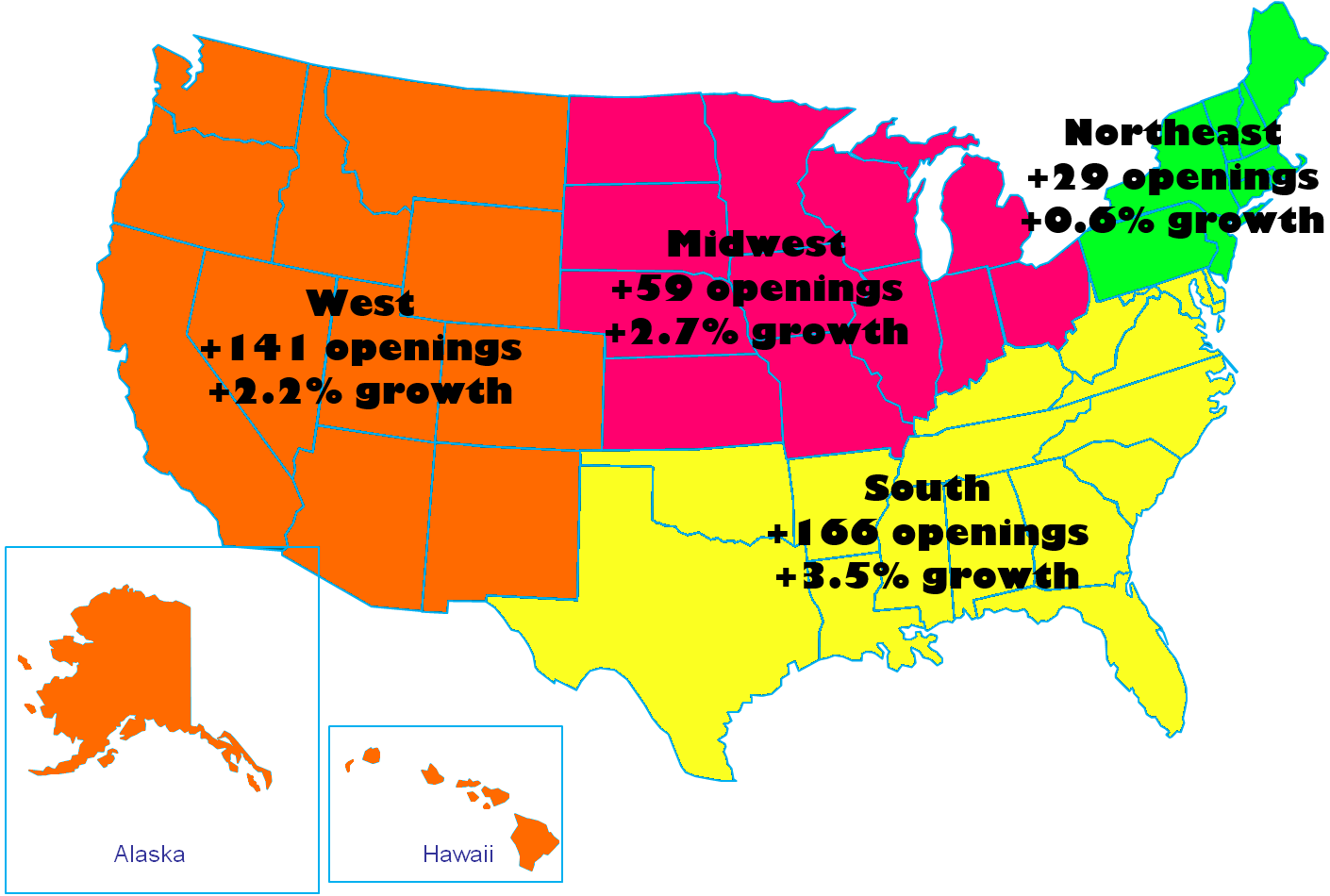 What it could mean for your career
OK, this one's probably obvious but don't switch careers!
We often hear things like "SEO is dead" and "content marketing is the new SEO", but it's important to understand SEO remains the dominant title preference on an upward swing. And I know, yesterday's words don't make themselves heard and the past doesn't always predict the future, but these trends look promising.
2. It's not all up and to the right. SEO openings are trending downward.
Despite its growth in employment, SEO positions aren't opening at the same rate.
Indeed listings with "SEO" in the title are down 13.2%% since May with a Pearson correlation of -0.8244 when compared to SEO workforce growth in LinkedIn.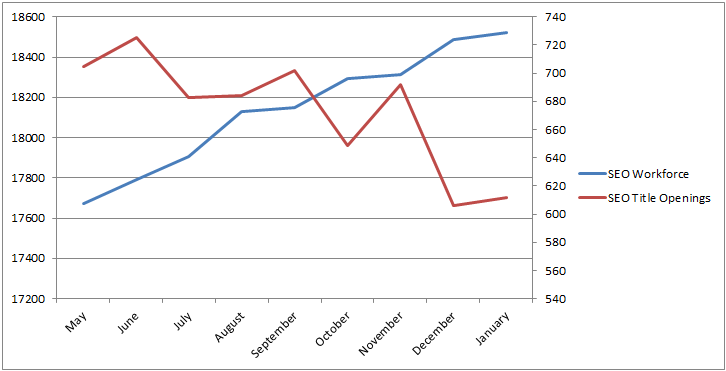 At face value, there appears to be a couple "no duhs" with this finding.
Of course there's a strong negative correlation between job openings and closings. However, that's assuming you're working with a finite amount of job openings, which is far from the case.
Couldn't this be due to seasonality? Everyone knows the job market can tighten up towards the end of the year as budgets run low and uncertainties of next year loom. However, Indeed tells us total job postings in our broader industry have only declined by 6.1% in that timeframe, just half the rate of SEO.
So seasonality appears to be a main factor, but certainly not the only one. Another potential contributor could be SEO jobs are slowly being called something else. We'll get into this a little more in the next point, but while SEO Title Openings decreased by 13.2%% since May, SEO Skill Postings ("SEO" anywhere in the job posting) only fell by 10.3%.
It's also important to note that LinkedIn and Indeed use entirely different data sets. If Indeed is declining in popularity, which doesn't appear to be the case, it could inflate the perceived decline.
What it could mean for your career
If you're looking elsewhere to let your SEO skills shine, consider the time of year when making your move. Indeed says job seeker interest is typically lower in the first half of the year, which according to the data I've pulled, may be when the job postings are cyclically high. On a side note, Team – if you're reading this, please know that national trends may not reflect what's going on in Kansas City. Please stay. We have a good thing going right now. Let's keep it that way.
3. SEO jobs are slowly being named something else. And the key word is 'slowly'.
The ratio of SEO as a job to SEO as a skill has only declined 3.2% since May
There's been legitimate acknowledgement of SEO becoming less of a job title and more of a skill within a role of broader scope. While I agree this seems to be the trend, it appears it is heavily slowing in the past 6 months. Take a look at the graph below. The coasts appear to have already leveled out from this trend with the South and Midwest regions basically caught up.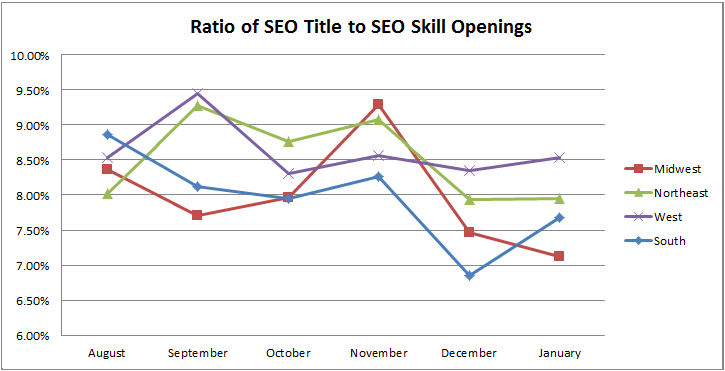 Here's the same graph with the middle months removed to more easily see the contrast:
What it could mean for your career
The "SEO" job isn't going anywhere. If you're a job seeker, it's perfectly fine to assume a title with SEO in it. And if you're an employer, don't feel like you need to switch out "SEO" with the latest buzzword alternative.
To be clear, I don't mean to use "buzzword" with a negative connotation. 'Content marketing', 'inbound marketing', 'growth hacking' and 'website optimization' can all describe different job roles, but two things are clear about each of them: they're on the rise, and their duties often overlap with traditional SEO.
While these other names are in fact trending up, it may be too early to predict their staying power, at least relative to how SEO has fared over the past decade.
4. The best city in America to get an SEO job right now is Phoenix
When weighing SEO's job availability to its interest, no city has looked better over the past 6 months than Phoenix.
Using a method called feature scaling, I developed a formula to compare SEO job supply vs. demand to rank the best cities in America to get an SEO job, one through seventy-five. You can read them all on my latest post that was linked in the beginning, but here are the top five.
Best Cities in the US to Get an SEO Job
What it could mean for your career
No, I'm not telling you to move to Arizona. Relative to many other fields, the SEO job market is favorable in most places. Also, with technology paving the way for more telecommuting roles, you can practice SEO from basically anywhere in the world.
What I am recommending is if you're thinking of relocating, don't just evaluate the job and the pros and cons of living in the new city. You should also consider the SEO job market as much as you can. If it doesn't work, how easy will it be to get a similar position nearby? Of course, you can always increase your odds by building strong networking relationships and continuing to deepen and broaden your skillset.
Here's to a great SEO career for you in 2017!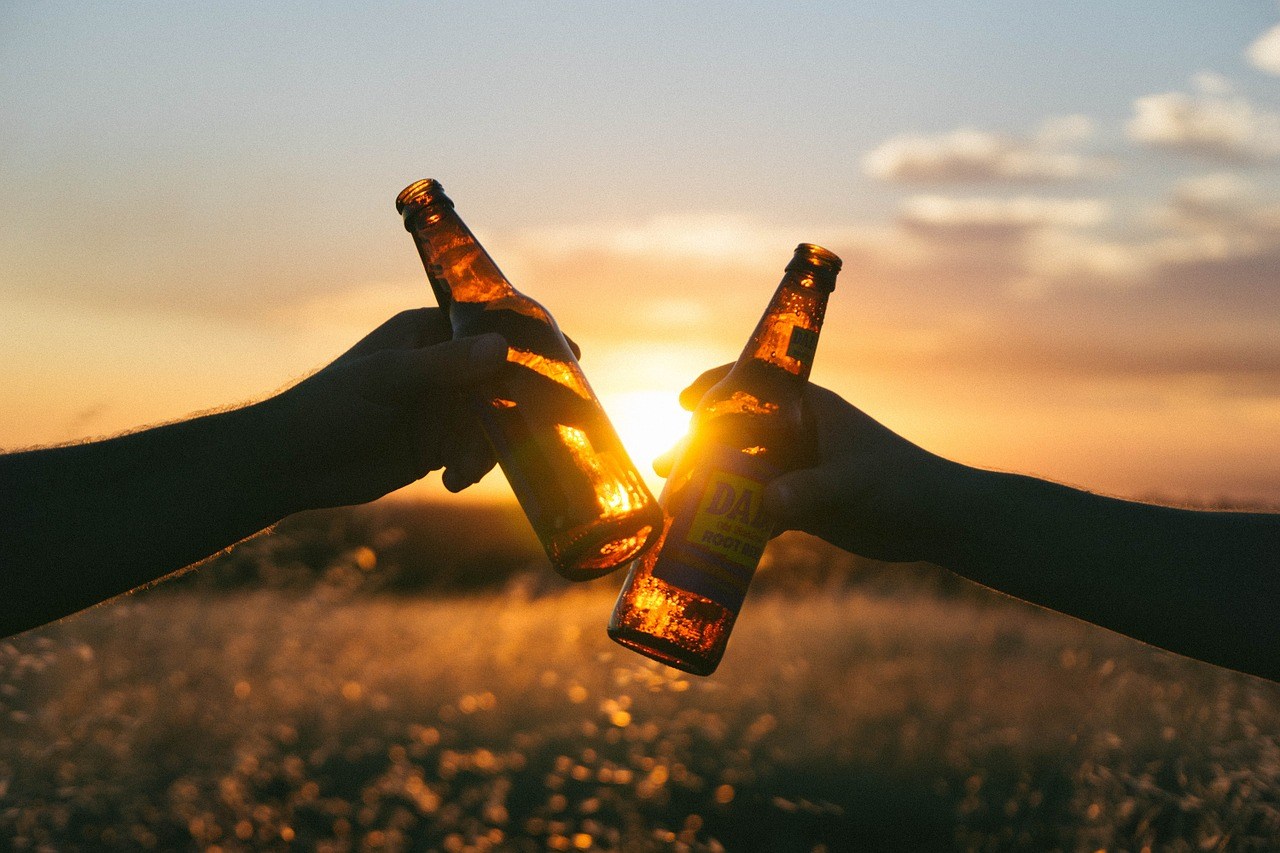 Image Credits:
Image courtesy of Unsplash (Pixabay, edited via PAINT.net)
Image courtesy of geralt (Pixabay, edited via PAINT.net)
All other images from Tylor Hermanson and SandboxSEO.com