If you're like most bloggers, coming up with a blog post could sometimes be extremely demanding, as you are required to discover fresh content regularly.
Same is true with Facebook pages; Social media marketers,whether running a brand or a community page, are faced with the same challenge every so often.
Aside from running out of ideas, there is the additional challenge of getting the community to engage in every post you publish. Not to worry however, I have listed here a number of tips you can apply to ensure you never run out of worth-sharing Facebook content ideas.
The You Can Never-Go Wrong Tips
1. Keep a notepad with you wherever you go.
We come up with ideas daily, but we usually tend to forget them. Do you write down ideas that pop up while you are in the shower? On public transportation? Or even while tossing and turning in bed at night? The problem, it seems, is not always just about finding ideas, but documenting them. Try to keep a notepad, be it on a paper or digital, whenever possible.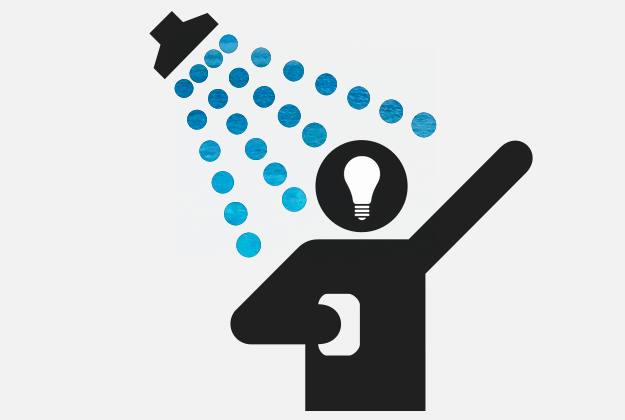 2. Utilize your Facebook content calendar.
Once you have all the ideas listed on your notepad, it's now time to organize all of them in your content calendar. Having a content or editorial calendar is essential to every marketer since they help with planning ahead, identify the key objectives you're missing and keeping you on track. When you run out of ideas, simply grab your calendar and review the content from the last three months or so. This should help you to develop fresh ideas.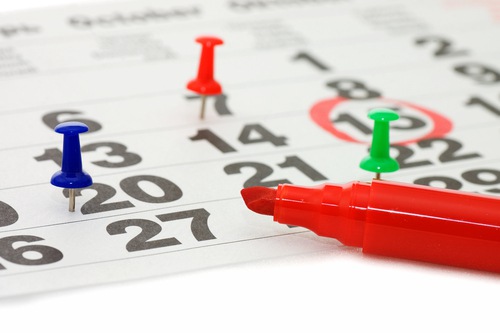 3. Turn everyday stories into content ideas
Write down story ideas from what you see…
…movies you watch
…conversations you have
…conferences you go to
…successes you acheive
…mistakes you make
Everyday stories are fuel for content ideas you can use on community pages. Storytelling ideas, especially when crafted properly, often go viral. With all of the stories you likely encounter daily, you may never run out things to share!
4. Generate a Keyword List
Generating a keyword list helps you brainstorm for fresh content ideas. Ask your SEO team for a list of keywords and cover each topic over a period of time. Since search preferences change over time, you should be updating them 2-3 times a year. You will not only be able to come up with new content ideas, but also be able to find the most-searched, what has worked, and what will possibly work on Facebook.
Copyblogger.com put up an awesome blog post on how to create smarter content using keyword research, the next step to building keyword list that had gained the most searches in the past.
5. Make Use of Other Content Type
Most of us are aware that images dominate the social space. However, it's not every day that you can create or find a quality image that will work on Facebook. When you run out of images to post, you can always switch to other type of content that could give you the same amount of social traction. Videos, screencasts, cartoons and other visuals also do well on Facebook.
You can always re-use and repurpose some content ideas you pull from how-tos and list articles which have already been posted and turn them into infographics, or recycle text posts and turn them to image posts.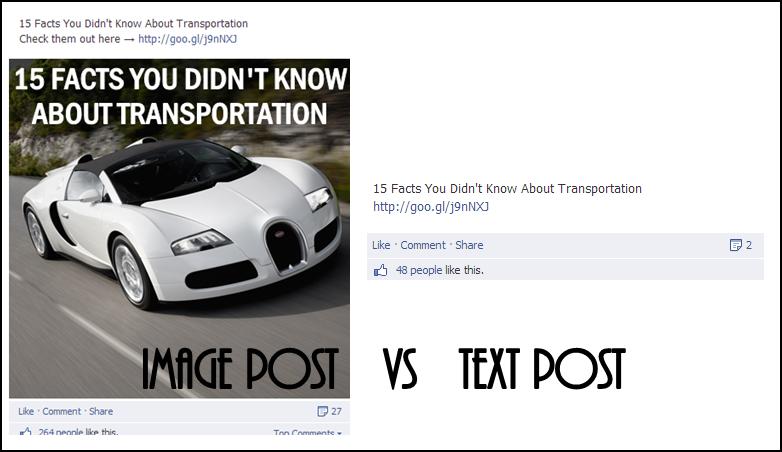 Recycle, Reuse, Repurpose!
6. Read Industry news, niche sites and communities
As the cliche goes, reading is exercise for the mind. Not only would it make you more productive, but also make you resourceful. When you're tapped for content ideas, check out the most read articles in your industry in various communities, content and niche sites. Make a list of relevant niche sites and communities and subscribe to them. Scan their timeline and find those posts you can make use of, whether to spin them, cite them or debunk them.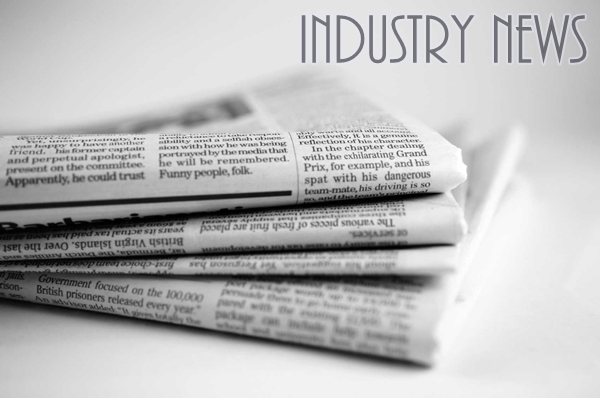 7. Make every competitor's page a source of ideas
Normally, when I do an audit for a Facebook page, I make sure to visit competitor pages and list all their strengths and weakenesses. Doing this enables me to benchmark their strategies, discover what's already working for the industry and come up with great ideas.
Make use of the list feature of Facebook. Create a list of your competitor's page so you can visit the list once in a while when you're trying to come up with ideas for content.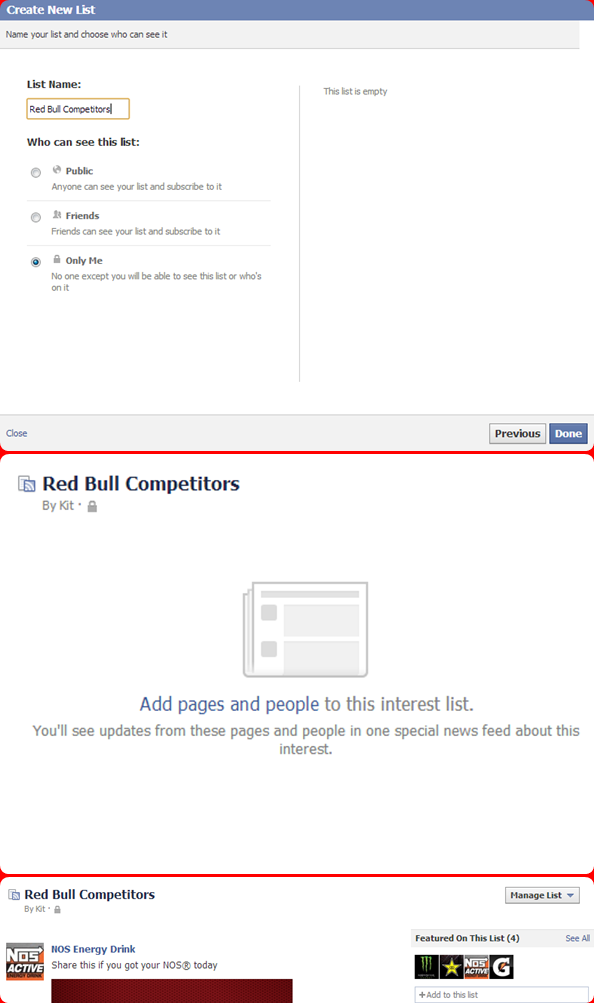 8. Expand On Earlier Posts
When you're running a Facebook page, your goals are likely to get people to come back often and engage in discussion. Certain kinds of posts tend to be more successful than others in accomplishing those goals.
Top 5/10/15 etc…
Not only do list posts spark interest your audience, but they also encourage users to click through to your page to read more.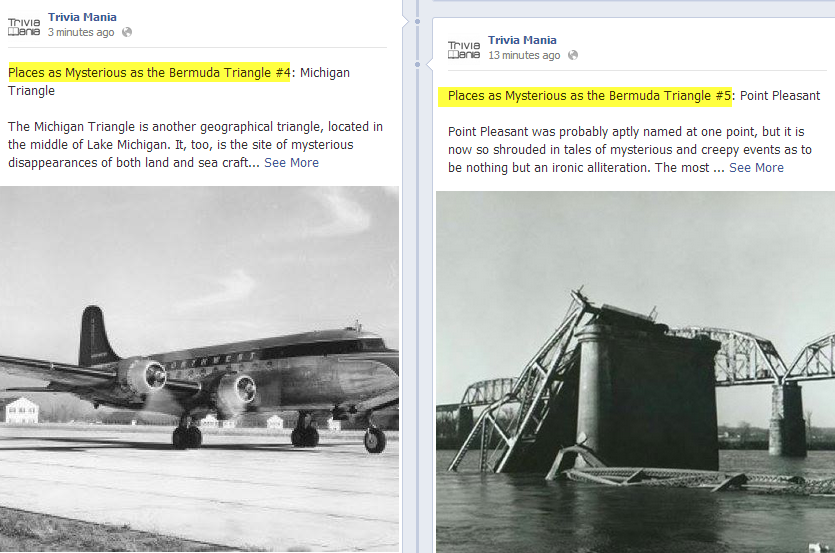 Countdown!
If you are hosting a event, doing a countdown post would invite your fans to visit your page and read further details about it.
Pro tip: Make sure you use proper call-to-actions like, "Like/Visit our page to read more…' to encourage them to visit your page more often.
9. Visit Your Facebook Insights
When was the last time you checked your Facebook insights? If you want to come up with some kick-ass content ideas, revisit your Facebook insights from time to time. Doing so lets you review older content. That way, you can see what really worked and what may not have done so well. An added benefit is you may be able to repurpose older posts for greater exposure.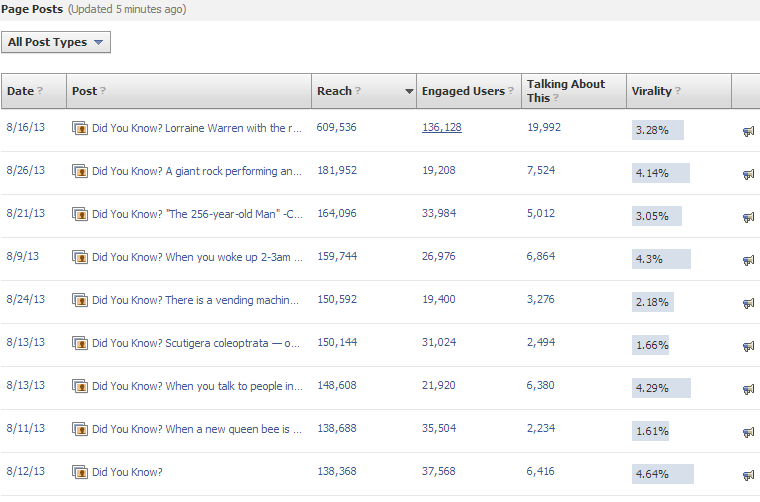 10. Create take-aways and roundups of existing content.
Collect some Youtube videos relevant to your community, brand them and create takeaways, roundups and commentaries around them.
Using Tools to Streamline the Content Ideation
11. Search the Social Space
Now that you have your keyword list ready, you can come up with fresh ideas. However, if you cannot really pull anything from them, you can make use of the social space to search for content ideas that have already been shared sucessfully across the web.
Take this for an example:
Say you run a Facebook page about Vintage Cars, and the keywords you listed are as follows: Vintage Cars + Old Cars + Classic Cars + Collector Vehicles
Using Reddit Search to Find Content Ideas: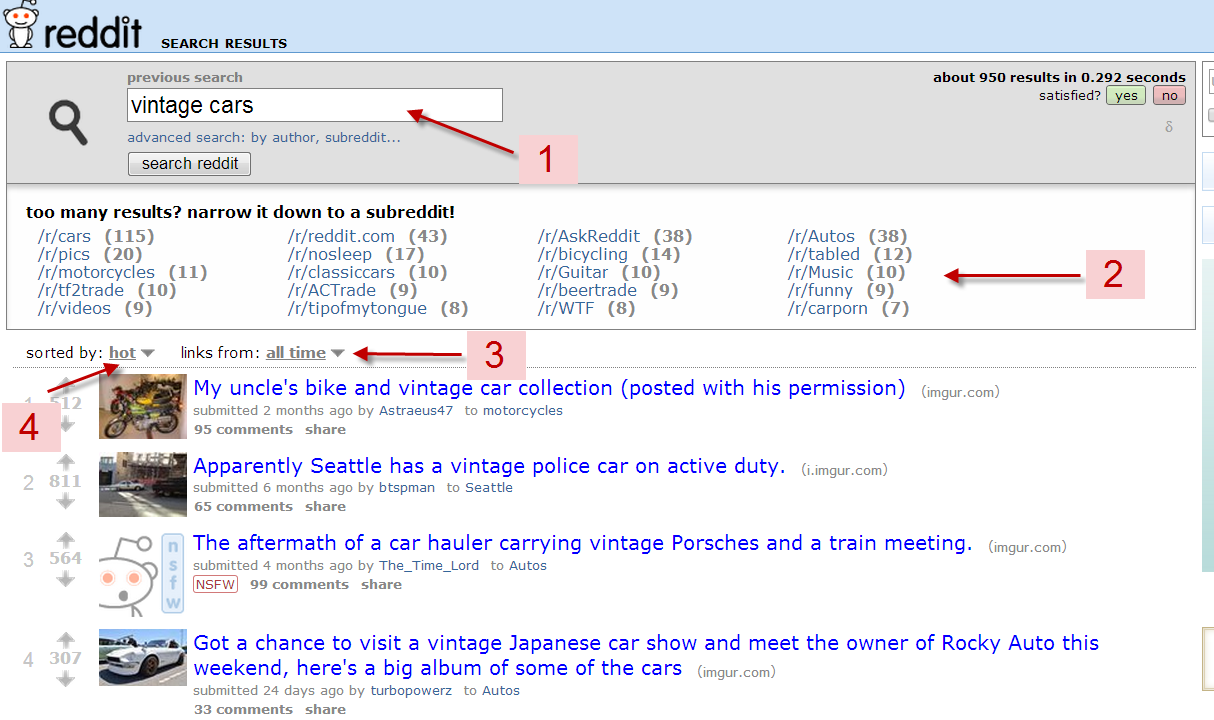 Simply head to http://www.reddit.com/search to begin the search.
Step 1: Enter your keywords in the search bar.
Step 2: (Optional) Narrow down the search by selecting the subreddits you prefer.
Step 3: Filter the list to see the 'links from' 'ALL TIME' posts.
Step 4: Sort the the list by what's 'HOT', to see the top posts of 'ALL TIME'
Use Stumbleupon Interest to Stumble Upon Content Ideas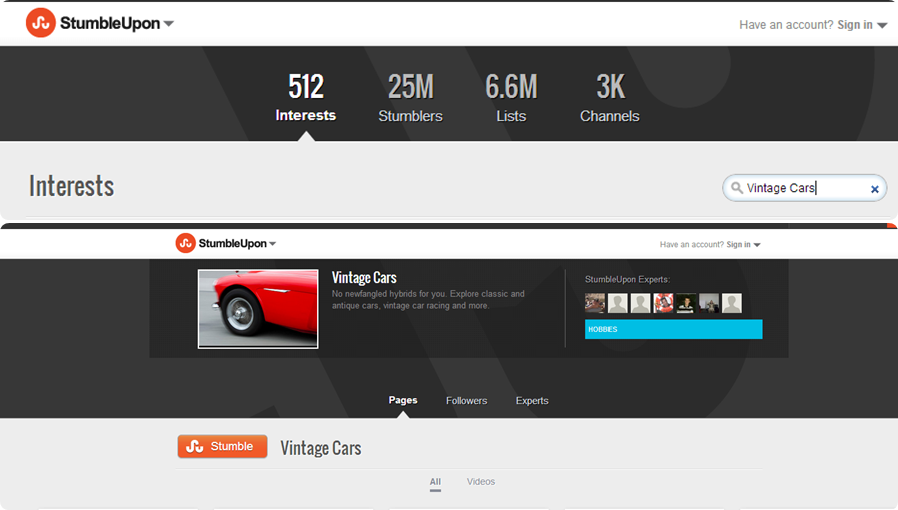 Step 1: Go to Stumbleupon Interest search.
Step 2: Enter your keywords.
Step 3: Collect articles, videos and images from the results.
These steps will allow you to find content that has worked over a period of time.Doing this would give you an advantage of knowing how interested your targeted users are in a particular content / topic.
12. Set up a newsreader on your Mobile Phone
Make sure you set up a newsreader on your mobile phone or tablet. This way, you can curate news to read later. Flipboard is one of the social magazine apps I can recommend.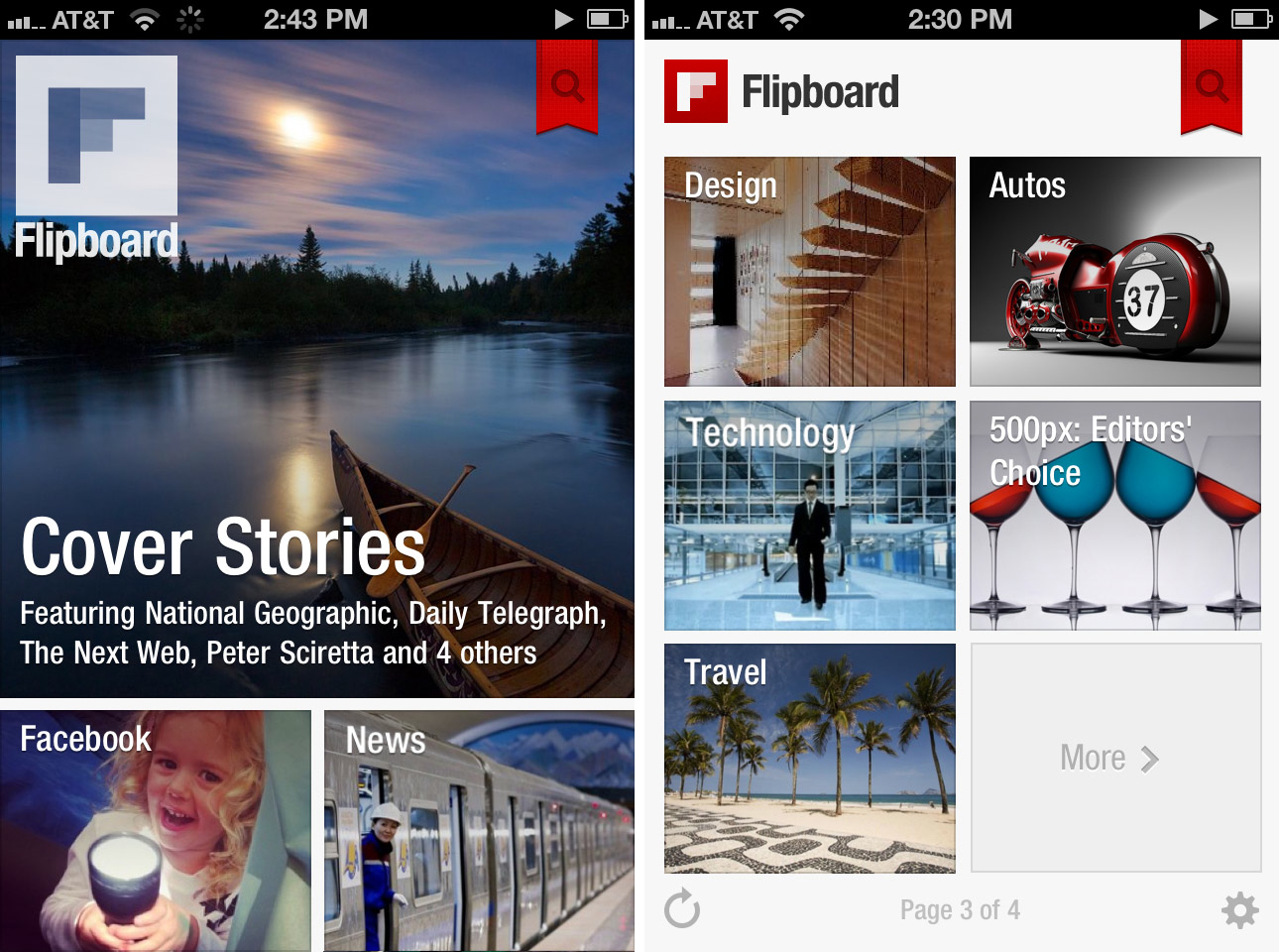 13. Gear up with the Right Content Curation tool.
Subscribe to blogs using Feed.ly
I personally recommend using this because it allows you to integrate the tool with Buffer. Buffer will let you directly share the content you curated using Feed.ly across social sites according to your preferred schedule. Sharing other people's content gives your Facebook page a mixture of good posts.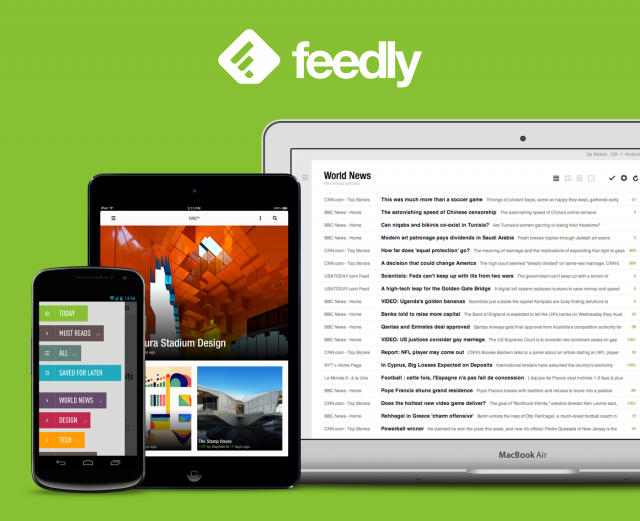 Find Curated Content Using Scoop.it
Scoop.it allows you to create a board based on content you are interested in. Finding content ideas to recycle is much easier if you have an interest-based tool working with you.
14. Listen to Mentions & Questions
The easiest source of ideas come from people talking about your community.When was the last time you checked your social mentions?
Note that social monitoring tools, like Socialmention, AllTop, and Raventools do not only allow you to listen to your audience's sentiments, in addition, they're great for content ideation. Also, do not forget the social features of Facebook, Twitter and Google+ when it comes to tagging and mentioning. Social listening should be foremost in your social media strategy, so be sure not to miss any mentions or questions.
15. Setting Up Google Alerts
Another aid to answering questions and coming up with content ideas for Facebook post is Google Alerts. Find out what people are saying about you using Google Alerts and make a post around that. For an example, Forbes mentioned your company in one of their news articles… Things like that are probably worth sharing on Facebook.
Crowdsourcing Ideas From your Community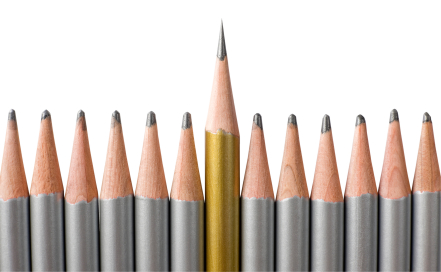 16. Post Questions on the Social Platform
Come up with a creative question and expect answers from the audience. From this, you can now come up with a post highlighting the survey.
17. Collect Tweets, Recommendations, Testimonials
Another branded content that you can post on your Facebook page are collected tweets, recommendations, and testiomonials about your brand and community. Take a screenshot, edit, and post it on your Facebook to highlight your brand's value.
18. Directly ask your audience on topics they are interested in
When you run a Facebook community page, you are likely to be able to gather tons of content ideas to post when you ask your audience directly. Post a status update like, "We value your thoughts and interests in this page, thus, we would like to hear about what else interests you!"
19. Invite a Guest Content Creator / Contributor for Your Page
If you are running a Facebook community page, reaching out for a guest content creator or contributor for your page is one of the best ways to crowdsource ideas. Not only will you be able to include new post ideas and a different writing style on your Facebook page posts, but it also saves time and improves efficiency.
20. Comments on your Facebook Posts
Watch the comments in your Facebook posts. If there are any interesting comments and questions that you missed in your post, you could cover them in future posts.
21. Connect with Facebok Groups
Make use of Facebook groups to connect with people who have similar goals. I can't imagine running out of ideas when great minds work together.
22. Last, but not the least….
When none of the above tips worked for you, the safest way to ensure you have something to post on a daily basis is to share posts from other relevant pages. It is not the most recommended that you rely too heavily on this tactic, since the idea is to build the credibility of your own page, but at least you have something nice to share to your audience while you wait for your next creative idea to strike.