Despite the fact is that I hang out at LinkedIn less than on Twitter or Facebook, LinkedIn is my favorite network: less clutter and more sense than anywhere else. LinkedIn is perfect for building your resume and networking for business purposes.
It is confusing at times though and some of its really cool features are either hidden or unclear. This post explains the two powerful networking tools inside LinkedIn:
1. Groups
I am sure you are aware of the feature: anyone can start a group at LinkedIn to give your brand more social media exposure and participating in groups created by others is a great way to become known and heard. I have compared a LinkedIn Group to a Facebook Group – so if you are wondering how LinkedIn groups work I highly recommend checking out that post.
The exposure part is clear: participating in LinkedIn groups:
Lets you discover more influencers in your niche and connect to them;
Allows you to get an idea what business people in your niche discuss and talk about and gives you more context to speak up and get noticed.
However another powerful advantage of joining relevant LinkedIn groups is that it gives your second- and third-tier contacts to add you to their networks.
LinkedIn is very strict about why you add a person "to friends": when sending a friend request you need to specify the reason why you want to be connected. Being part of one LinkedIn group is the powerful reason of getting in touch and possibly building strong partnership: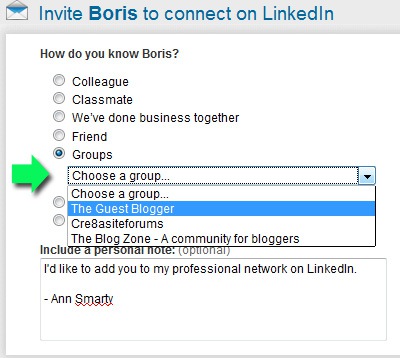 Of course, joining too many groups at LinkedIn may result in flooding your email inbox with various group updates. However few people are aware of the fact that this can be configured from "My Settings" of each group (located behind the "More" tab in the group nav bar):
2. Tweets!
Tweets is a cool LinkedIn application that lets you integrate your Twitter power with your LinkedIn network (and vice versa). Once installed, the application allows you to grow both the networks simultaneously (and consequently, get to know your contacts closer):
Use "Connections to Follow"module that recommends new people for you to follow, based on your LinkedIn connections (Your LinkedIn connections you are not following at Twitter yet).
"Connections" tab allows you to see all of your LinkedIn connections who have added Twitter accounts to their LinkedIn profiles. Simple navigation is provided to make it easy to see who you are and aren't following on Twitter.
One of the most useful features of the Tweets application is the ability to save your LinkedIn connections as a dynamic Twitter list.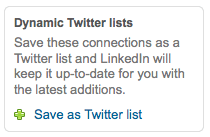 When you click the link to save your connections as a Twitter list, LinkedIn will create a private Twitter list for all of your LinkedIn connections who have added Twitter accounts. More importantly, LinkedIn will automatically keep this list up-to-date, adding and removing Twitter accounts to the list daily based on your LinkedIn connections.
This makes it extremely easy to keep track of what your LinkedIn connections are tweeting about in any Twitter client that supports Twitter lists.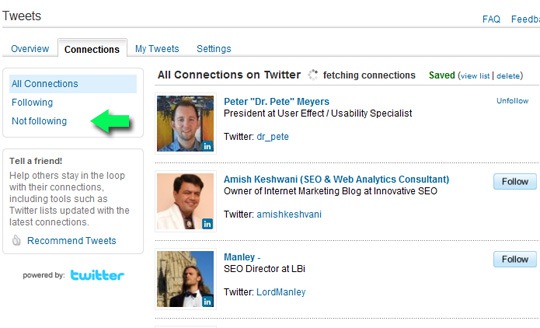 How do you grow and expand your network at LinkedIn? Please share your tips!