If you like Excel, you probably love Google Docs – not because the latter is somehow superior in functionality (which it isn't), but because it allows an SEO and marketer to use some awesome Excel features for web-based collaboration.
And besides that, there are also some really fun *extra* features inside – here are the two most of awesome of them:
1. Google Translate:
Google Spreadsheets can automatically detect language in a cell and translate it to your preferred language or default one. This function can turn particularly useful for international teams who use Google Docs as overseas collaboration tool.
Google translate supports over 40 languages, so you have plenty of freedom here.
Detect a Language
To detect a language, use the following function:
=DetectLanguage("text")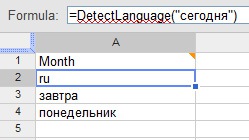 Translate Any Cell
To translate any cell, use the following function:
=GoogleTranslate("text", "source language","target language")
(You'll need to use a valid ISO 639-1 language code for this function)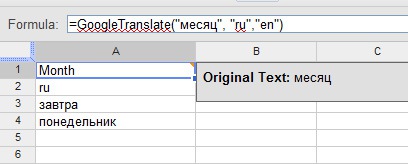 You can leave out the target language and the function will automatically select the default language of your spreadsheet.
Do you need to translate the whole column? No problem! Just use the cell range instead of "text" value, e.g.:
=GoogleTranslate(A1:A5, "ru")
2. Google Lookup
There is another interesting function that lets you quickly find out facts about things you are wondering about: GoogleLookup (only available in English). These facts may be any statistical / historical information you need quickly find out:
How many Internet users are there in Russia?
What's the capital of Mongolia?
Which country is this city in?
The function looks as follows:
=GoogleLookup("entity"; "attribute")
Where:
"entity" = thing you need facts about;
"attribute" = what exactly you want to know about that thing.
For example, the entity is "Russia" and the attribute is "Internet Users": how many Internet users are there in Russia? The cell will display the answer and let you click the data source link for details: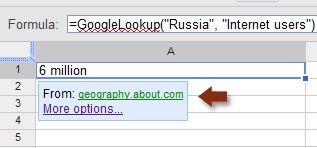 Don't expect too much from this function but it's actually fun to play with. And it does prompt you to attempt to "explain" the machine what you need to know!
When GoogleLookup isn't sure if an answer is the best one for your entry, you'll see a dialog box with a handful of possible answers that you can choose from:
Any other fun Google Spreadsheets tricks you are aware of! Please share them in the comments!