I am sure there are plenty of pages you visit weekly, daily and in some cases monthly. It is hard to keep that in mind. Here are two FireFox plugin that might turn helpful: two tools that allow to schedule your browsing:
My Weekly Browsing Schedule
My Weekly Browsing Schedule automatically opens your selected pages on the specific days of the week and at specific times.
Once the tool is installed, the options dialog becomes available from the TOOLs menu as well as from the (right-click) contextual menu. Thus, whenever you are on a page you want to schedule, just right-click on it and select "My Weekly Browsing Schedule".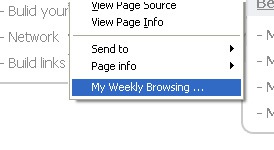 In the dialog you can easily set up when you want the page to open:
Click to choose the days of the week;
Click under # to activate the "CatchUp" feature for any page (in case you missed your schedule, this will open the page once you are back to work);
Click under * to activate "StartUp" feature for any page (this will open the page on the browser startup no matter what);
Double-click to select the time: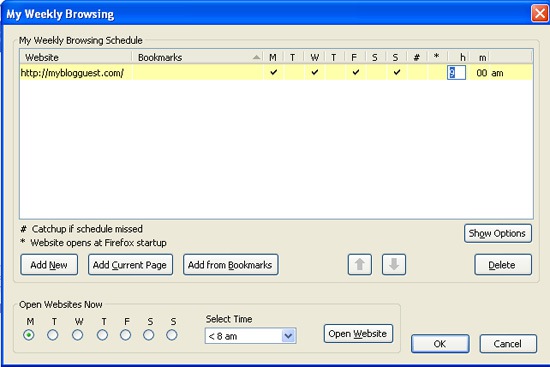 In the "Options" dialog you can customize the following settings:
Open pages in a new tab or window;
Set the default time;
Set the scheduler look and feel (number of rows, width)
Import pages to schedule.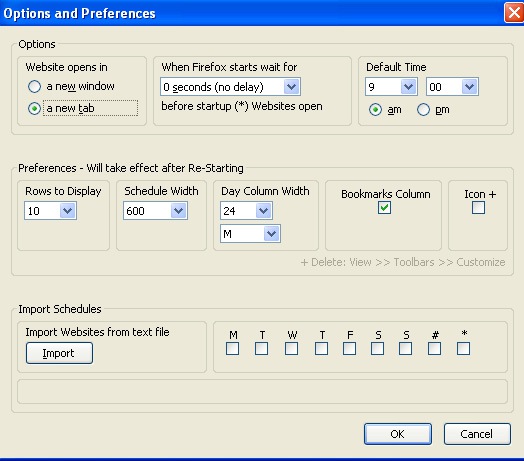 More handy options:
Add pages in bulk: select multiple Bookmarks / Tags to add by using Shift + Click in "Add from Bookmarks"
Another way to add pages: use the Import function to import a list of Websites from a simple text file
"Open Websites Now" will immediately open Websites for a particular Day and Time Interval
Page Scheduler
Page scheduler is an experimental addon that helps you schedule web pages with daily, weekly, monthly and yearly recurrences within a specific date and time range.
Here's how it works:
When on page you want to check regularly, click PageScheduler icon in your browser address bar and choose "Add to scheduler" option;
The dialog will open where you can set when and how often this page will be scheduled to open: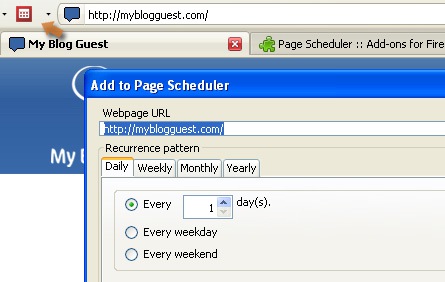 The dialog allows you to set the following time and frequency parameters:
Open the page every (provide the number here) days;
Open the page every weekend or every weekday;
Open the page starting and ending the specified dates;
Open the page within the specified time range;
Open the page on the specified day of the week (e.g. every Monday);
Open the page on the set date of the month or every set date of the month (e.g. every first Monday of each month):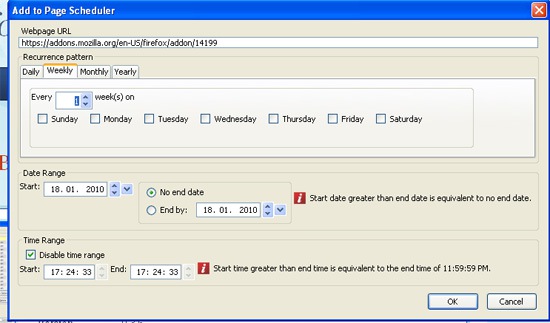 Besides, the icon in the address bar allows to open all scheduled pages in different tabs whenever you want: