Facebook has unveiled a new mobile ad format that lets you target people who have downloaded your app and are more likely to become loyal customers and make purchases.
App Event Optimization
The new App Event Optimization is designed to help Facebook advertisers get more value out of their mobile apps. This is important because nearly everyone (94 percent to be precise, according to Facebook) who actually can be bothered to download your app will abandon it within 30 days.
You can't measure success by how many people have installed your app. If nobody is using your app, then you aren't making any revenue from it.
You can show mobile app-install ads to people on Facebook, Instagram, and the Facebook Audience Network based on one of 14 app events. Here are all the app events advertisers can now target:
Achieved Level
App Launched
Added Payment Info
Added to Cart
Added to Wishlist
Complete Registration
Completed Tutorial
Initiated Checkout
Purchased
Rated
Searched
Spent Credits
Unlocked Achievement
Viewed Content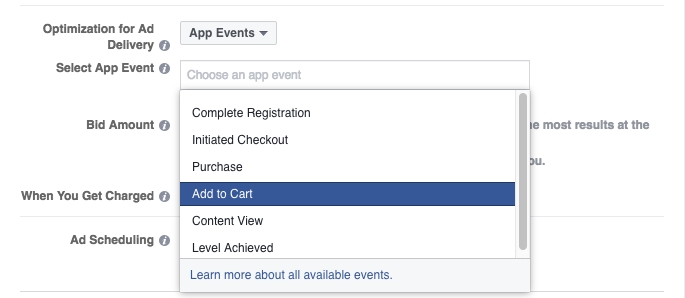 "We're … able to determine whether a person is likely to take actions based on historical data and people with similar characteristics," Facebook wrote in a blog post. "Through App Event Optimization, advertisers can deliver ads to the people who are likely to take valuable actions within their apps."
Businesses that tested out app event optimization reported lower costs per event and higher revenue. These businesses ranged from mobile commerce to gaming apps.
You can access this feature in Facebook's Power Editor or via the API.
Image Credits
Featured Image: Depositphotos
Article image: Facebook