Maybe you heard of our little content marketing experiment. We were unsatisfied with the results our SEO company was producing, so we decided to take matters into our own hands. We decided to start a content marketing blitz on Blog.LogMyCalls.com.
Our goal was simple: produce 150 highly relevant, useful, fresh blog posts in 50 days. In other words, 3 blog posts each day. This was a huge increase from our 2 – 3 blogs each week. We assumed that this would increase our traffic (though, we didn't know by how much).
It worked.
If you haven't read the original results of the experiment we published three weeks ago, here it is: 150 Blog Posts in 50 Days: Staggering Traffic Results after 10 Weeks.
In 50 weekdays (10 weeks) the organic traffic to our site increased by 69%.
The organic traffic to the blog increased by 514%.
The referral traffic increased by 901%.
During the process we decided to part ways with our SEO company. It was clear that their 9 months of work had not generated the results that our few weeks of content marketing had. This SEO had clearly not embraced content. MANY other SEO companies have. Those that have are awesome and will stand apart from their competition.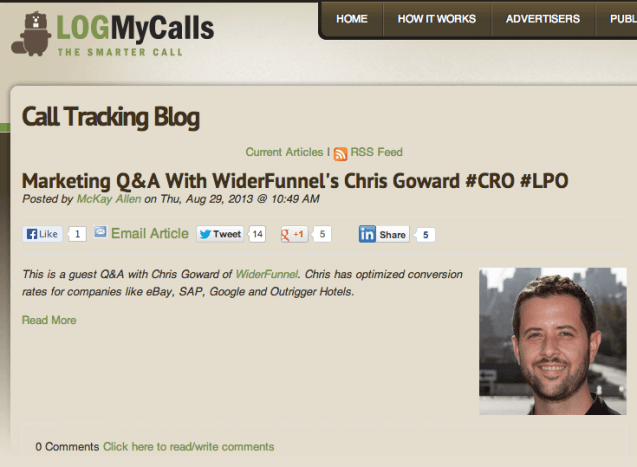 The Reaction
After 50 and 150 blogs had elapsed we published the results.
The article blew up.
Marketers everywhere wanted to share the article as proof that content marketing is king. We received thousands of comments, Tweets and emails. Most people were thrilled about our experiment. Most complimented us on our ability to produce such great content and on the tenacity to keep producing that content day after day after day after day.
But not everyone was excited.
Some questioned our methods and questioned whether this was sustainable long-term. Some people seemed legitimately upset our experiment had worked.
Why were they so mad?
After looking at the comments, social media messages and emails we received about the experiment, we've compiled the top 3 reasons people were mad that this content marketing effort worked:
1) They're 'old-school' SEO people
When we mentioned that we fired our SEO firm, that upset some people…especially those people that do old-school SEO. And by 'old-school' I mean SEO people that haven't yet fully embraced content marketing or in-depth marketing analytics.
The majority of angry people that we heard from simply couldn't accept that producing good quality content on a consistent basis actually works—even though Google has been saying that it works for a couple of years now.
2) They couldn't believe a company of our size could produce that much content
One woman emailed me directly and said the following: "The only way you could have produced that much content is if the content was bad."
I replied and asked her if she had read any of our blogs.
She responded a short time later and said she had only read 1 blog on our entire site…the blog that discussed the 150 posts in 50 days.
Alright then.
We certainly won't argue that every blog we wrote deserves a Pulitzer, but there is no doubt the content is useful, fresh, unique, and is read by a growing audience every day.
Producing a lot of really good content is possible when you have a plan, and a certain level of expertise. In our coming articles on SEJ, we'll focus on how to create and execute a content plan.
3) They said that eventually this content strategy would hurt us.
This one actually surprised us a bit. Several people emailed and warned that this strategy would eventually backfire because Google would view us as a content farm and start penalizing us.
To respond that criticism I reference the King of Inbound Marketing, Hubspot. The following quote is an interview conducted with a Hubspot executive and published by a Forbes contributor:
"The key is multiple blogs a week, or better yet, per day.

We had heard the rule that you should do 3-4 blog articles a month. About 2 years ago we brought on a new blog editor and we were worried about keeping up the comments, links, and views if we added more content. So we tested it.

We first went to 1 article per day…comments, links, and views went up. Then we kept pushing to 5 articles per day…comments, links and views went up. We learned that you can't generate enough content. Remember both quality and quantity."
And it seems to be working pretty well for them.
Why Do We Care About Content Marketing?
We don't. We don't have a horse in the race. We're not a content marketing company, an SEO, or a CMS. We're a call tracking company. But we can say, unequivocally that content marketing is the new SEO. It works. And we're going to keep doing it.