Do you ever feel like your content marketing efforts fall flat?
It's easy to get caught in a rut. Sometimes weeks or months will go by without feeling like you're making any major gains. It's frustrating, no matter how long you've working with content marketing.
But I think it's important to remember your efforts aren't necessarily failing just because your call-to-action doesn't convert double digits. In fact, if you embrace the reality that getting a positive ROI isn't just about the CTA, you may realize you're not in a rut after all.
Content drives results in many ways.
In many cases, smart analysts can quantitatively track success of your content pieces. But other times, results come from the underlying momentum you've been building for months. These unexpected ways to drive results often outperform the basic marketing metrics we cling to on a daily basis.
It's just a matter of willingness to invest in the unexpected. Once you do that, your overall content marketing results will skyrocket.
1. Become a Hub of Knowledge Through In-Depth Content
When done well, in-depth content educates your customers in a valuable way. It goes deep into a subject and provides the reader with numerous examples, statistics, and research.
By focusing on this type of content, not only will you be able to offer value to your current readers, you'll likely gain new ones as well.
In a world full of short blogs and Buzzfeed-style posts, many businesses see great results by creating in-depth content.
The Result: Attract your competitors' customers by providing a greater depth of knowledge.
2. Reach Customers on a Personal Level With Audio
Tons of people listen to podcasts. In fact, according to Maximize Social Business, an estimated 46 million Americans over the age of 12 listen to podcasts on a monthly basis. It's now one of the most popular types of audio content out there.
Personally, I've noticed that when I listen to a podcast regularly, I really feel a connection with the podcaster.
Think about it: Who do you normally go to the gym with or take a road trip with? A friend. Investing in content that creates this same feeling might be just the thing you need to build a deeper connection.
The Result: Forge a closer connection using audio files in order to establish the trust that fuels future purchases.
3. Use Video Replies to Deeply Connect 1-on-1
Hat tip to Gary Vaynerchuk for this great tip: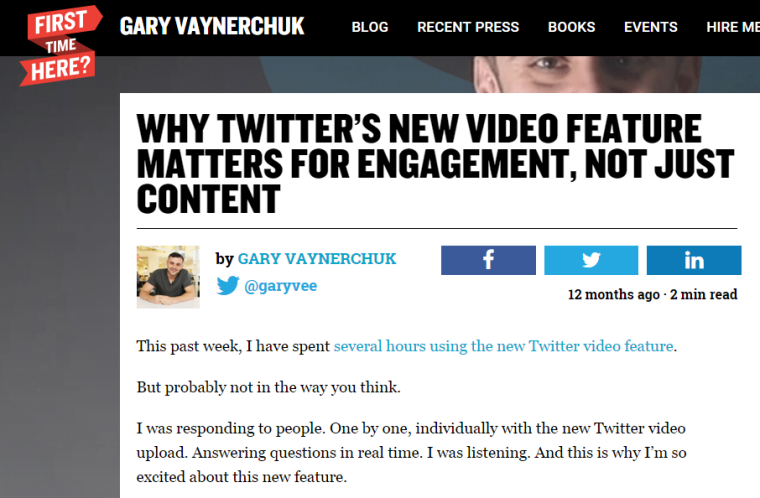 It's a simple tactic that takes just a few seconds of extra effort. Instead of responding to @mentions in a standard text tweet, use Twitter's video feature. This is a great way to drive engagement and get your feet wet with video content at the same time.
The Result: Win customers for life by taking a few seconds to reply in a more intimate way.
4. Don't Underestimate the Power of Consistency
Sometimes I think keeping a consistent schedule is one of the most powerful aspects of any content marketing effort. Publishing on a regular basis brings direct results that affect your company's bottom line.
I'm seeing many people in the space underestimate the power of consistency. Yes, something as seemingly small as sticking to a schedule can—and will—drive results.
The Result: When prospects know what to expect, they begin anticipating your next move. And when they're watching you and waiting for what you'll do next, they become far more likely to ultimately convert.
5. Implement Content in All Aspects of Business
Content marketing happened long before it earned its official moniker the internet. Whether we realize it or not, content affects every aspect of a business. And with that in mind, it's clear that you should actively strategize its implementation across every aspect of your business.
From your brand's tagline to product descriptions to brochures to blog posts, it's all a part of your overall content strategy. Keep it consistent, on target and helpful in everything you do.
The Result: A well-rounded, educational message for each step in the sales cycle.
6. Land More Speaking Engagements With Video
Video is picking up momentum and becoming a huge player in the digital marketing realm. And it's time to start taking advantage of it.
I think many get overwhelmed by the idea of video. But you can use it to drive conversions, awareness and engagement.
If you ever do any public speaking, start capturing your talks on video. It's a great way to fill up your YouTube channel, and you can use the video as a reel of your work to land even better speaking gigs.
The Result: Increase your industry authority by speaking in front of large audiences.
7. Expand Your Brand as a Podcast Guest
I already mentioned running your own podcast, but don't forget that you can leverage others' audio sessions as well. Pitch your message to podcast owners and try to land spots as a guest. Remember, most podcasters rely on interviews to keep their show going.
When you land an interview, go above and beyond for the show's audience. I like to create a small exclusive giveaway to offer the listeners. Throw up a nice landing page for the giveaway and use it as an opportunity to build your email list.
The Result: Tap into potential new customers by leveraging someone else's audience.
Oh, and pro tip? This one works just as well with webinars.
8. Repurpose Content to Reach Your Audience on Every Medium
Each and every piece of content you create can be repurposed for a different medium.
Not everyone will read your blog post. But they might watch a short video or view a slideshow. Find creative ways to repurpose your content and reach out on different platforms.
The Result: Reach customers on the platform they use so your content doesn't go unnoticed.
9. Create Awareness Through Familiar Branding
Content isn't just words on a page. It's everything you publish, including:
Written words
Audio
Video
Graphics
When you use a variety of media types, it's important to keep your branding consistent. If you're posting on a variety of platforms, keeping things consistent builds familiarity. And when your brand feels familiar, people will remember it.
The Result: People begin to notice your brand outside the context of your content channels.
10. Leverage Partnerships With Peers in Other Industries
I'm a big fan of building partnerships with others in similar fields, as finding a complementary business owner to work with can open the door for a huge number of future content opportunities.
Things like webinars and case studies are great ways to cross-promote content with another brand. You're helping out the other business by offering great content to their audience, while also earning the opportunity to share your message with that group of people.
The Result: Spread the word about your brand while adding value to your peers.
11. Display Unique Messages Based on Behavior
You'll be amazed by the results you can generate with a bit of dynamic content. It's a simple concept: display unique messages based on data like location, behavior, and acquisition source.
There's plenty of software available to help you with this process. Get it setup, create your content variations and enjoy the increased impact that it brings.
The Result: Drive engagement by delivering the right message at just the right time.
12. Deliver Content Upgrades for Each Blog Post
Sometimes you need to take your CTA a bit further by giving additional value. Consider doing so by offering a unique content upgrade for each post you publish – just like the Backlinko blog did in the post pictured below: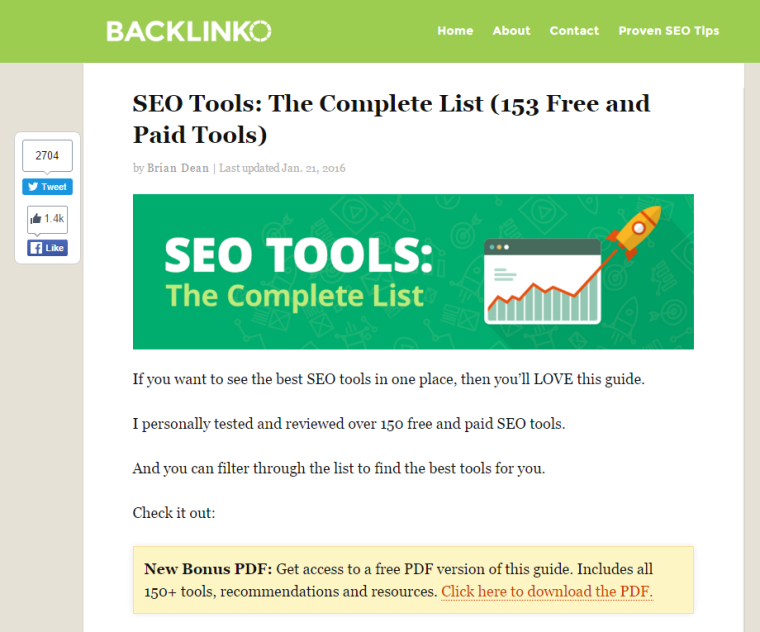 It's an easy way to radically grow your email list. You'll need to put in a bit of extra effort, but the results will be well worth it.
The Result: Build your email list and provide added value to your audience members.
13. Find Ways to Entertain Your Audience
We live in a world that thrives on entertainment. If you can create content that makes your audience laugh, you can skyrocket your growth in no time.
Remember how Dollar Shave Club entertained us all and gained 12,000 customers in 48 hours?
The Result: Accelerate your growth by finding your brand's entertainment value.
14. Answer Common Questions That Arise
Customers will have questions at various points in the sales cycle. It's your job to identify those questions and answer them before they even have to ask.
While FAQ pages still work, find other creative ways to answer questions. Create a series of in-depth blog posts, then compile the links together on a mega-resource page. Use snippets from your blog to post answers to social media. Repurpose the FAQs into a slideshow and share on SlideShare. Get the answers out there as much as possible.
Answering common questions offsite has the added advantage of positioning you and your brand as an expert. Take a look below at how Ryan Hanley uses Quora to answer a user's question while simultaneously demonstrating his own authority on the subject: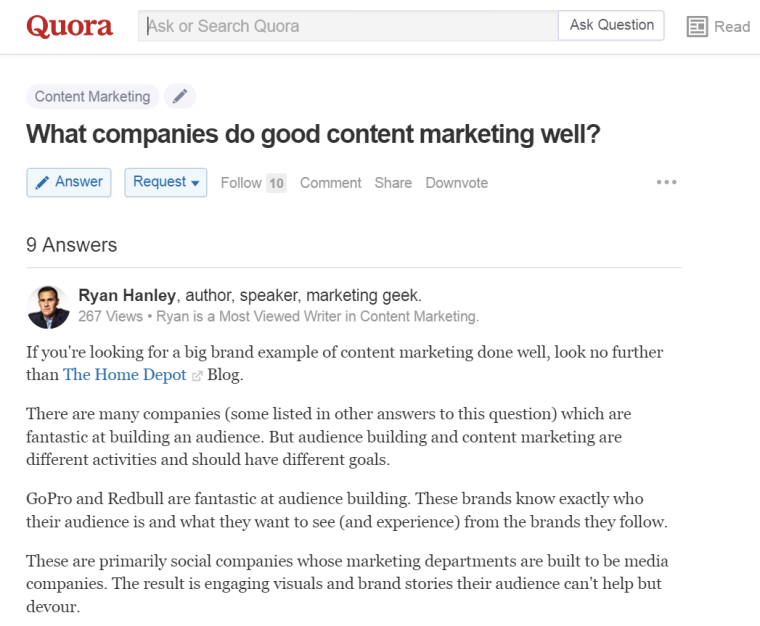 There are lots of ways to use this strategy effectively. The important thing is to get out there and start answering.
The Result: Cut down on your customer service needs by answering questions before they're asked.
15. Venture Into New Content Marketing Territory
New content platforms pop up all the time; as a business owner, you've got to jump into these up-and-coming channels as quickly as possible.
Don't wait until they're wildly popular to jump on the bandwagon. Beat everyone there and start building an audience with the early adopters.
Take Spotify, one of the first brands to dive into Periscope marketing. According to Josh Karph, Spotify's Global Director of Social Marketing:
"We had 380 or so live viewers and about 1,500 hearts on the stream. On the replay we had another 200 or so. We're still looking at how the replay streams work and how quickly they get updated, but it looks like the total is about 450 or 500 people who viewed it."
That's huge for a new platform. But it doesn't stop there. Imagine how much larger of an audience you could have had if you started rocking Twitter in 2008.
The Result: Make an impact in a crowded market by being the first to dive into an uncrowded channel.
Everything we do in content marketing can – and should – tie to a tangible business result. We may not have the software to track everything yet, but that doesn't mean you shouldn't keep this important principle in mind.
Remember, marketing has only recently experienced such a push towards measurable results. For years, businesses thrived on advertising tactics they couldn't measure. The same holds true in today's world of analytics and measurement. Sometimes an investment in the unexpected methods can bring you more results than traditional tactics.
Are you willing to take the leap and dive into a deeper realm of content marketing?
Image Credits
Featured Image: kaboompics/Pixabay.com
All screenshots by Aaron Agius. Taken January 2016.