A shocking 49% of marketers only use basic metrics such as clicks and downloads to measure content effectiveness. Another 17% have no metrics in place at all.
What a sad thought! As marketers, it's our job to bring tangible results to our clients. They're trusting you and I to build relationships with customers and increase their cash flow. Bringing quantifiable results seems like the least we can do.
As businesses move more and more of their budget into content marketing, we must find ways to align our results with their goals. It's time that we start measure what matters – not just what's easy to track.
1. Average Finish
Like engaged time, average time to finish reveals the engagement level of your content. In Google Analytics, it's calculated as the Average Event Value for the "Content Bottom" action. Look at the last column and see the time expressed in seconds.
Justin Cutroni gives an idea of what this looks like:

2. Content Longevity
You are spending time and money creating great content. But do you know how long that piece continues to reap rewards? Data from Bitly's shortening tools gives us some good insight.
As you can see, by its peak, a Bitly link has received roughly half the clicks it's going to get, on average.
Content marketers can use this data to plan and publish from an informed standpoint when it comes to predicting how long a piece of content will bring in active engagement.
A few ideas for other places you could measure longevity include:
Landing page signups
Reads to blog posts
Views on videos
3. Number of Return Readers
One of the goals of content marketing should be to build your blog audience through high-quality content and relationships. When you get someone coming once in a blue moon, it's a hookup – not a relationship. Measuring return readers gives you further insight on how to best acquire and retain them.
As an added bonus, a Buzzfeed case study on Virgin Mobile shows us that getting readers to return has a strong effect on purchase intent as well.

4. Time Engaged With Content
We live in a noisy world, and your brand has to find ways to stick out from the crowd. And one of the best ways to make that happen is to get people to engage with your content.
As a Chartbeat study shows, visitors with a higher engagement time had better brand recall overall: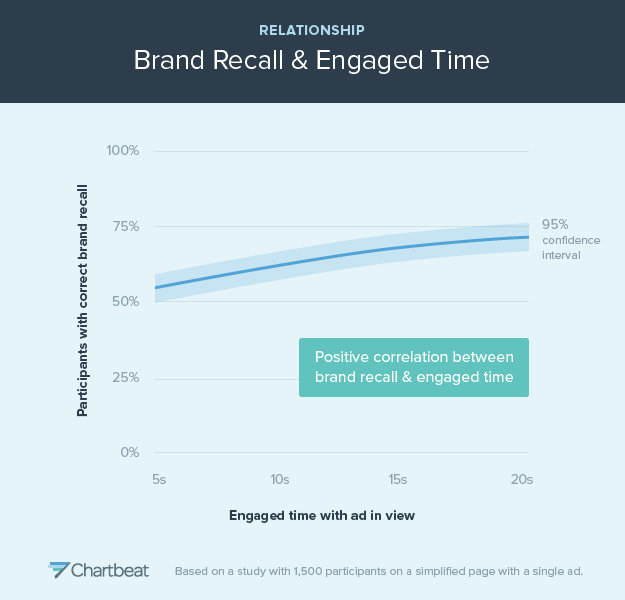 Data shows that 73% of marketers don't track how much time users spend on their content. It's no wonder people don't feel like their content marketing is effective. They aren't tracking it!
5. Audience Contribution
Getting members of your audience to contribute to your content builds social proof and assists you in the sales process. One of the most profitable ways to encourage audience contribution is in the form of online reviews.
In fact, by some estimates, 79% of customers trust online reviews as much as they do personal recommendations.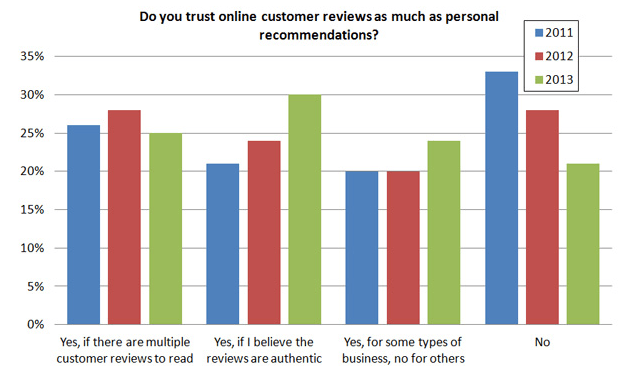 It's time to start encouraging and measuring how your audience contributes to your content marketing success. This may also include more well-known metrics like social shares and blog comments, but your focus should be on those that demonstrate the strongest correlation to your business's bottom line.
6. Reduced Time to Purchase
In theory, good content marketing makes it easier to sell your customers before you ever speak to them.

Unfortunately, content collateral can disrupt the traditionally measured buying cycle. With so many new avenues for information gathering, it can be difficult to determine how long it takes a prospect to go from first interaction to purchase.
Even so, sales pros understand the power of the buying cycle – and it's time content marketers embraced it as well. Measuring the life cycle from the time a user signs up for your email list is an easy way to implement this metric.
Get a baseline time frame, then challenge your marketing team to reduce it.
7. Links from Thought Leaders
If you understand your industry (and you really, really should), then you'll have a good idea of the competitors and leaders in the landscape. Good content marketers know how to leverage the marketing power of leaders for themselves.
When you run a link analysis, start measuring how many leaders in the industry are linking to you. If you get on their radar, it opens up many opportunities for your marketing campaigns and your overall brand awareness.
But if you're not measuring it, you'll never know. Once you have this data, aim to improve it by investing in building relationships with these important influencers.
8. Cost Effectiveness
Great content marketing costs money. If you can't do it yourself, you'll need to invest in somebody who can help you develop great content. If done well, this content should ultimately reduce the average cost you're spending per lead.
In fact, according to The State of Inbound, it should pretty dramatically reduce your costs: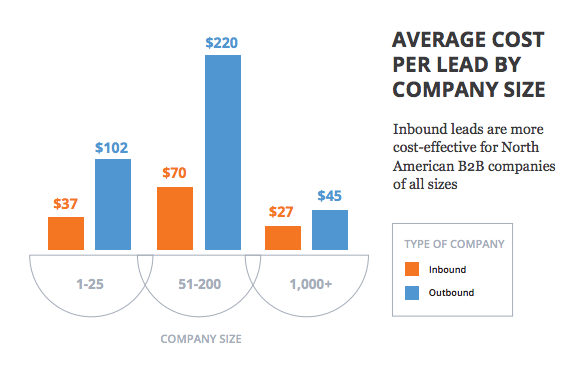 Measure how much you're spending on inbound compared to outbound. This includes your content creation team costs, plus any overhead expenses. If it's not a cost-effective investment, start looking for a different provider.
9. Leads Per Keyword
When someone finds you of their own accord, it's almost always more profitable for your business. SEO is just one organic way people can stumble across your business. And it can prove to be a very profitable lead machine for you.

Understanding what keywords are bringing in leads can help direct your future marketing endeavors. With this information, you'll know which keywords to focus on, what content to continue sharing, and what new types of content to create.
10. Sales from Content Marketing
Can you link your efforts directly to increased revenue? If not, how do you properly manage performance and budget?
ROI. The holy grail of content marketing metrics. It's actually a lot simpler to measure than you may think. You need to measure your revenue, production costs and distribution costs. Then, it's just a simple formula:

11. Production Costs
Grasping your production costs is just good business. Chances are, you're not creating all of your content by yourself. As mentioned above, most businesses will enlist the help of others in their content creation or content marketing efforts.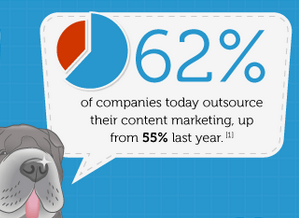 That means you need to understand what it's costing month after month. It's an easy task if you use a freelancer or agency. You just keep track of their invoices.
It get a bit trickier when you use your internal staff to manage content efforts, as you need to consider their overhead expenses, as well as any lost productivity from the tasks your content initiatives have pulled them away from.
But it's still possible – and it's still worthwhile – to collect this information.
12. Distribution Costs Per Piece
People assume that content distribution is a free way to bring in traffic. But with more and more businesses turning online, content distribution isn't as simple as updating your Twitter feed anymore.
Here are a few examples of the types of distribution costs you might incur:
Updating social media (if you pay someone to manage it)
Reaching out to influencers (you must account for the cost of your time)
Paid promotion on social media
Native advertising networks
Overall, you need to measure how much you're spending per piece. Doing so will give you a deeper insight into your true content marketing budget and its effectiveness.
So, now that you know what to measure, how will you implement it into your content marketing efforts? Leave a comment below sharing the specific metric you'll add to your analytics reporting next!
Header Image: Flickr
Screenshots taken 05/01/15