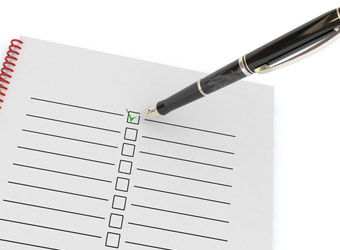 I don't know about you, but nothing gets me more frustrated than seeing people online whine about how, "It's sooooo hard to build links these days!"
Really – if anything – the number of link building opportunities available today has only increased as new and different types of web properties have proliferated online!
So if you're one of those people on the link building fence, take a look at the following list of 101 different link building techniques I've compiled. Surely, you'll find something in there to get your creative juices flowing!
From Your Website…
Add social sharing tools to your blog articles – Adding social sharing tools to your blog posts (which can be done manually or with plugins like Digg Digg or TweetMEME) is pretty much mandatory now that social signals are being weighted in the ranking algorithms.
Ask your readers to share your posts – Adding a call to action at the end of each post is one easy way to boost social sharing significantly.
Launch an RSS feed – RSS feeds increase your website's exposure, which can result in backlinks when your readers share your posts on their sites or social networking profiles.
Submit your RSS feed to directories – Boost the link building power of your RSS feed by submitting this link to industry directories.
Create internal links between posts – Adding internal links between posts on your site isn't just a great link building tactic, it's also a good way to get your readers to engage further with your website.
Add the TYNT.com code to your posts – Adding TYNT to your site automatically appends a backlink to the sections of your site or URL that readers copy and paste elsewhere.
Produce a helpful email newsletter – When people encounter helpful newsletters, they share them with their friends, resulting in even more links back to your site.
Run an affiliate program – It may take time to set up, but running an affiliate program secures you backlinks from both your participants and any program directories you're a part of.
Improve your site's navigation crawlability – Graphic navigation elements may prevent the search engine spiders from properly indexing links in this section. Resolving these problems automatically results in more backlinks.
Ensure all site links can be spidered – Similarly, on-page issues (including the improper use of Javascript scripts or Flash files) can limit the search engines' ability to index your links. Take care of these issues right away to improve your site's link equity.
Using Specific Types of Blog Posts…
Write list posts for your blog – People love to share list posts, making this technique an easy way to build backlinks quickly.
"Ego bait" big names in your industry – Appeal to industry leaders' pride by writing the praise-filled blog posts they'll love to link back to.
Produce infographics – Same deal as list posts. Infographics get shared more often than many other types of content, resulting in an automatic influx of backlinks.
Experiment with instructographics – Instructographics are similar to infographics in format and style, but present "how to" information rather than facts. They're just now starting to grow in popularity and should present a great link building opportunity in the future.
Draft controversial blog posts – There's nothing new about this technique, but its viability as a link bait option still stands. People love to argue online, which means that your controversial blog posts will be linked to far and wide.
Be the first in your industry to post on news updates – Being a "first mover" in your industry is great from an authority-building perspective, but it's a great way to build links as well!
Create comprehensive "how to" posts – If you create content that solves peoples' problems (and "how to" posts are especially effective for this), you'll find that your posts get linked back to far more often.
Run regular "live blogs" – Live blogs provide extra value to readers, which typically results in more interest and more backlinks.
Interview others in your industry – When you conduct and publish interviews with industry authorities, you're able to leverage both your audience and your authority figure's followers for additional backlinks.
Write a "debunking myths" post – Debunking popular myths is a strategy that's commonly used in advertising, as it tends to attract attention. Used in your blog posts, it can result in backlinks as well.
Launch FAQ posts – For the same reason that "how to" posts are effective forms of linkbait, you'll find that FAQ posts can help you build links by providing your audience with vital information.
Create posts that take advantage of a national day or event – Tailoring posts around national holidays and other events can help your site to earn traffic and backlinks from priority positioning in Google's fresh results.
On Social Media Websites…
Set up both a business and personal page on Facebook – Doing so will help you to reach a wider variety of potential link partners.
Tie your blog to your Twitter profile to create links automatically – This way, every new posts results in a highly-shareable backlink to your site.
Create a personal profile on Google+ – As your presence on this site may help boost your SERPs rankings, it can help increase your backlinking opportunities as well.
Add your link to your LinkedIn profile – Not only can this boost referral traffic from interested business contacts, it's a valuable link from a high-profile website.
Ask power users to share your social network updates – If your audience is small, asking power users to share your content with their followers can boost your linking opportunities.
Release documents on file sharing websites – Posting to sites like Scribd and Slideshare will earn you links on these sites, as well as possibly on sites that embed your documents on their own pages.
Form a blog commenting network with fellow site owners – As part of a blog commenting network, you'll leave comments on other peoples' sites (resulting in backlinks) in exchange for messages on your own pages (which builds social proof).
Share videos on Youtube – Take advantage of Youtube's current standing as one of the web's largest search engines to get your content discovered, shared and backlinked.
Answer questions on Yahoo Answers, Quora or other similar sites – If you become an authority user on one of these sites, you may be able to share a link to your site with every question you answer.
Find blogs that allow trackback links – Not all blogs allow trackbacks, but finding ones that do can be an easy way to build links quickly.
Set up free blogs for others – Setting up blogs is a quick process, and offering this service in exchange for a backlink can be extremely popular.
Register expired Blogspot blogs with link equity – Conducting competitive analysis may occasionally turn up abandoned Blogspot blogs that still retain link equity. Re-registering these accounts and posting a link to your site can help you to harness this leftover authority. Just be careful to focus your efforts on acquiring old, failed business (aim for PR5 or higher) and don't include more than 4-5 of these links in your backlink profile.
Claim your listings on local listing websites like Yelp – If you run a local business, setting up profiles on sites like Yelp is a "must do" link building activity.
Through Promotions…
Release coupon codes – Coupon codes are shared far and wide online, making them a great type of link bait promotion.
Create a giveaway contest – People love the chance to win free things, and you'll accumulate backlinks when entrants share your giveaways with friends.
Use seasonal or holiday-oriented promotions – Building promotions around the holidays is an easy way to build both public interest and backlinks.
Sponsor a community event – Although you'll need to make a donation to become a sponsor, many events add links to sponsor sites to their websites.
Leave feedback on product review websites – Depending on your reviewer status, you may be able to add backlinks to your reviews along with your feedback.
Write testimonials for other businesses – Many business websites include testimonial pages, so see if the services you've used offer this link building opportunity.
Run a "best of the web" contest and encourage winners to link to your post – When webmasters are given awards, they naturally want to link back to the awarding site's announcement post.
Donate to charities that list donors on their sites – Instead of sponsoring events, you can also build backlinks by donating to entire charities that include donor backlinks on their websites.
Give a presentation at your local college or university – Doing so has the potential to earn you tons of high value ".edu" backlinks if your presentation is advertised internally.
Sponsor an industry conference – As a conference sponsor, you'll likely earn a backlink from the event's website, as well as other possible opportunities for recognition.
Using Traditional Techniques…
Submit your website to high value directories – Avoid "no-name" directories, but do take the time to submit your site to DMOZ, the Yahoo Site Directory, Best of the Web and Business.com for backlinks.
Identify high value specialty directories – If you run webinars, distribute free ebooks, build web apps or take part in any other type of content creation, you may be eligible to list your site in specialty directories (for example, the Appolicious directory for iPhone apps).
Comment on other peoples' blogs – Leave your comments on the blogs you read (even if they're "no follow" links, they'll still confer some benefit). Do this in moderation, though, as these types of links are generally regarded as being low value.
Post to forums – Maintaining a presence on industry forums has the potential to build both referral traffic and backlinks to your website.
Set up profiles on public websites – If you're an active member of a forum or web community, your profile page may offer the opportunity to include a backlink.
Distribute press releases – If your website has something newsworthy to publicize, distributing press releases through services like PRWeb can be a great way to build links quickly.
Publish articles to Web 2.0 properties – Building a following on popular Web 2.0 properties by publishing quality content to your pages gives you an additional opportunity to point links back to your website.
Build and promote related micro-sites – Creating small sites outside of your main property gives you the chance to build even more backlinks.
Contact webmasters in your industry directly – If you feel that your website's content might be valuable to readers of another site, contacting the site's webmaster directly to ask for a link can be an effective link building method.
Write guest articles for other blogs – As a guest author on other sites, you're usually entitled to at least one link back to your main site.
Post your links to social bookmarking websites – If you're a member of any social bookmarking communities, posting your links to these pages can help to get your content noticed by others.
Buy expired or parked domains – Occasionally, you may encounter expired domains that still have links pointing to them. Registering these addresses and pointing them at your site is a good way to capture this link equity.
Get interviewed by the media – Just one mention on a major news website can represent tremendous link potential for your website.
Participate in blog carousels – As a blog carousel member, you can submit links to be shared with others – representing a number of new link building possibilities.
Via Product Creation…
Give away a free ebook – Free ebook download opportunities get shared amongst friends, potentially resulting in more backlinks for your site.
Launch a podcast – Not only will running a podcast get you referral links from your listeners, you'll also pick up backlinks from any directories in which your podcast is listed.
Build widgets – Again, if you decide to take this approach, don't spam. Make sure users are aware of your link and give them the option to turn it off if you don't want to get kicked out of the WordPress directory.
Provide free software – Free software programs get shared widely and often (resulting in loads of new links), though you'll want to be sure your software is protected from spam and malware distributors.
Run a Youtube video channel – Youtube is hugely popular, so running an informative or entertaining channel can be a great way to build both an audience and new backlinks.
Release an app – Apps are huge right now, and represent not just a potential revenue source but an opportunity to build backlinks via reviews as well.
Publish a whitepaper – If you're in the B2B market, whitepapers represent one of the best ways to build backlinks, as these resources may be shared widely amongst professionals.
Post quizzes to your website and enable "sharing" functionality – Online quizzes have always attracted attention, but adding a "Share your score with your friends" feature makes it possible to turn these fun activities into link building powerhouses as well.
Put together informative case studies – As with whitepapers, people love to read case studies, making this an ideal way to both build a reputation and create new backlinks.
Host and distribute webinars – Webinars can be highly engaging, making their distribution and promotion a great way to build links.
Share photos and images under the Creative Commons license – Webmasters and bloggers are always looking for royalty free images, which makes releasing your own pictures under the Creative Commons license (that is, in exchange for a backlink) a quick way to build links.
Publish icon sets – Same goes with icon sets. People are always looking for new icons, so if you offer them in exchange for links, you're going to get new links!
Create website badges – Developing a graphical bag that webmasters can post to their sites as measurement of some criteria is another way to send a stream of backlinks to your site.
Develop your own toolbar – As with software and apps, people love to link to free programs – and toolbars are no exception.
Through Link Reclamation…
Use Google Alerts to find unlinked company mentions – Setting up Google Alerts for your website's branded keyword phrases can help you identify other sites that are mentioning you without linking back.
Set up Copyscape alerts to find scraped content – The Copyscape service allows you to receive notifications whenever people copy and paste from your website. Instead of asking for content removal, these plagiarisms represent possible backlinking opportunities.
Reclaim 404 error pages with backlink equity on your site – If any of the 404 page errors recorded for your site have links pointing at them (due to moved or deleted content), replacing this content allows you to reclaim these existing backlinks.
Notify webmasters of spelling and grammatical errors in exchange for a link – If you encounter mistakes on other websites, try emailing these webmasters with corrections and asking for a link in exchange.
Monitor link partners and notify them of broken links – Several services allow you to monitor the sites linking back to you; if these change, notify webmasters immediately to see if they'll reinstate your links.
Contact other sites with broken links on your link partner pages – As you encounter these links, see if you can identify other webmasters that your partners have linked to. Informing them of the broken links may lead to a link back to your site from these third parties.
Identify hacked or malware-riddled sites and offer to repair them for a backlink – Searching for common hacked site phrases and contacting webmasters via Whois lookup to exchange a repair for a backlink is another potential link building technique to consider.
Build secondary links to sites that are linking to you – In some cases, doing so may increase the value and authority of the first-tier links that are already pointing at your site.
Conduct competitive analysis to find competitor backlink sources – Sifting through your competitor's backlink profiles may turn up potential link building sources you hadn't yet considered.
With Unconventional Techniques…
Start a petition on a subject you're passionate about – Petitions get forwarded and shared, resulting in links back to your site (assuming your petition is hosted there).
Claim your listing in 1-800 directories – If your company has an 800 number, claiming your listing on 1-800 directory websites will provide a few extra backlinks.
Post a job listing for your company – If you're looking to hire a new worker, make sure your URL is contained in your job listing, as these posts are often syndicated across multiple sites.
Give away a scholarship – Creating a scholarship (no matter how small it may be) is a great way to get your company's name out there and to get new backlinks flowing in.
Post ads on Craigslist (when relevant) – Don't spam, but if you have something to sell or give away, include your backlink on your post.
Update wikis in your industry – Contributing to the wiki pages in your industry is a good way to increase authority amongst your peers and secure high value backlinks to your site.
Join the Better Business Bureau – For a fee, you can join this organization, increasing consumer trust and providing an opportunity to link back to your website.
Participate in your community's Chamber of Commerce – Similarly, joining your local Chamber of Commerce should get you a directory listing on the organization's website.
Contact your local library – Many libraries maintain resource lists, and getting your website mentioned on one of these collections can help you to secure a high PageRank link.
If You Have a Lot of Time or Money…
Build your own social authority tool (like Klout) – Measuring social influence is going to be one of the hottest new trends in digital marketing over the next few years, so launching your own tool could result in a tremendous number of backlinks.
Build your own directory – Directories are easy to create, and may provide a revenue stream in addition to the opportunity to build backlinks.
Hire an industry authority whose connections you can leverage – If you aren't making much headway on your own, hire a more experienced authority in your industry to leverage existing connections and build links to your site.
Buy advertising appropriately – As long as they don't pass PageRank inappropriately, the paid links you acquire through advertising campaigns may still offer you the opportunity to increase traffic and revenue.
Build your own authority – When you're regarded as an authority figure, people tend to naturally link back to you more often. It isn't easy to do, but can be a lucrative pursuit over time.
Form a new online community – Running your own social network, forum or other online community takes time, but can be a great way to build backlinks if you're successful.
Create a local listing website – You don't have to be the next Yelp, but creating a small, targeted listing site for local businesses should help you to pick up additional backlinks.
Give presentations at industry conferences – Not only will presenting at conferences boost your perceived authority, it'll earn you a backlink from the conference website as well.
Hire a public relations firm – It isn't cheap, but using a PR firm to get your name out there will result in many more backlinks than you may be able to achieve on your own.
Hire an SEO agency – Finally, if you don't have time to do your own link building, why not pay someone else to do it? SEO agencies often have tools and systems in place that enables them to build backlinks for clients much more efficiently and cost-effectively than webmasters working on their own.
Did I miss any? If you can think of any other link building techniques, share your recommendations in the comments section below.