"SEO" and "copywriting"—two specialized fields that can seem at odds with each other, yet have entered into a unique marriage. Together, they have created the ultimate offspring in the form of content marketing. Theirs is a complicated relationship that can take some work. One partner is a pleaser and the other is a doer. Inherently, SEO wants to please search engines and copywriting wants to give people information that helps get something accomplished.
There once was a time when these goals were in almost direct competition with each other, but today's world has changed all of that. Thanks to some much-needed maturity on the part of Google, the way to please a search engine is by giving people the information they need. Imagine that.
All of a sudden the pairing of SEO and copywriting looks like a marriage made in heaven.
The Power of a Good Partnership
A marriage is the ultimate example of partnership, therefore making it an ideal analogy for our friends SEO and copywriting. It's similar to sales and marketing in a way in that the two work together to deliver a sort of 1-2 punch with results clearly in mind.
SEO is the art and science of enhancing website content or manipulating other elements to attract search engine crawlers and, ultimately, outrank competitors. Copywriting is the art and science of creating content that provokes a reader into taking a specific action (think buying a product, requesting more information, signing up for a mailing list, clicking a link, etc). The power comes when SEO delivers the ranking and copywriting seals the deal.
Figuring out how to balance this relationship can take some trial and error—and some good old-fashioned advice from folks who've "been there". So, without further ado, the following are 10 tips to help you create harmony out of this marriage—and develop some darned effective SEO content.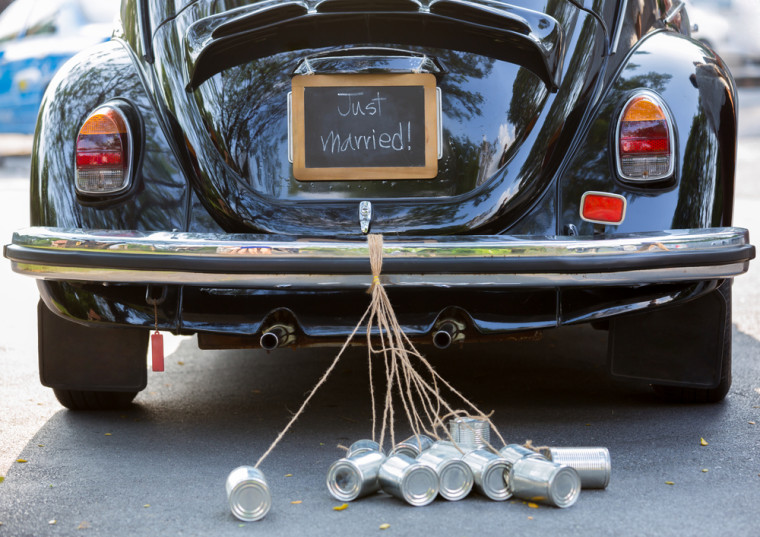 1. Title it Right
Titles are commonly recognized as the most important element of copywriting. When it comes to titles, there are two factors at play here:
Reader Attention: Does your title grab this instantly? Think like your intended reader and write a title that would make YOU want to click.
Keywords: Is your title really SEO friendly? Not if it doesn't include at least one keyword. Note, however, that the inclusion of a keyword should NEVER come at the expense of grabbing the reader's attention.
The combination of a title and subtitle can be extremely effective as well. It gives both readers and search engines more information about a post's topic.
Authority Blogger has developed a handy guide with SEO headline formulas known to work time and time again—check it out.
2. Make the Message Matter
This starts with really knowing your audience. Who are you talking to? What do they need or want? You might leverage trending topics as inspiration for what to write about as well as comments you've received from customers. With less interesting industries, it's all about thinking outside the box to come up with topic matter.
From here, you can start flushing out the meat of your content. Whatever you do, avoid the temptation to talk all about you. Make your message all about your readers. Tell them a story, inspire them, solve their problems, empathize with them, make them feel or want something—and do it with an active voice.
3. Leverage Formatting to Increase Consumption
No longer the arena of graphic designers alone, the look of your content matters—a lot. A literal first look at your content can determine whether or not someone reads it. Let your format invite readers in.
Allow for white space: It's all the rage right now on just about every website, and for good reason – it gives the reader room to breathe and take everything in one piece at a time.
Keep paragraphs short and friendly: Short paragraphs speak to readers. Smaller blocks of information make it much easier to consume larger pieces of content (oxymoron?). Content immediately becomes more friendly and inviting.
Use bulleted lists: Let me rephrase this, "Use bulleted lists as a complement to your content – not in place of it". While bulleted lists can do wonders to help highlight list-type items, there's nothing more annoying than a piece of content made entirely from bulleted lists.
Segment with subheads: This is content writing 101 – subheadings help organize your content so readers can easily navigate your content before or after they've read it. Not only that, it's another place inside of your content that you can reassure the reader they've made the right choice in deciding to read on. Try including benefits in some of your subheadings to increase perceived value.
You don't have to keep the entire piece of content short, just individual elements. That said, make sure that if you are creating long-form content, it is with good reason. This is generally best left for authoritative pieces that position you as an authority—if you avoid fluff and keep your tips and tricks concise and actually able to be used.
Done right, these pieces can foster trust and favorability, in part because people love feeling like they're getting something for free.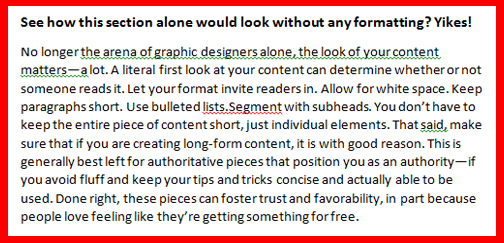 4. Trade Keywords for Topics
Once considered the golden children of SEO, keywords have almost become the black sheep of the SEO family. While there's a reason for that, it's not entirely fair or right. Keywords do matter insofar as they directly relate to your topic and the natural delivery of your message (yes, I mean readability—see the difference?). Not only that, keywords are still one of 200 ranking factors – which means they should definitely be considered.
When you focus your efforts on writing what matters, your keywords will enter the arena naturally. And, in many cases these will be long-tail keywords that provide really great information about your content. One good rule of thumb is to make sure you get your primary keyword in your headline, and your targeted secondary keyword(s) in your content introduction as well as your conclusion.
If ever you are worried that your keyword density might be too high, even when writing naturally, there are a plethora of SEO tools to help you keep your keywords in check.
5. Link with Intention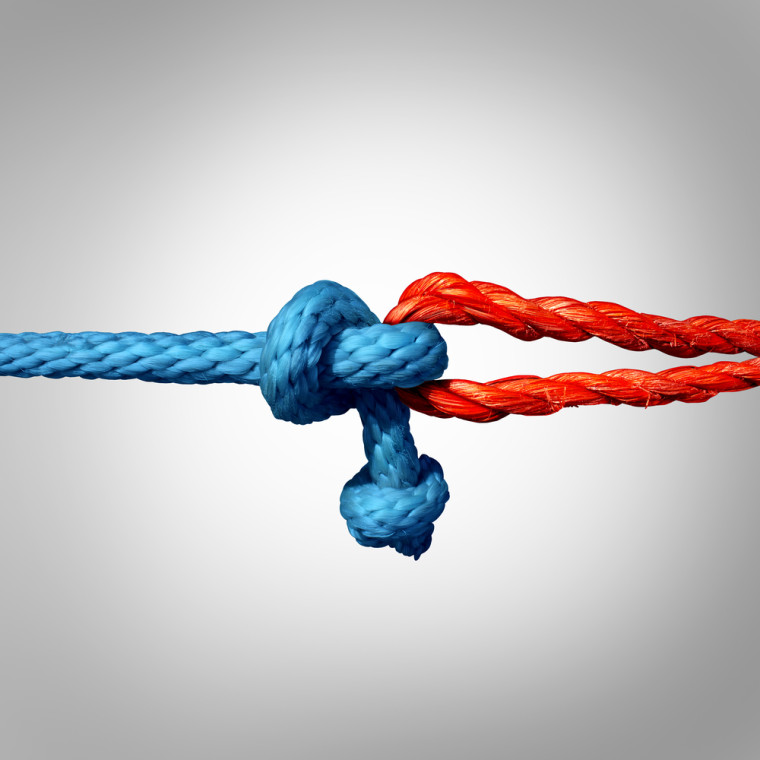 Links and keywords are like kissin' cousins when it comes to their newfound virtual black-listed reputations. And, like keywords, this standing for links is not properly warranted. Simply because too many people abused backlinks does not make them bad. It was the misuse of these elements that was bad.
So what's proper use? There are two forms:
Outbound Links: These connect your material to other pages or sites of high authority. These should be used sparingly with perhaps one or two per piece and generally within the first half of your content. However, there is value in connecting with other relevant sites and sending love their way – both in the eyes of Google as well as industry influencers.
Internal Links: These links further showcase your knowledge or offerings by keeping people within your universe, if you will. Be careful to select pages that are appropriate and don't go overboard and link to every page in your site. You want to enrich and supplement the user experience, not squash it.
The same philosophy that applies to keywords applies to the anchor text for your links. They must always read naturally and tell people what information they will be taken to.
6. Add Pictures for Additional Flair
As much as I love words (for obvious reasons!), people respond better to pictures. Images tie the visual to the auditory allowing people more opportunities to really comprehend your message. Pictures can also help you set your content apart from the plethora of generic text that's available on the greater world wide web.
Aside from the obvious aesthetics of adding pictures, they also can hold extra SEO value. Optimizing alt text, file size (for load times), captions, and file names are all ways you can maximize search engine benefits.
Want to up the ante with your pictures? Try creating an original image for the headline of your article complete with the title included in it.
7. Call All to Action
Ah, yes, we need to remember that there's a point to all this great stuff we write. We actually want someone to do something because of it. This is the end goal of copywriting as a whole. Enter the Call to Action, or CTA for short.
CTA's that appeal to what matters to the reader are the ones that will rock your results. Here are just a few things that people might need or want:
Immediate help
A problem solved
Just the facts, Jack
To save money
Writing your CTA's with these needs in mind will resonate with readers on a deeper level. You can get more tips on how to craft killer calls to action in Greg Secrist (my brother)'s article here on Search Engine Journal.
8. Make the Meta Mega
After taking the time and research to craft an in-depth, authoritative post on a topic relating to your industry, a meta description can really feel like an afterthought. Don't fall victim to this! A meta description has mega power if you use it right. It's as much about presentation and ranking as any other piece of your content.
From an SEO standpoint, meta descriptions are how you help Google and other search engines understand what your content is all about. This 150-160 character snippet of text next to your SERP makes sense of keywords. Although using exact keywords is debatable, some version of your targeted keyword phrases must appear in this text.
Put into regular human terms, your meta description is how you explain your catchy title and further garner interest – hopefully luring the reader to click on your article.
9. Tag Those Titles – Little Work, High Reward!

Title tags are definitely more about optimizing for SEO than copywriting and they are crucial when it comes to ensuring that your titles rank on Google. Not only that, they're easy!
First off, title tags are short, only 50-60 characters in length. They should be a concise, accurate description of your page. The traditional format of a title tag (according to Moz) is "Primary Keyword – Secondary Keyword | Your Brand". Easy, right? Told you so.
10. Encourage Social Sharing
You don't have to be the socialite here so much as you need to encourage and allow others to be. In explaining this, I'll do my best to avoid using the "Sharing is caring" cliché (oops, I just did!). Like any other cliché, this one has come to be because it is true—at least in the eyes of Google.
Think of it this way. Google really isn't a trendsetter. It's a follower. It wants to know what other people are saying, doing and thinking. It wants to know what everyone else thinks is popular or important. When your content is shared, Google's eyes and ears perk up—and so can your placement in the SERPs.

With this in mind, you need to make it as easy as possible to share your content—and promote the ability to do so. Putting a social icon on your page is necessary, but adding a call to action with it ("Join the discussion on Twitter") is even better.
Conclusion
So, there you have it—the recipe for a good marriage. At least if you're SEO or copywriting. I'll leave other marriages to different experts.
Seriously, though, by strategically pairing these two elements together, you can reap great benefits. And, much of what you need to do is not really all that hard. It just takes consistency and consciousness about what you do, why you do it and when you do it.
Image Credits
Featured Image: Image by Matt Secrist
In-post Photo #1: Phaendin/Shutterstock.com
In-post Photo #2: CREATISTA/Shutterstock.com
In-post Photo #3: Lightspring/Shutterstock.com
All screenshots by Matt Secrist. Taken September 2015.