Note from Ann: While SEJ features regular round-ups and reviews of various useful (mostly free) tools, it is always great to check lists shared by others. I for one found a few new tools I am willing to check out here:
Feed Compare
Feed Compare is a handy tool that will allow you to check the number of RSS subscribers for any given website/blog. I have found this extremely helpful for when I am doing competitor research to understand how much credibility and industry authority a specific site has. It is also nice to see short and long term RSS subscriber counts to do an internal check for the growth of your blog.

Bulk PageRank and Alexa Checker
This was very helpful when creating the Link Builders Toolkit, it allows you to pull the site PageRank and Alexa Rank for as many urls as you would like to check. I have tried a number of bulk PR checkers, but found this to be the most accurate and it helps that is doesn't have a limit to the number of urls you can add.

xFruits
I stumbled across this tool after getting frustrated with Yahoo! Pipes. This RSS aggregation tool allows you to do almost anything you can think of with your RSS feeds. Probably the most useful aspect of xFruits is the ability to take multiple RSS feeds and aggregate them into one feed. This can be helpful for grouping similar feeds or for reputation monitoring.
Aggregate Multiple RSS Feeds
RSS to Web
RSS to Mobile
Post to RSS
RSS to PDF
RSS to Mail
RSS to OPML
Mail to RSS
RSS to Voice
RSS to My Blog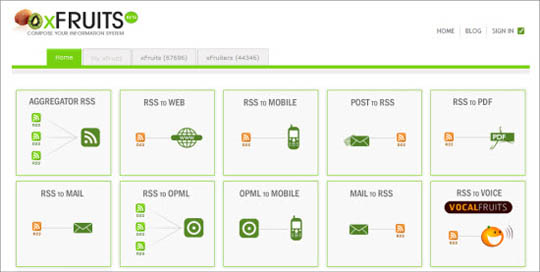 Krunchd
Want to share a group of links with just one url? Well, Krunchd will allow you to add as many urls as you would like and it will generate one url that you can use to share with others. This can be helpful for micro-blogging tools like Twitter and Tumblr.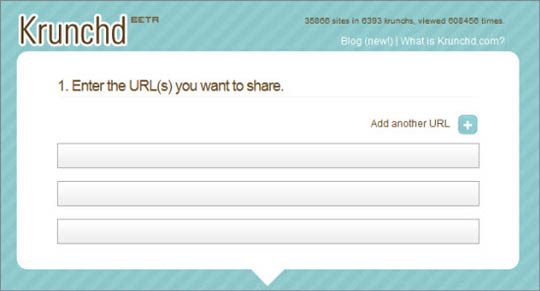 Pingdom
With Google placing more emphasis on site load time, you may want to run your website through the Pingdom Speed Testing tool. This tool will breakdown the different elements of a website that makes up the total time it takes to load a page. It will show Javascript, CSS, Images, HTML, Plugins, and Scripts itemized to easily identify where you need to make improvements.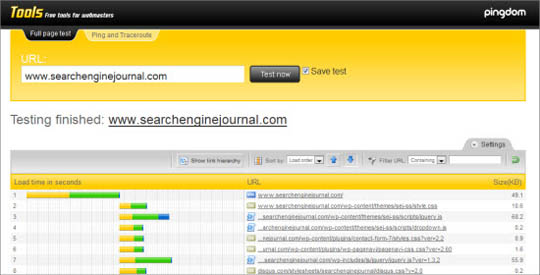 KnowEm
There are a number of username checking tools that will scan multiple social media sites to see if your username has been used or not, however I feel that KnowEm is the best. One thing I really like about KnowEm is the ability to check different types of sites, like social bookmarking, blogging and design…instead of just listing 100s of sites.
For anyone starting a new company or blog, you may want to run your name through this tool and grab your username so nobody else gets it. They do offer a premium service where they will signup all of the sites they list for you.

Copygator
There are a few duplicate content tools out there, most notably Copyscape, however Copygator is another service you may want to try. Copygator is a little bit different than Copyscape because it will monitor your RSS feed for republishing of your content in the blogosphere.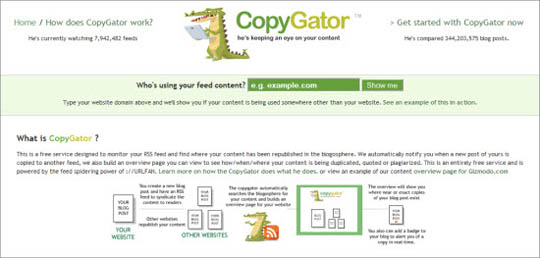 hCard Creator
The hCard Creator is great for providing proper contact and location information for the search engines. It can be especially useful for local companies looking to gain more geo-targeted traffic to their website. Simply add your contact information into the fields, and the hCard Creator will generate the code needed to be placed on your website.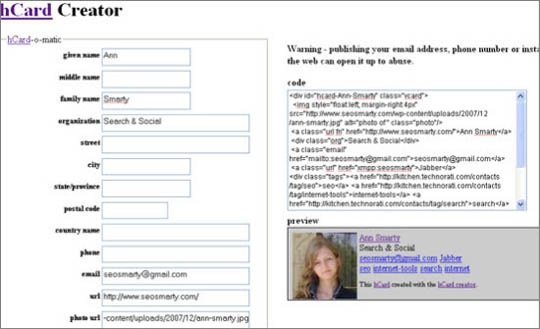 SpyFu
SpyFu is great for gathering competitive analysis data including Adwords Daily Budgets, paid keywords, competitors and organic keywords. Having a premium account will give you a lot more data, but you can still find some good data by using the free version.

AuditMyPC
AuditMyPC is a great tool for not only generating an XML sitemap, but for checking various coding and structure issues with your website. I use this tool a lot, for checking for potential indexing issues, nested pages, and lots of other great information this tool gathers for you.