Why do we feel at a loss of words when we have so much to share with our readers?
Sometimes, even the most creative bloggers get stuck in a loop and underestimate the quality of their own ideas.
As we speak, maybe you are asking yourself the same questions, over and over again:
Do I sound like I'm trying to reinvent the wheel here? Is blogging making me run in circles or fall asleep behind the wheel, while my readers and my competitors are waiting for the sound of my crash?
If that's the case, I have great news for you: there are several ways to cure writer's block and the antidotes are within reach.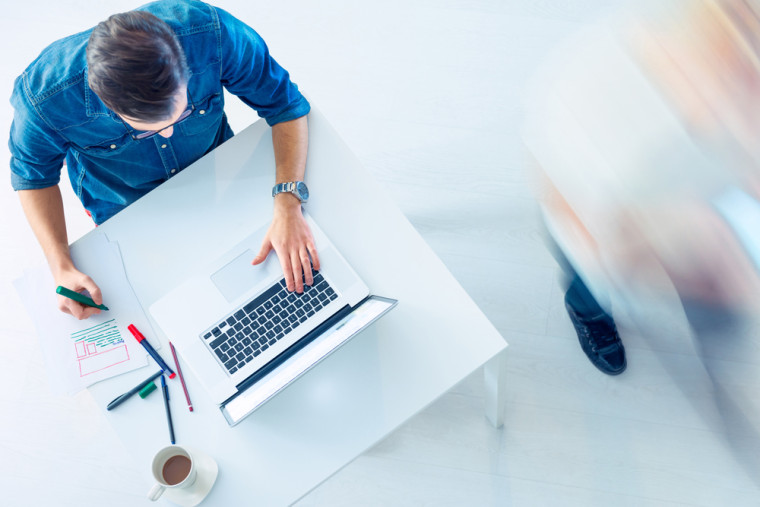 10 Ways to Strike Gold When Looking for Inspiration for Your Next Blog Post
According to an article published by Berkley Student Learning Center, a case of writer's block can be caused or amplified by our darkest thoughts and emotions, including fear, stress, and lack of self-confidence.
In other words, if you're constantly running out of inspiration, maybe you're sabotaging yourself. Fortunately, you can get yourself out of this vicious circle, by exploring a combination of free writing, annotations, mapping and mentoring.
Writer's block is nothing new to me. I've been blogging for more than four years now, and have consistently been among the most-read on various blog channels where I write and publish on. Here are some of the 10 top guidelines I follow and apply to make sure I always stay on top of my blogging game.
1. Let Your Popular Customer Questions Become a Source of Inspiration
One easy way to know what your clients are asking all the time is to talk with the people answering your company phones. This is so easy, but it's so overlooked. If more blog owners did this, we'd have so many awesome blogs on the Internet!
What is your most asked question?
Turn this into blog posts (yes, you can do more than one), and make sure the title directly reflects the question. For example, we're asked a lot what our new services content auditing and planning are about. So, we published this blog on our site as a direct answer.
Start by asking yourself the following question: Why do you work hard to come up with your blog posts?
Naturally, you'll say you wish to establish yourself as a thought leader in your industry; at the same time, you want to maintain your competitive advantage, bond with your audience, and promote the goods that you're selling in a more effective way.
Basically, you write informative, educational and entertaining content to please your clients and prospects and address their every need and demand. So, knowing their needs is key. Why do your clients come to you, and what makes you better than anyone else?
It would only make sense to craft a few blogs based on your answers to your clients' most pressing questions. Focus on concise, information-rich answers related to the features and benefits of your product to stay on the same page with your readers.
2. Explore New Trends, Breaking News, or Prominent Events
Choose a fresh topic that all the rest of the players in your industry are talking about. Naturally, in this case, you will want to make your voice heard by presenting facts in a unique manner. Answer the key questions your counterparts have neglected and explore the tiniest details other channels may have ignored to help your readers realize you are vigilant and ready to offer them servings of fresh content, instead boring them to death with regurgitated, recycled blog topics.
Instead of waiting for inspiration to knock on your door, become a sponge and rely on new mediums and new experiences to become a better version of yourself. Look for fresh ideas in different places, songs, movies, moments and opinions expressed by people in your circle.
As an infographic published by Entrepreneur points out, the people who get the best results in the blogging business model the greats without becoming a part of the herd, pay attention without passing judgment, and always strive to broaden their horizons.
3. Research Your Topic of Choice & Get the Bigger Picture
As soon as you gather all the information you can find on a certain subject, go beyond what other people have already written and make your own predictions. If you want to be seen as an influencer, then you might as well act like one.
Keep in mind that everybody, including your employer, the mailman, and the old lady who sells flowers at the corner of the street, wants to know exactly what is going to happen next. Therefore, use your expert insight to anticipate events that are likely to take place in your sector and grab attention while sharing your opinions with the whole world.
3. Discover the Power of Mind-Mapping Techniques
Revisit your greatest hits to identify the topics your readers have received with great enthusiasm. Next, try to come up with a series of themes that are somehow connected with the best-loved topics you have already tackled. To simplify this process, you can rely on mind-mapping strategies to help your brain reach its full potential and stay inspired.
Mind maps can also be linked to other positive actions that may support your blogging goals, like building a vast knowledge bank, setting new objectives, and even creating summaries for your favorite books. Mind mapping software, such as Mindjet or XMind, represent all-in-one project collaboration and management suites you should try at least once to stay organized and put your ideas in order.
5. Keep Tabs on Your Competitors' Blogs
To stay active and relevant on your niche, it is imperative to subscribe to multiple competing blogs. This will help you keep your finger on the pulse of your industry, unleash your creativity and identify a series of interesting topics that you could expand on in the near future. In the blogging business, today's rivals could become tomorrow's collaborators, so stay up-to-date with industry news and trends by reading your competitors' blogs and become a so-called "learned leader".
6. Put Your Readers' Feedback to Good Use
Read blog comments to find out how your readers really feel about the subjects that you have been covering lately. This is the simplest method to figure out whether your recent work is awe-inspiring or yawn-inspiring.
As Charlene Kingston from Social Media Examiner points out, you can increase the number of blog comments that you receive from your readers by asking directly for feedback, replying to existing comments and appreciating your subscribers' input. Develop a thick skin and learn to welcome and accept even the less flattering, divergent opinions; at the end of the day, it's important to remember that you can build a solid community around your blog though your replies, by accepting other people's differences.
7. Find a Mentor
If you have already employed all the tactics listed above, then maybe now is a good time to get outside help. Start looking for a mentor whom you could involve in your journey. At some point, you may appreciate and use the feedback provided by an expert who is operating in the same industry to adjust the format, style, direction, or content topics of your blog.
8. Team up with Fellow Bloggers in Your Industry
A stronger bond with other bloggers who are active in your sector doesn't threaten your position in your industry; on the contrary, solid ties with the people whose opinions matter the most in your niche can help you stay in the public eye, increase website traffic, and boost your social engagement.
Wondering why you should work harder to maintain a genuine relationship online with fellow bloggers? First of all, you can't blog alone, simply because your number one goal is to stay inspired and connected. You want to interact with other influencers, share ideas, get involved in constructive debates and inspire other people to follow in your footsteps.
Secondly, by building a solid tribe around your blog, you could amp up your current marketing strategy and promote your own content in a more successful manner, while you and other prominent blogger continue to support each other.
9. Mine Your Deepest Fears and Passions
Your strongest emotions should become one of your inexhaustible sources of inspiration. Honestly, who doesn't love a hard-hitting, direct post authored by someone who is sharing their most heartfelt thoughts with you?
Ask yourself the following questions: What motivates you to get out of bed in the morning? What are the recent industry trends and predictions that trigger your enthusiasm, scare you to death or stimulate you to work twice as hard?
Share this humanizing information with your readers and you will most likely resonate with your audience on a higher level.
I recently shared my personal entrepreneurial story on Medium. On Facebook alone, I heard from nearly 50 people who were inspired by reading it.
9. Use the Right Set of Tools
These days, you no longer have to pray for inspiration and invoke the mystic forces to gather fresh, palatable content ideas for your blog, due to the fact that you can always count on a series of tools created to simplify your job, even when you're fighting the worst case of writer's block.
For instance, Hubspot's Blog Topic Generator and Topsy are only two of the most popular aids that will offer you a wide range of topic ideas on a silver platter, based on your keywords of choice.
In spite of their different algorithms, these tools will offer you similar benefits by enabling you to search, scan and analyze the social web to come up with new subject matters that you could explore to satisfy your readers' appetite for new, original, and entertaining content.
You Determine Your Blogging Success
No matter which path you choose to walk on to get and stay inspired, remember your blogging success depends on how much time and energy you put into research, creative thinking, and the methods you use to bond with your audience and keep your readers close.
Image Credits
Featured Image: szefei/Shutterstock.com
In-post Photo: Stock Rocket/Shutterstock.com