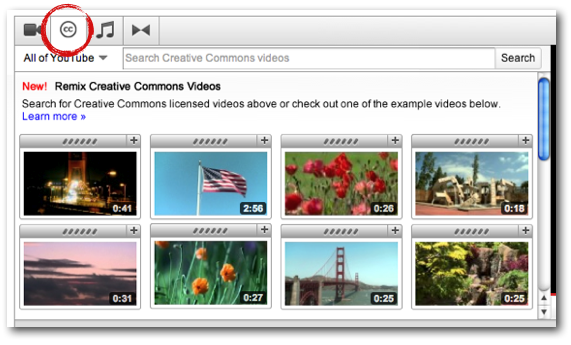 YouTube notched another mark in its belt, as the video-sharing giant sets the record with four million videos under Creative Commons license. Even though it was only a year ago when it launched its Creative Commons library, YouTube now has the largest collection of Creative Commons-licensed videos in the world.
On the official YouTube blog, Cathy Casserly, CEO of Creative Commons, invited the public to "reuse, remix, and reimagine" the large trove of creative commons videos available at their disposal. Casserly wrote:
Since the Creative Commons video library launched on YouTube a year ago, you've added more than 40 years' worth of video to the mix. Anyone, anywhere can edit, build on and republish the library's videos for free thanks to the Creative Commons Attribution license, otherwise known as CC BY.
YouTube only had 10,000 videos in its CC library when it was launched, much of the content came from well-known organizations like C-SPAN, PublicResource.org, Voice of America, and Al Jazeera.
What Are the Benefits of the CC BY License?
Casserly asked the readers:
Do you need a professional opening for your San Francisco vacation video? Perhaps some gorgeous footage of the moon for your science project? How about a squirrel eating a walnut to accompany your hot new dubstep track?
Thanks to the CC BY license, users are granted the permission to borrow content, edit video, and share it without any worry about copyright infringement. Of course, users need to give credit to the original creator. They can edit the borrowed material, which is marked with CC BY, in YouTube Video Editor.
In addition, Casserly also encouraged videographers and other artists to publish and circulate their work under the CC BY license. She invites them to "join the fun and open the door to collective imagination."
Imagine seeing your footage used by a student in Mumbai, a filmmaker in Mexico City, or a music video director in Detroit. By letting other people play with your videos, you let them into a global sandbox, kicking off a worldwide team of collaborators.
How to Add the CC BY License?
If you want to share your original works under the Creative Commons license, just select the "Creative Commons Attribution license" option on the upload page or on the Video Description page. You can also follow the simple steps explained in the YouTube's Commons Creative page.
Also, starting July 25, YouTube users can now make future uploads have CC license by default.
Ready to jump into the CC bandwagon? Check out the video below for more information.
Image Source: YouTube Blog