Yahoo's Video Search just got a new feature that will keep you glued on the Yahoo Video SERPs for a longer time before leaving the site to watch the video from its original location, which incidentally are on YouTube most of the time. The new feature lets you watch videos directly from the Video SERPs courtesy of an in line video play window that opens up when you click on the "play now" button appended on most video results.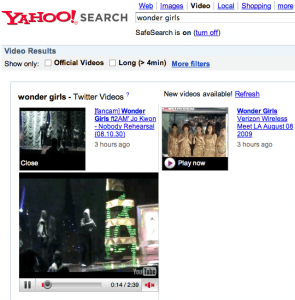 Since the in line video play window is on an overlay window, you can close this video preview overlay anytime you want to and then continue browsing the video search results page.
In addition to this, Yahoo Video Search is also putting links to other videos related to the current video that you are previewing. You can click on any of these related videos to preview it in the same in line player window. The in line player window does not give you any other preview option, so to get to HD mode, you need to click on the video itself and that's the time when you will be brought to YouTube.
The in line player window feature is a nice move from Yahoo to make users stay longer on the Yahoo site. But I doubt if users will search directly from the Video Search portal or go directly to YouTube and search for their daily dose of viral videos instead.