Based on the comprehensive survey conducted by comScore on the Internet behavior of Asia-Pacific countries, Yahoo emerged as the most visited site in the Asia-Pacific region, beating rivals Google and MSN sites. Seven of the Asia-Pacific countries studied rank Yahoo in the number one position, as against MSN (no.2) and Google (no.3).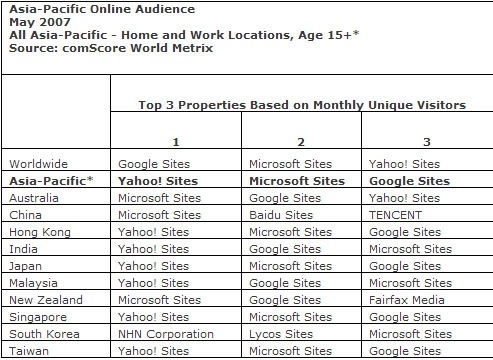 Other significant findings of the study are:
South Korea has the greatest Internet usage rate (65% of the population) in May, Australia (62%), New Zealand (60%) and HongKong (59%)
China has the largest online population with 91.5 million, Japan has 53.7 million users and South Korea 26.3 million online users, with a combined 60% of the Asian-Pacific region's Internet population,
South Korean are the most active online population averaging 17.4 days per person Internet usage in May, 31.2 hours Internet usage viewing 4,564 pages in May,
It is not surprising that Yahoo should beat Google and MSN in terms of the frequently visited sites in the region. Yahoo has more visibility program in the region than the other two major sites. Yahoo has been aggressive in partnering with local Asia-Pacific companies and localizing Yahoo sites under the Yahoo network.
Maybe, its about time that Google intensifies its visibility program in the Asia-Pacific region before Yahoo dominates the scene.