Why Yahoo took this long to release a native iPhone app for its search engine is a mystery. Yet, it's a significant day for the iPhone since the release of Yahoo Search app for the iPhone finally completes the triumvirate of the major search engines for the iPhone. Google has long been in the Apps Store while Microsoft's Bing recently got an update.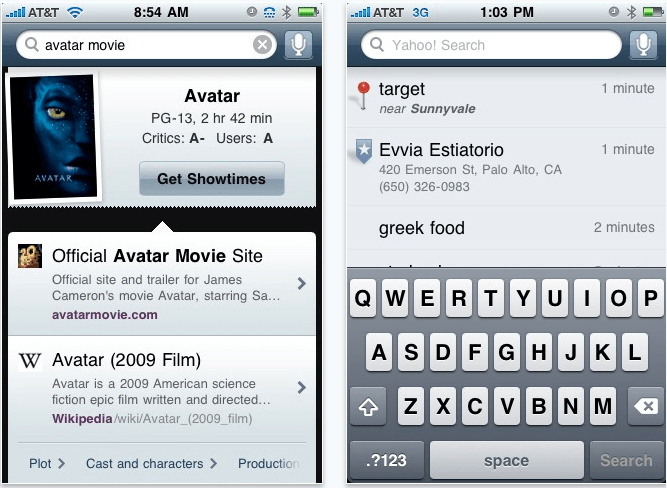 And while both Google and Bing tried to include as much nifty features as they want in their respective iPhone apps, Yahoo decided to go the simpler route – a simple and yet pleasant interface that loads search results as fast as you can think it can.
The Yahoo Search app for iPhone also remembers your visited links and displays a short description of the sites you are loading. The app also display news flash in real-time place at the top of your iPhone's screen.
The only thing that could probably turn you off is the fact that the application is ad-sponsored. And given the small screen real estate of the iPhone, those ads can get pretty annoying. The app's poor voice search feature is livable as well as the lack of direct access to maps and some other features.
Still, the Yahoo Search iPhone app is a pretty good one and is packed with some great features such as the following:
Local Maps: Get maps tied to your location; place a phone call or get directions with one tap
Search Assist: Offers instant, local suggestions as you type
Best of Yahoo!: Get results from Yahoo! Sports, News, Finance, Movies, and more— designed just for the iPhone.
Voice search: Don't type—just talk, making search easier and faster
Local Businesses Photos: View photos, ratings, phone numbers, and more from Yahoo! Local, Yelp!, and Citysearch
Personalized information: Tailored results that get even better the more you search
Fast queries: Get site summaries at a glance with Quick Load
"My Log": Offers quick access to recent searches and local business results
Shake to clear: Start a new query with a shake of your iPhone
Here's the iTunes Link for Yahoo Search app.