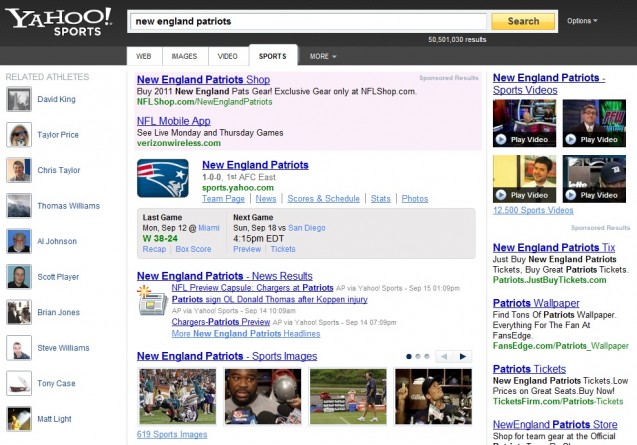 After launching an improved image search last month, Yahoo recently announced a makeover of the search results page. The simple and minimalistic design, which was introduced by Yahoo on Thursday, attempts to remove clutter and display search results in a more usable manner. The site redesign and new features were announced by Yahoo Search team members Paul Ko, Girish Ananthakrishnan and Caroline Tsay on Yahoo's blog:
"We have been working to unify the search experiences across web, multimedia, and vertical search results pages with a design that is clean and intuitive."
Yahoo has changed the way Web, Images, Video, News, Blogs, Finance and Sports search results pages display information. The changes include a cleaner design, automatic tabs, and left filters. Yahoo's new design is more aesthetically pleasing, removes clutter, and seamlessly integrates information from other search verticals. The automatic tabs, which appear directly below the search box, enable users to quickly access relevant search verticals and help users quickly sort results.
The incorporation of "query-aware tabs" automatically provides users more relevant results for specific types of queries. For example, if a user searches "New England Patriots," the search results page will automatically display the sports tab, which displays information related to the team. In addition, the search results page will include a "related athletes" filter on the left and relevant sports videos on the right.
Yahoo has updated the News search, which now allows users to view news by source or quickly access related videos on the right side.
Image search, which was initially updated last month, now includes a greater number of Facebook images, displays most recent images first, and provides users with better gallery recommendations.
While these newest changes to Yahoo may improve and unify the user's search experience, times are uncertain at the search engine. With last week's firing of Carol Bartz and recent talks of an acquisition or merger, Yahoo's future is anything but certain.
[Sources Include: Yahoo Search Blog & Search.Yahoo.com]