After Google reported on its financial conditions recently, it's now Yahoo's turn to report how bad the company is doing in terms of its finances. And although the following words by Yahoo's CFO may still sound positive, the fact still remains that Yahoo's finances are not doing well.
"Yahoo!'s balance sheet remains strong, and we are continuing to generate free cash flow which provides us with the flexibility to make strategic investments in key talent, platforms, products and infrastructure, even during this economic downturn," said Yahoo! chief financial officer Blake Jorgensen.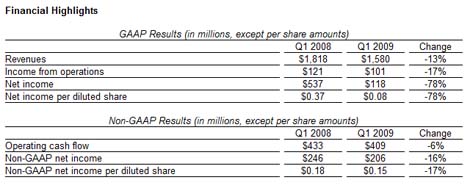 Two Highlights of the Yahoo Q1 Financial Report
Yahoo's total revenue for the quarter ending March 31, 2009 is at $1,580 million. This equates to an 18% decrease from last year's $1,818 million.
Net income was hugely reduced to $118 million from $537 million in Q1 20208. This amounts to a huge 78% decrease.
So, if there are any doubts in our minds that Yahoo is not doing good, these two highlights would be enough to convince us all that Yahoo certainly needs to do something fast if it wants to remain sustainable.
And interestingly, just as Yahoo reported its financial conditions as of quarter ending March 31, it is also announcing around 5% of Yahoo heads be rolling in the coming weeks. This reduction will be affecting all Yahoo employees worldwide.
Yahoo is doing this as a cost initiative since even its operating cash flow is suffering from a decreasing trend. Yahoo's Operating Cash flow slid down to $409 million in Q1 2009 from $433 million in Q1 2008.
As Yahoo CFO Jorgensen said:
"We also are making selective adjustments to our spending to accelerate those strategic investments."