Latest data on search engine market share from Nielsen showed that as Yahoo continues its losing streak, Bing is on a rampage gaining 10.7% of the search engine market for August. Bing's search market share is a big 22% leap from July's data. So we can safely say that Bing is now the fastest growing search engine.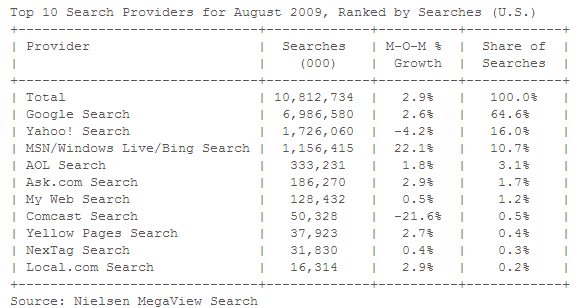 According the report released last Monday, Bing managed to get 1.1 billion searches, making it less than a billion of searches near Yahoo which managed to get 1.7 billion searches, or 16% search market share.
Google on the other stood steadily at the top spot gaining 2.6% market share with a total of 7 billion searches or 64% of the search market share.
Again with all these data from the previous, the next question to ask is will Bing be able to sustain this increasing trend in the coming months? Most probably, as we have seen how Microsoft have been pushing Bing to the limit. And besides, we have yet to see Bing 2.0 which Micosoft is said to launch anytime soon. We might as well add the recently released Bing visual search feature which if I may say so looks pretty cool.
What's interesting here is that despite Bing's gain, Google doesn't seem to be affected. But then, it's too early to tell, Bing has been out for only a couple of months. Who knows when the Yahoo – Microsoft deal is already in place, we might start seeing a decrease in Google search market share by then.