I received yesterday an email for Xing, the openBC (open Business Club). Xing.com is a business networking service like LinkedIn. I wrote during the last 6 months or so two pieces about the two services and compared the offers and features.


The email I got from Xing was an invitation to become part of the beta testers for their new non-public feature called "Marketplace". It is not really something dramatic or revolutionary, but it is a useful extension to the overall package you get by using Xing.
It boils down to a bulletin board or job postings section, but offers personalized suggestions and recommendations.

They did a pretty good job with picking offers that would interest me in regards to the subject.
VP Marketing at Skype Start up, San Francisco (USA)
Account Manager/in (Affiliate-Marketing), Düsseldorf (Germany)
Online Marketing Profi (Pro), Cologne (Germany)
They forgot the geographic filters though. Okay, they know that I speak German and maybe even considered that some of the stuff could be done remotely, half a world away from the physical office location, but I don't think that considerations like those made it into the actual selection process.
Because I like to compare Xing with LinkedIn will, I mention that LinkedIn has already for some time a feature like the Xing Marketplace, called "LinkedIn Jobs and Hiring, but there is a big difference between Xing and LinkedIn's offer.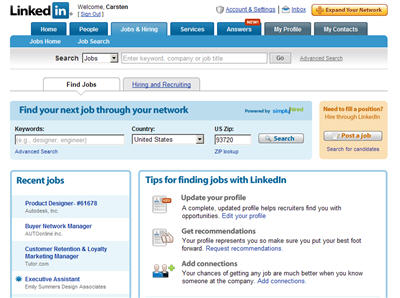 LinkedIn charges right of the bad $145 for a single 30 days listing, even though I paid $199.50 for a 12 months premium membership. Buying in bulk drops the price a bit, five postings for $125 each and 10 postings for only $99 each, but it does not beat Xing's offer.
Post on XING Marketplace (BETA)
Your posting will reach over two million business professionals on XING.
As a Premium Member, you can activate up to three postings (currently only job postings) free of charge
I paid 71.40 EUROS for a 13 months membership at Xing.
I am sure that this service will not be offered to free members of Xing, or maybe they will offer it for an extra premium that is due if you want to submit to the marketplace.
Let us say I would use Xing and LinkedIn only as a recruiting tool to find much needed Search Marketers and Affiliate Managers, how much would it be.
I would have to spent $634.50 at LinkedIn ($199.50 membership + three x $145 for the postings itself, okay, you do not need a paid membership to post a job, so you can get it for as low as $435), compared to 71 Euros, less than $100, at Xing.
Now LinkedIn has today about 10 million members, which is roughly 5 times as much as Xing has. You could argue that you only pay 4 times the cost for 5 times the reach, but that would be an unrealistic scenario, because it may or not may true for the industry and country where you are located.
Again, it depends on where you are and what your goals are. Use LinkedIn if it makes sense to you or use Xing, if that might be a better choice for you, or use both services as I do, to get the most out of it.
Note: The sweepstakes from yesterday are still open. Win one of three available Exhibit Hall Passes ($299 value) for the Affiliate Summit East 2007 Expo and Conference, July 8th to 10th, 2007, in Miami, Florida.
Cheers!
Carsten Cumbrowski, Cumbrowski.com
I just created and added three BUMPzee! Goodies to my site.