WordPress SEO plugin is now augmented with Linkdex's page optimization technology. Yes! As of May 9, 2011, you can have seamless "SEO power" and insights at your fingertips when publishing from within WordPress.
Let's define the power behind this integration:
WordPress is the leading content management system (CMS) and blog software that's free. Many search marketers and publishers use it an love it – enough said.
WordPress SEO is a free plugin (with paid add-on modules) developed by Yoast. WordPress SEO has been recognized by many blogs, including Mashable, as the best plugin to optimize WordPress sites for SEO. (Joost de Valk is the mastermind behind it all, and many more of us love the plugin and Joost!)
Linkdex is a set of paid SEO tools launched in early 2011 that serves as a task manager, step-by-step SEO assistant, a platform for in-depth competitive analysis, and a conduit to Majestic SEO's backlink data.
The WordPress SEO and Linkdex partnership offers plugin users free use of the Linkdex page optimization toolset. This aspect of Linkdex enables you to see an overview of your keywords and associated page optimization. Publishers can now take control of SEO within WordPress thanks to the collaboration between Yoast and Linkdex.
John Straw, Co-Founder of Linkdex, commented about this integration:
"This partnership helps us achieve our long-term goals of repositioning SEO as a key business process for anyone with a website. Anyone who can use WordPress can use Linkdex."
Are you salivating yet? You should be. Here's why:
Focus Keyword
The following screenshot of WordPress SEO with Linkdex integration shows a "snippet preview" – how your title, meta description and page information may show in the search engine results (SERPs) based off various focus keyword options.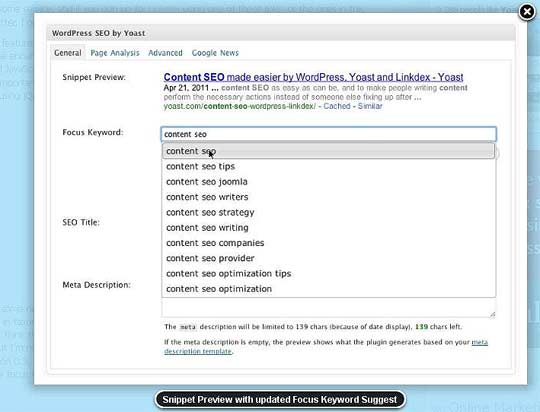 The focus keyword feature provides a suggest box to help you evaluate keyword modifiers and variations.
Leave your meta description empty? The snippet preview shows what the plugin generates based off your "meta description template" in WordPress.
Page Analysis
Linkdex shows you what you can do to improve a page's chance at ranking higher from within the WordPress SEO plugin. The screens below shows optimization tips and scoring which provides signals that indicate warning, caution, and go!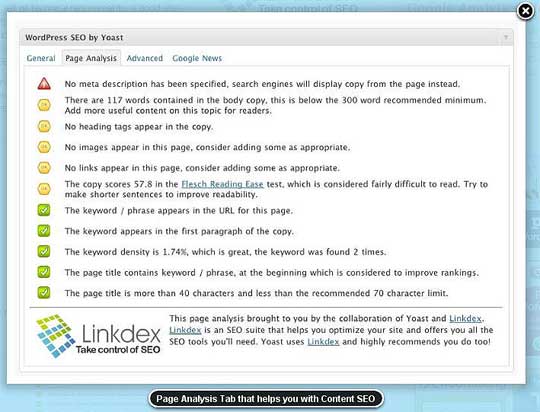 The optimization score for this example shows this page needs work on the meta description, headings, and image alt attributes.

The integration enables you to evaluate each page's score based on keywords targeted. You can fine-tune your page and optimize it for your chosen keyword phrase from within Yoast's plugin.
Joost de Valk said:
"I've always believed that a large part of SEO should not be the job of an SEO manager or a technical team, but of the people writing a site's content. With the new Linkdex page analysis integration, we've taken direct SEO feedback on your copy to a whole new level: you can get a detailed analysis of your copy even before you publish it, and best of all, it's completely free!"
Want to know more?
Learn How to Effectively Optimize Your WordPress Blog Posts
Joost de Valk of Yoast and Matt Roberts, Co-Foudner of Linkdex, are conducting a webcast on Thursday, May 12 to share more about the WordPress SEO integration.
TITLE: "Effectively Optimize Your WordPress Blog Posts for Targeted Keywords with WP Expert Joost de Valk and Matt Roberts, Linkdex"

WHEN: Friday, May 13, 2011 11:00 am – 12:00 pm PDT

JOIN: https://www2.gotomeeting.com/register/931773099

TIP: Follow Linkdex on Twitter for a 30-day free trial of their paid SEO tools.
Do you use WordPress SEO and/or Linkdex? Share your thoughts on the integration in one beefed-up plugin.