Last month, Google announced a new way to tag news articles that allows webmasters to assist Google News in properly categorizing their posts.
From the official blog of Google News:
…we're excited to announce a news_keywords metatag. The goal is simple: empower news writers to express their stories freely while helping Google News to properly understand and classify that content so that it's discoverable by our wide audience of users.

…

Keep in mind that this metatag will be one signal among many that our algorithms use to determine ranking. The news_keywords metatag is intended as a tool — but high-quality reporting and interesting news content remain the strongest ways to put your newsroom's work in front of Google News users.

–Google News Product Manager Rudy Galfi
SEJ publisher Alpha Brand Media has created a free WordPress plugin that automatically creates Google News Meta Tags, based on the tags the writer has assigned to the article.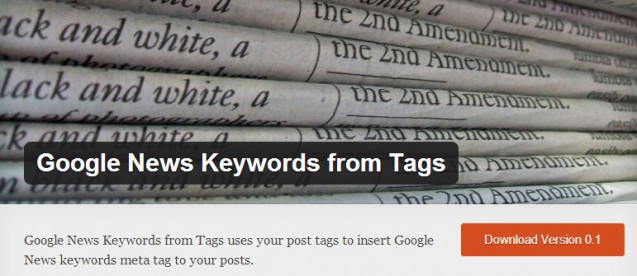 This plugin uses your posts' tags to generate "news_keywords" meta tags. No setup required, it's all done automatically.
If a post has no tags, the Google News Keywords meta tag will not be displayed.
You are limited to ten Google News keywords, so don't go too tag happy.
More about the Google News Keywords meta tag:
You can download the Google News Keywords from Tags plugin here.