When developing marketing campaigns, we often want to see results as quickly and effectively as possible. We get antsy, bored, and impatient. The problem is that SEO and online marketing are not typically short-term goals, and as such, developing short-term campaigns can definitely cause a brand to miss many of the benefits that long-term campaigns can bring.
Now, if you are at the beginning of doing your own marketing in-house, or you are just beginning to research campaigns in general, this might seem like a daunting task. The truth is, both short-term and long-term marketing are important for being successful. While short-term marketing may seem to drive your most recent sales, long-term marketing is just as important for growth.
Let's quickly look at the difference between short-term and long-term marketing:
Short-Term Marketing Includes:
Mentions/Engagement in Forums, Social Media, etc.
Product Endorsements
Discounts
Long-Term Marketing Includes:
Search Engine Optimization
Developing New Content (i.e, newsletters, blog posts, tips)
Communication
Syndicated Articles
According to Forbes, research varies on exposure and user action. Different studies show a range of 3-20 times of exposure before a consumer is likely to be sold on your product. This kind of advertisement and marketing is something that long-term campaigns are built on.
Long-term campaigns keep long-term goals in mind, and while short-term campaigns are often great for seasonal or short-term purposes, you need to keep your eyes on the prize. Here are some reasons your brand may not be focusing enough on developing long-term campaigns (and should be):
Long-Term Content Marketing
Many business owners do not initially see the value in writing a blog and developing fresh content on their site on a regular basis; this is because it is a long-term marketing strategy, which does not always have immediate sales/conversion results. Many companies will see a lack of ROI in the first couple months of having a blog, and then abandon it immediately. This is the worst thing you can do!
Content development is about engagement and having a constant stream of new information for the users who land on your site, as well as those who want to continue to come back to your page over and over again to look at the kind of content you are developing. It may seem like writing posts week after week is wasting company time if you are doing your online marketing in-house, but trust me when I say that the return of investment is not too far off in the future if you keep it up.
Eat24 is a food delivery service that has an awesome online presence (and a truly incredible blog). They post content that is witty and useful at the same time. It is the kind of blog that users would return to over and over again, even outside of using their services. It goes to show that no matter what business you are in, you can have an engaging blog.
Remember long-term content marketing is about:
Building brand awareness
Brand loyalty
Educating your customers and clients
Customer engagement
Recruiting new talent
With long-term content marketing, your goal is to get long-term quality traffic. You can do this through unique email marketing, newsletters, engaging blog posts. While you might not see an immediate relationship with sales, these kinds of efforts boost your SEO and overall visibility, which contribute to an increase of business.
Long-Term SEO Goals
For small businesses, sometimes SEO goals seem a little out of reach in the beginning. Why focus on being the top organic ranking local search when you can see a much quicker impact from short-term strategies?
Before we dive into the important of long-term SEO goals, let's quickly turn to some of the goals of short-term marketing:
Short Term Advertising
Persuades
Reminds
Informs
Creates an immediate demand
Shows a direct increase in profit
These goals are obviously important (short and long-term work hand in hand), but SEO goals are longer term and have a completely different set of goals.
Long Term SEO Goals
Driving raw traffic through keyword-targeted content & link-building
Increasing E-commerce sales and store traffic
Brand recognition and authority
Lead acquisition and developing further marketing
Reputation management and reviews
Ideological influence
With these goals in mind, it is clear to see that they take time to develop. The benefit of all of these goals is an increase in traffic and overall representation in the online world, but they are not something that can be accomplished during a short-term campaign. Let's break some of these goals down to better understand why your business will need to implement a long-term strategy to achieve them:
Increasing Raw Traffic. Link building and targeted keywords in your online content are extremely valuable. Yet, it takes several pieces of content and repetitive use of keywords for search engine bots to start recognizing the audience you are after and where they should ultimately place you in the rankings. The more fresh content you develop with keyword and links in mind, the more your site is going to look reputable. This is going to cause more people to land on your website through organic searches.
Driving E-commerce Sales. Similarly, the more people are landing on your page when conducting a search (through SEO strategy), the more conversions you are going to get in an e-commerce store. While you might be able to get people to your online store through short-term strategies, reputation and organic search landing are both extremely important in keeping this growth sustainable.
Brand Recognition. To use a highly overused cliché, "Rome wasn't built in a day." Brands do not become recognizable or reputable overnight. Even when a lot of effort and money is put into short-term sales strategies, it is not necessarily true that a brand becomes recognizable any quicker. What SEO strategy does is make your brand recognizable over the long-term. If you are consistently ranking highly in searches, and your visibility is demonstratively on-point, then you are going to be the go-to company in your industry.
Reputation and Reviews. One of the most important things the long-term SEO strategy does is shape the overall reputation of your company through reviews. Getting past customers to review your site on Google, Yelp, or Social Media allows future customers to gain a better understanding of other's experiences with your brand and helps them to make an informed decision about choosing to go with you. Of course, these reviews cannot be collected overnight; it takes time to get a significant amount of reviews that can boost your online reputation.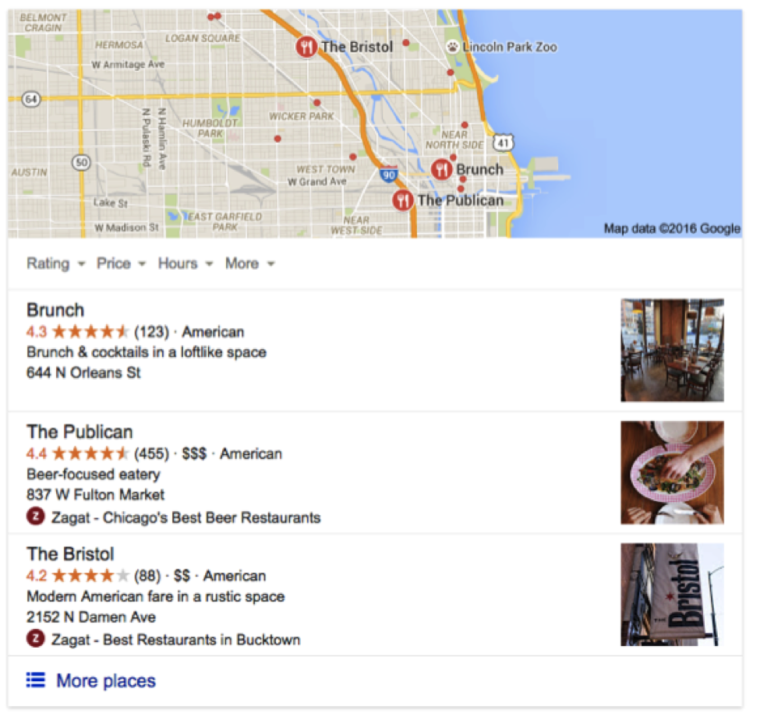 When people search for a business in a local search, you want to be one of the first to show on the SERP. Top three is a goal every brand should be striving for. For example, when I typed in "Brunch Chicago," these three restaurants were the first to come up. In most users' experience, they would select one of the top three places purely because of the number of reviews and ranking. Keep in mind that getting 80+ reviews like these companies have takes time, and it is not something that can be accomplished short-term!
The Takeaway
Both short-term and long-term campaigns have their place and purpose in your online marketing strategy. There is a good chance you are enjoying the instant gratification from short-term marketing and neglecting long-term campaigns. This article shows why it is important to focus on both, but especially why long-term campaigns can be very successful for your brand's reputation and an overall increase in sales/conversions over time.
What do you think about long-term campaigns? Have you struggled with focusing on them as a business? Let us know in the comments section below.
Image Credits
Featured Image: gustavofrazao/DepositPhotos.com
All screenshots by Jason Hawkins. Taken July 2015