From an anonymous search engine marketing company working in the payday loan space. Published anonymously to avoid possible retribution from Google or other companies.
Google has taken some dramatic steps in recent months to address quality issues in its search results. Since the beginning of 2012, Search Plus Your World, Panda 3.2, Ads Above the Fold, Venice, Panda 3.3, Panda 3.4, Panda 3.5, Penguin, Panda 3.6, Knowledge Graph, and Penguin 1.1 updates have all been rolled out in addition to countless other changes to ranking factors, the algorithm, and the search results page.
So why are the results to some search queries still so bad?
Payday loans, while much maligned, are a credit product that some un-banked and under-banked Americans are forced to rely on. Regardless of its politics or opinion of the product, as the arbiter of search, it should be Google's goal to serve the highest quality, most relevant, and authoritative results to its users in the organic results, in the local results, and in the paid results.
Google is miserably failing to accomplish this.
To illustrate, let's take a look at the first two pages of results for the query "payday loans."
What is a user's intent when entering this query? While it could be an information query (e.g. What is a payday loan?), given the nature of the product and its short sales funnel, logic suggests it is probably a transactional query, meaning the user wants to know where he/she can get a payday loan.
What does our user find when they conduct this search?
The first result is a local result for the actual physical location of Moneytree, a bricks and mortar lender, which is a good result for the query, given that the search was conducted in Seattle.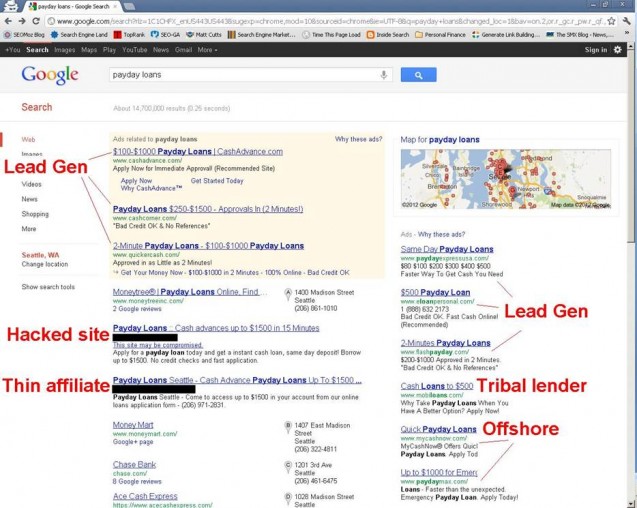 The second result (first organic result) is for a dance studio's website that has been hacked and is redirecting/loading a broken lead gen or affiliate site. This site, according to OpenSiteExplorer, has 192 linking root domains, none of which include any anchor text about "loans" or "payday loans." The spammers who hacked the domain most likely 301'd other domains they control to this one, probably cloaking them so only Googlebot sees them.
Razvan Gavrilas of CognitiveSEO conducted a more detailed analysis of this site in this post, showing that 40% of its link profile had been added in the previous two weeks and that it had the exact match anchor text "payday loans."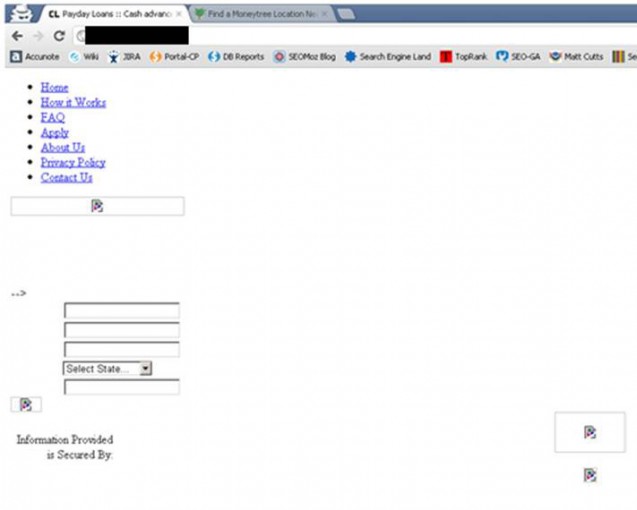 When this site gets removed, the people behind it can point those domains elsewhere to create a new spam or hacked site rank. If the domains they are 301'ing are devalued, they can drop them and replace them with others from an almost infinite supply.
The third result is not much better. It is ranking because it has "Seattle" in the domain name, signaling to Google that it is geographically relevant. The site itself has virtually no content. The content that it has is either spun or is clearly written by a non-native speaker, and the application link redirects to a third-party lead gen site that isn't even encrypted by default, even though it asks for banking information and a social security number. OpenSiteExplorer shows a domain authority of 38 and only 27 commonly used anchor texts, nearly all of which contain the term "payday loans," which is clearly over-optimization.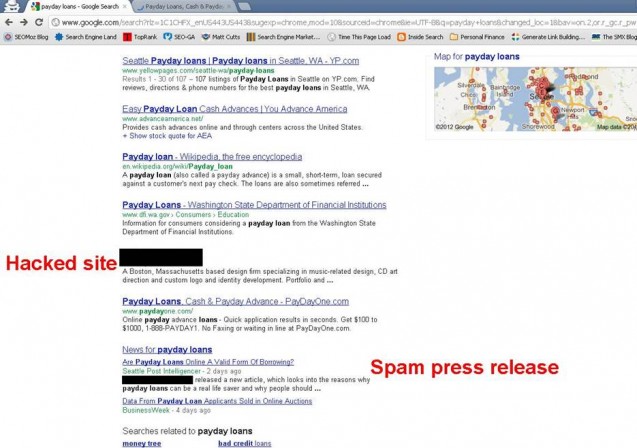 The next four results actually aren't terrible. There's a page on YellowPages.com that lists local bricks and mortar stores in Seattle, a link to Advance America, a direct lender with bricks and mortar locations, a link to a Wikipedia article, and a link to an information page on the Washington State Department of Financial Institutions website.
This is followed by a second hacked site that uses the same underhanded techniques as the first site.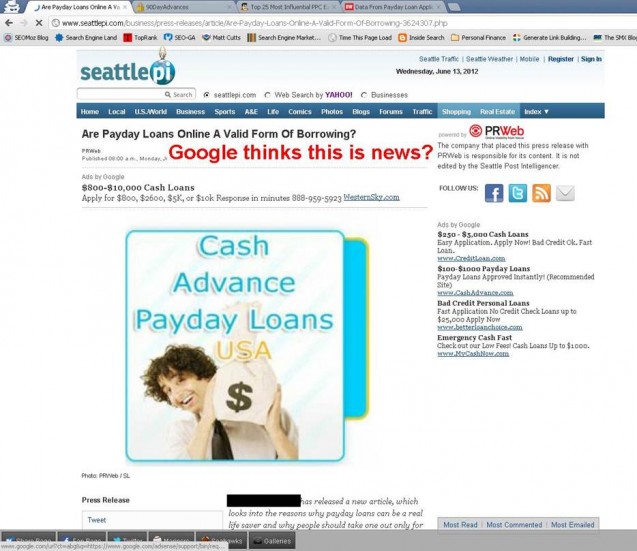 The news results for payday loans included a recent, legitimate article from Bloomberg BusinessWeek on the practice of lead generation companies auctioning users' info, but it also includes a spam press release that is hosted on the Seattle Post Intelligencer site that was originally sourced from PR Web, a service that distributes press releases for anyone willing to pay their fee.
The second SERP is even worse. It's dominated by churn and burn affiliate and lead gen sites or hacked, unrelated sites.
So what does Google get out of payday loans?
Money. Lots of it. Google earns more than 90% of its revenue from AdWords. According to Fahrenheit Marketing, the loan industry (broadly speaking, which includes mortgages, credit cards, etc.) is the second most expensive keyword vertical on Google with a top CPC of $44.28.
Google's own Traffic Estimator reveals how profitable the payday loan segment is, driving at least $60,000 in revenue daily from payday loan keywords alone.
Click to expand images below.
Add in words like "cash advance"…



… "fast cash" …



You get the idea. Based on these examples and using Google's own conservative Traffic Estimator data, Google could be earning $34 million a year from these keywords. Veteran PPC marketers know that Traffic Estimator isn't totally accurate. SEMRush shows an average CPC of $15.97 for "payday loans," $12.04 for "cash advance," and $9.11 for "fast cash," meaning Google's earnings are likely significantly higher. Can Google live without this revenue? Certainly, but it's not going to give it up unless it is forced to do so.
Even PPC ads aren't delivering a good user experience.
Sadly, even expensive PPC ads aren't delivering a quality experience. As seen in the SERPs captured above, the top ads are lead providers, tribal lenders, and offshore lenders. Lead providers exist solely to collect users' information and then resell it to the highest bidder. Tribal and offshore entities leverage their affiliations with Native American tribes or offshore locations to circumvent state laws that are designed to protect consumers.
Many of the top ads include deceptive claims or outright lies that lead users to believe that new customers can qualify for as much as $1,500 or receive their money in as little as two minutes. Few legitimate companies can afford to compete with lead providers and tribal or offshore lenders, meaning consumers are forced to choose from the deceptive ads that lead to the companies that are out to extract the most profit from them.
Google has tried to address this…sort of…
Despite Google's strengthened AdWords policies for short-term loan products that require websites to disclose things like APR, legitimate contact information, and a code of practice on responsible lending, many sites still don't do this, or they legally can't do this without violating federal regulations.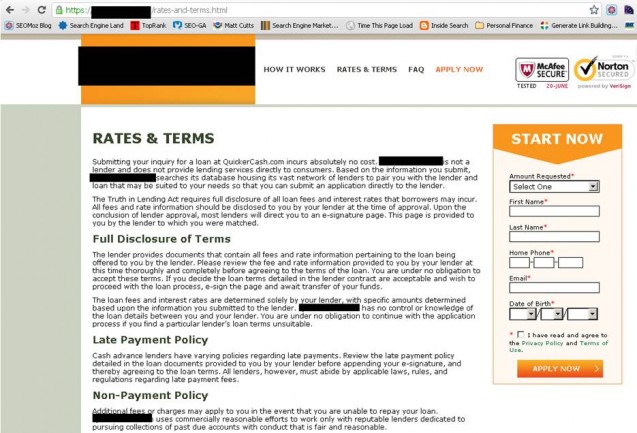 Where do we go from here?
Google has a vested interest in delivering a quality user experience. If it doesn't, it eventually will lose market share (and profits) to competitors who can. So how can Google fix this?
On the organic side, Google's crackdown on link networks is a good start, but it doesn't stop unscrupulous sites from gaming Google through cloaked redirects and hacked sites. Some things Google could look at to detect these sites include:
Site Age & Domain Age – Many of the churn and burn affiliate and lead gen sites were recently registered and recently created. Legitimate brands in this space have been around for years.
WhoIs Info – Shady sites hide behind private domain registrations. Legitimate companies typically do not.
Unusual 301 Redirect Activity – Are there a large number of external domains 301'd to a site?
Link Velocity – How quickly are sites gaining links?
Keyword Anchor Text Usage/Over-Optimization – Google says it is already looking at this, but how could a site gaining hundreds of links with the exact same anchor text in a very short period of time be natural?
Nonsense Domain Names, Meta Descriptions, or Content – Many of the throwaway domains make little sense or include meta descriptions written in broken English.
On the pay-per-click side, Google could implement a solution similar to the one they used to deal with online pharmacies after they forfeited $500 million in ad revenue following a Department of Justice investigation. They could hire a third-party company to audit all the sites applying to advertise through AdWords to ensure they meet Google's own stated requirements.
"Don't Be Evil"
If Google wants to uphold it's "Don't be evil" motto, it needs to ensure that users receive relevant, authoritative, quality, and safe results, whether they're organic or paid, for all of their queries, even when they are for products that many people may view in a negative light.
Image credit: Shutterstock / mikeledray