There are only two things that matter in SEO: writing great content for your users, and building links into that content. Everything else is a distraction.
This advice comes from Dan Crow, the Product Manager for Google Crawl Systems, who speaks regularly at SEO conferences. Forget everything else, he says, just focus on two things: great content and great links.
We've built our SEO content agency around that philosophy, so we don't worry about all the details like keyword density, 301 redirects, or even duplicate content. In our experience, Google will overlook all those things, if you just focus on great content and great links.
To illustrate, here's a case study on why duplicate content is not so bad, and can actually help you achieve top rankings.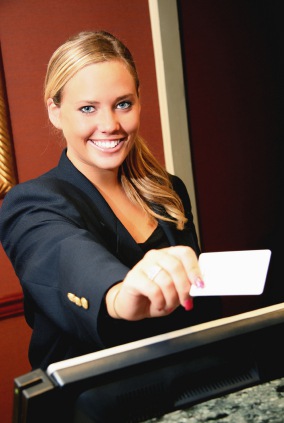 Our client has a credit card finder website that he wanted to rank on the keyword "credit card concierge." First, we focused on the content, coming up with an idea about using a credit card concierge service to perform silly errands for us, then rating them on the speed and efficiency with which they completed our insane tasks.
We wrote the piece, posted it to the client site, then focused on building links into it. It wasn't long before we had achieved a Google top ten ranking for the keyword "credit card concierge":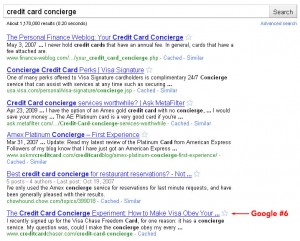 Then we reached out to Tim Ferriss, the New York Times bestselling author of The Four Hour Workweek. Tim specializes in "lifestyle design" services, and we thought credit card concierge services would be up his alley. We asked him for a link back, but Tim liked the piece enough to republish it on his blog … word-for-word, with a small text link at the bottom crediting the client's site.
The traditional SEO response would be to turn down this offer and/or run screaming in terror, because of the "duplicate content" issue. We've all heard that Google will penalize duplicate content, you'll lose your rankings, and the rivers will turn to blood. But we asked the two fundamental questions. Was it good content? (Yes.) Was it a good link? (Oh yes.)
The results were incredible. As soon as Tim published the piece on his blog, it went megaviral (which is bigger than "viral" but smaller than "gigaviral"), receiving hundreds of retweets, Diggs, and reposts. The blog post ultimately landed on the homepage of StumbleUpon.com, where it received over 300,000 Stumbles!
For the client, that one link from Tim's blog resulted in hundreds of new customers to his site — all those people who read about the credit card concierge service wanted to sign up for it. And best of all, our client kept his ranking on the Google Top 10 — now sharing it with a newcomer: Tim's repost of the article.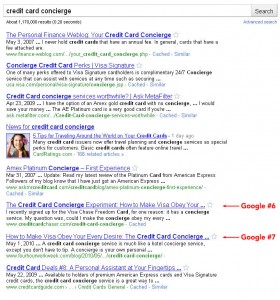 So here we clearly see that the "duplicate content" helped everyone involved. Tim got increased search rankings, and a load of viral traffic. The client got increased search rankings, and a load of new customers. Users got great content, and a load of chuckles.
Create great content for your users. Then build links back into that content.
When we relentlessly focus on these two fundamentals, everybody wins — our clients, our users, and ourselves. That "circle of goodness" is what Google is looking for, more than site map optimization or META tags.
But the circle extended even further. A few weeks later, I called Chase Visa, the credit card we used for the concierge experiment. It seemed the piece had caused quite a stir at the company, with a flood of new applications for the service. "It's actually been a fantastic marketing piece for us," the concierge confided. "And quite frankly, I thought it was hilarious."
Great content and great links. Everybody wins.