Oh common Google, not on a Saturday morning please (well at least for me it's Saturday evening) Can somebody please explain the meaning of this logo which was spotted by the Telegraph a couple of hours ago on Google.com? The new Google logo doodle shows an image of a UFO. We all know of course that Google changes its logo from time to time whenever a special event is happening.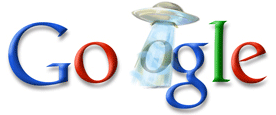 Last time I checked, there's no such thing as World UFO Day. Or is it the anniversary of the first sighting of a UFO by man? I don't think so.
What's so interesting about this unexplained phenomenon on the Google logo is the fact that it links to a search for the term "unexplained phenomenon" which is currently the top trending search terms on Google today together with the search terms "top 10 unexplained phenomena".
So can somebody explain what the logo means? Or was it just a product of some Google engineers whose got nothing better to do on a Saturday morning? Or is there something extra ordinary happening next week or in the days to come?